Bangalore 10K run - A recollection
Contributor
The 10k run in Bangalore earlier this week is being hailed as a mega success, and with good reason. The participant count, at roughly 21,060, was considerably higher than that seen in the previous edition. Participants of different ages and coming from varied backgrounds were seen coming together for a common cause – to participate in the run, in the process encouraging many more in the coming years to join in.
Here are the words of a few participants wishing to share their experiences:
Mr. Bhaskar, who works as a Director at Alcatel Luicent India, manages a team engaged in telecom application R and D. He took to distance running in 2001 and has participated in 34 marathons and ultra-marathons ever since. Having participated in the 10K run on Sunday, he says, "This was my 5th consecutive Open 10K run in Bangalore. Though it was my slowest finish in terms of timing, I enjoyed the race experience, especially the camaraderie with so many fellow runners that I usually bump into at races around the country. I returned from my visit outside Bangalore less than an hour before the start of the race. So I reached the start point just minutes before the race was flagged off. Though the organizers had segregated runners by previous finish time, there was still too much chaos at the start time. It was just too crowded, and those like me who were not up front had a very slow start. It took me a while to wade through the crowd – I could not really reach my normal pace till I reached Cubbon Road about 2 Kms from Kanteerava stadium – there were simply too many people on the road. Many of them were not really running, and ended up blocking the faster runners. But I had a good race from Km 2 till the finish. It was warmer than last year but the changed route (due to metro construction work) seemed a bit easier. Once I entered Cubbon Park between Km 8 and 9, I was able to pick up pace, and I finished very strongly in just over 51 minutes, having clocked 45:57 last year. The distribution of the post-race medals and refreshments was much better organised this year."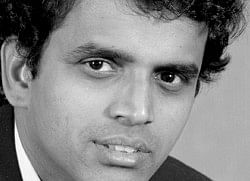 Mr. Narayanan, a finance professional who heads the finance function at Sequoia Capital in Bangalore, has been an avid sportsperson all his life. He has tried his hand at cricket, tennis, badminton, table tennis and squash but hasn't gotten past the good beginner stage at any of them. He has completed full marathons (or more) for two seasons – 2009-2010 and 2011-2012. Being quite a veteran in the area, he says, "The weather gods were with the runners and the route had some new parts to it; an 8 a.m. start helped as well. All in all, it was a comfortable run as compared to the earlier years. Also, general support from the Bangalore crowd was more than previous years. I managed to cross the finish line in a reasonable 51:45, not a time to write home about but not too bad either."
Mr. Basu, another marathon enthusiast, who is also the Vice President of Meru Networks India, says, "I have run all 5 editions of this run since its inception in 2008, when it was known as the Sunfeast 10K. Surprisingly, my timings in all the five years have been (mins:secs) – 50:22, 50:34, 49:50, 50:32 and this year 50:29. So in the last 5 years, my timing has consistently remained around 50 mins. For me personally, this signals the beginning of the running season. I do anywhere between 3-6 marathons a year. This 10K run tells me at the beginning of the season what my fitness levels are and if I am starting at the same point of fitness every year. As you can see, I am confident this year, because I know I'll be starting with the same fitness level as I have in the last 4 years.
"Our Marathon running group is called BHUKMP, which stands for 'Bangalore, Hyderabad, Ultra, Kaveri Trail, Mumbai, Pondicherry'. These are the marathons we choose from – sometimes we even do all of them."
With enthusiasts like the ones we have heard from, there will surely be many more who would be inspired enough to take to running in the future. It would be interesting to see the turnout for next year's 10K run.