Should Van Persie stay with the Gunners?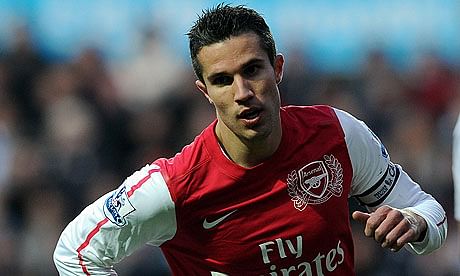 Last year, Arsenal lost two of their best midfielders in Nasri and Cesc Fabregas. Throughout this season, many people have been whispering "will he or won't he?" with regards to Robin Van Persie staying in fear that he could also follow in their footsteps. It would truly be a travesty for the the club to lose two brilliant captains in consecutive seasons.
What kind of message would it send to Arsenal's rivals as the North London club tries to stay mentioned in the same breath as the upper echelon of football sides? Also what message would it send to a player like Lukas Podolski who have joined Arsenal to play with someone of Van Persie's calibre?
There's no question that this past season, Van Persie had his best year on a personal level. This has coincided with him staying fit for the entire campaign. He has scored an astronomical 37 goals in 47 appearances while notching 15 assists in the process. Such impressive numbers have lead many football fans to cheekily label Arsenal a "one man club" further emphasizing the Gunners dependency on him. However, the Arsenal fans would rest easier if Van Persie, the individual was being touted as a "one man club" due to his unwavering loyalty.
What's really impressive about Van Persie's incredible season is that he has managed to fire past the large majority of the big teams. Manchester United, Chelsea, Liverpool, closest rivals Spurs and AC Milan felt the Dutchman's wrath. He has not been a flat track bully by any means. Van Persie has been crucial for Arsenal managing to finish third and Arsene Wenger will tell you the same.
However, pensive Arsenal fans continue to sweat as their hit man still has not signed a new contract. On the final day of the season when grilled by the interviewer about his intentions to stay, Van Persie's potent confessions of love for his club almost sounded like a goodbye for the most cynical. Many of us thought this contract dilemma would have been settled weeks ago but there remains a significant cloud of uncertainty around Van Persie's future which is set to continue after the Euro.
The biggest question for me is: Should he stay after witnessing another disappointing season on a collective level for Arsenal as the barren run of years without a trophy rumbles on?
In situations like this the famous phrase "the grass isn't always greener on the other side" gets thrown around easily. However, for Arsenal's previous three best players in Cesc Fabregas, Thierry Henry and Samir Nasri, the opposite has been the case. When Henry left to Barcelona for a meager £16 million, he won everything one can possibly win at club football, securing seven trophies in just two seasons. He was also instrumental in the treble as he formed a devastating attack with the imperious Lionel Messi and Samuel Eto'o. He finally got his hands of the elusive Champions League trophy, erasing disappointing memories of heart break that infamous night in Paris brought.
Cesc Fabregas has already won four trophies this season alone and was a Messi spot kick away from argubally winning the Champions League. Of course, many will say the trophies Cesc has won are not significant but everybody knows how hurt he was after losing out an a Carling Cup winners medal last season. This conveys how seriously he takes winning at club level.
Finally you have Samir Nasri. Many Arsenal fans start frothing uncontrollably by just hearing his name but the Frenchman has secured a Premier League title in his first season at City. It wouldn't have been possible for him to do the same at Arsenal with their current squad. He's also done this while becoming a lot richer in the process and money always influences decisions to stay or leave a club.
Judging from these tales of Arsenal's three previous best players, the grass certainly can be greener on the other side. I could even go back as far as Ashley Cole and talk about his achievements since leaving. Van Persie, will no doubt be envious of his former team mates as he hasn't picked up a single trophy since 2004. There's also the money factor. Any club that will sign Van Persie would be willing to increase his wages substantially.
You also have the fact that a fair share of Arsenal fans, feeling saddened to have been left in limbo regarding their captain's decision, have been abusing Van Persie's official twitter page. Such disparaging remarks is hardly going to persuade Van Persie to sign a new contract but that's the nature of despondent football fans. The factors supporting Van Persie leaving seem quite convincing. So why exactly should he stay?
It's quite simple, his love for Arsenal, a team he allegedly grew up supporting. Ignoring a few disgruntled fans, Van Persie is adored at the Emirates stadium. He's undoubtedly their most popular player since Cesc left. Go to any home match and see how many times his name is chanted. He also knows how much he owes his rise to the top to Arsene Wenger. Without Wenger's belief in Van Persie's abilities, the Dutchman would not be the world class player that we see today. Van Persie has acknowledged this himself, most recently when he picked up his first PFA player of the year award. Wenger plucked him from almost obscurity for a minimal price of just £2.75 million. In today's inflated market his value is likely to be around £60 million. The improvement has been staggering, almost matching Cristiano Ronaldo's growth under Sir Alex Ferguson.
The key problem for Van Persie is Arsenal are a few years away from being as good as the two big clubs of Manchester. He will also see how Chelsea have become the first London team to win the Champions League and feel further desolate about his personal lack of silverware. Chelsea have also recently purchased Eden Hazard for a potential fee of £78 million further illustrating ambition.
The Blues acquired a top prospect in Marko Marin a few weeks back and are likely to soon gain the services of Porto's Hulk. Van Persie knows that Arsenal can not match such clubs in the transfer market and the prudent Wenger will never be willing to break his back for quality players who are likely to attract astronomical transfer fees.
But how far can Van Persie's love for Arsenal take him? Would Van Persie's loyalty see him as the new Francesco Totti? He was/is a world class player whose love for his club saw trophies pass him by year after year instead of making a move to a bigger club. This meant that he naturally never received the recognition that he truly deserved.
Van Persie, at 28, is at the peak of his career. He's not getting any younger and the decision he makes could prove crucial in his quest for silverware.


Written by Chim Okeoma
Follow me on Twitter @footballgroundup
Check out his wonderful site, Football Ground Up
Please like O-Posts on Facebook
Follow the site on Twitter
Published with permission from O-Posts.