India's love-hate relation with Duckworth Lewis; the saga continues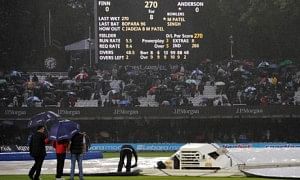 There have been plenty of comments, backlash and criticism over ICC's continuance of Duckworth Lewis at the recently concluded conference in London.  Sunny Gavaskar heavily criticized the decision as to why ICC didn't test or try out the VJN method (designed by an Indian Engineer) for a year. While there has been no official BCCI reaction as yet, we can assume Gavaskar being a paid BCCI commentator, will only speak their views, so we can take his comments as official BCCI comments.
While many are criticizing continuance of D&L method and expecting ICC to accept the BCCI proposal of the VJN method, some may have short memories. BCCI on their part has not accepted the DRS (Decision Review System) and Hotspot. They have been strongly opposing the DRS when all other countries are accepting it. All of us know that DRS is not perfect and that's why BCCI has not accepted it. As if the on-field umpires are perfect, why does BCCI along with likes of Dhoni and Tendulkar keep forgetting that? Yes, both these stalwarts have been the ones who have been thwarting the DRS, leaving BCCI in a fix!
The game has moved on very significantly over the last 10 years or so. I still remember that India was the last amongst top countries to accept the T20 format. They must have played the least number of the T20 matches before they went to the inaugural T20 World Cup in South Africa. Thank God India won that tournament and embraced T20 in a grandest manner via IPL. Had India fared poorly in that World Cup, I assume India would still be playing T20 very reluctantly. So why can't BCCI move on with times. Why can't they accept the future? DRS is here to stay it's just a matter of time they accept it. In fact, other than Dhoni & Tendulkar, no other Indian senior player has objected to the DRS. But who apart from these two senor pros dictate Indian cricket?
The day ICC rejected the VJN method, Tony Greig tweeted "If the Indians don't get their way on these issues @bhogleharsha and co start whingeing". Many took it as a twitter war between the two only till Harsha himself clarified it wasn't a war and he was friendly with Tony.
So while BCCI continues to block the DRS, they can't expect ICC not to thwart India's move of bringing in the VJN method. Dhoni, in a candid interview recently, said that he hardly understands the D&L method and depends on the umpires. Honestly, D&L is so complex that I wonder how many umpires really understand it. I am sure that there is a computer that does the D&L calculations when needed. Like @NikhilNaz of NDTV tweeted "Why blame @cricketicc for not using the VJD method for rain interruptions when the #BCCI continues to use #Duckworth Lewis method in IPL".