Kevin O' Brien: "I have no desire to play for England"
Featured Writer
If you remember the 2011 World Cup game between England and Ireland, a record was scored at the Bangalore ground that day – Kevin O' Brien scored the fastest century ever scored in a World Cup. He also steered Ireland to victory, much to the shock of the Englishmen and the spectators watching from all over the world. Kevin O' Brien is one of Irish cricket's strengths: being an all-rounder, he contributes not just with his power hitting, but also provides timely breakthroughs. He is Ireland's chief hope to establish cricket as a popular sport in the country. Very popular for his flamboyance as a cricketer and his impeccable stroke-play, he has also been very highly talked-about off the field because of the shocking pink hairdo that he sported some time ago.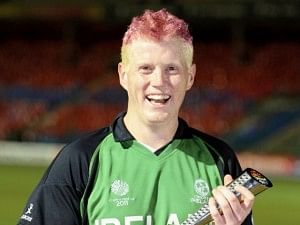 In a very candid interview with Sportskeeda, Kevin O' Brien talks about the direction Irish cricket is headed in and how he can make a difference to it.
Q. How did cricket begin for you and your brother Niall? Was the fact that your father was a cricketer himself, an incentive for both of you to pursue cricket?
Kevin: Yes, with Dad playing cricket for Ireland it was a natural progression for Niall and me to grow up playing cricket and make it into the national team. We did play others sports as well when we were young, like field hockey, soccer, and both Gaelic football and hurling, but finally we took up cricket as our career choice.
Q. How far do you think has coming from a family with a lot of sport involvement influenced your outlook as a person?
Kevin: I think it has given me a balanced outlook on life. Over the last few years, I've been lucky enough to earn a living from cricket. I'm a pretty relaxed person, who doesn't get flustered too easily. I have become more and more disciplined in the last few years as a result of playing sports at the international level.
Q. How has the fact that both you and Niall are international cricketers helped you both develop as cricketers? And how has it been to play and represent your country together?
Kevin: It is a fantastic honour to play international sport for your country, and to play alongside Niall is amazing for both of us, and also our family. Mum and Dad are the first people in the stadium to watch matches that we play in. They get a great sense of pride watching us play. It's a great feeling.
Q. Ireland has been quite competitive in the World Cup, and beating England was like icing on the cake. Do you think Ireland should gain Test playing status?
Kevin: I think that if we continue to prove how good we are, we will achieve Test status very soon. I don't think we can go around saying we deserve to be a Test team, but if our results on the field continue, then we will get there one day. I am hoping I can make a huge difference towards that myself. Off the field, the board needs to continue to set goals and strive to be as professional as we are on the field, and they are currently doing that.
Q. According to you, what does Irish cricket need the most today to grow to the level of other international teams?
Kevin: We need to continue playing the bigger teams more often every year. That will increase the profile of the game here in Ireland and that can only benefit the sport. When World Cups are on, we need to have qualified for them in order to promote the game more in the country.
Q. Take us through the World Cup match against England in which you scored the fastest century ever scored in the tournament.
Kevin: It is all a bit blurred to be honest. I don't really remember much from the batting innings, I suppose I was in the "zone". But I have watched the highlights a few times; it certainly does bring a big smile to my face.
Q. Are you looking at moving and playing for England in the eventuality that Ireland doesn't get bestowed with Test status, the way Eoin Morgan did?
Kevin: No, I have no desire to play for England, now or in the future. I'm very happy being contracted to Ireland, and with being the vice-captain of the team.
Q. How has your stint with Nottinghamshire helped you grow?
Kevin: Well it was three years ago, but it did help me to see how to be a professional at the highest level. I was sharing the dressing room with the likes of David Hussey, Ryan Sidebottom, Graeme Swann, Stuart Broad and others and saw how they trained hard every day, and didn't let a day go by where they didn't try to improve as a cricketer. So it did help me grow and shape my vision of how to approach the game if I wanted to excel in it like them.
Q. How do you feel about having missed out on the IPL, after having done so well in the subcontinent?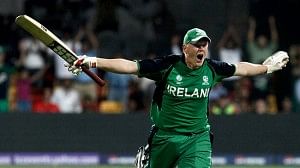 Kevin: It was a blow, and I felt quite disappointed for a few days. But that is cricket. I'm not too concerned at not getting picked. Hopefully next season I can get into the tournament.
Q. Do you think Ireland have the talent and the facilities to take cricket to the big stage like the other countries?
Kevin: I think we will have them in a few years from now. We are currently building a state-of-the-art ground to be the home ground for the national team. It is all happening so fast in Ireland, that in a few years hopefully, we will be there.
Q. How did you end up as an all-rounder?
Kevin: I was more of a bowler when I was younger and usually batted down the order. In 2004, at the Under-19 World Cup in Bangladesh, our coaches Brian O'Rourke and Adi Birrell asked me to bat at No.4 so I gave it a shot and did very well. From then on I haven't really look back.
Q. What aspects of your own game are you working on and hope to master eventually?
Kevin: I'm always looking to improve as a cricketer, and this winter, fitness was the main goal for me. I have lost 12 kgs this winter and hopefully that will push me on to better things in the next 6 months.
Q. Tell us what your book 'Six after Six' is about?
Kevin: It is an easy-read book that talks of my upbringing, how I learnt to play cricket at Railway Union, and it goes from there. The main highlight of the book is the World Cup in India last year, so most of the chapters focus on that.
Q. Where do you see yourself 5 years down the line?
Kevin: In 5 years, I would like to be the highest-capped Irish international of all time (I'm currently 3rd) and still an integral part of the senior side. Hopefully, we will be returning home from the 2015 World Cup after having had another successful tournament,  maybe even with the trophy in hand.
Q. Where do you see Ireland Cricket 5 years from now?
Kevin: I see Irish cricket headed in the right direction; it is in a very strong position in world cricket right now, with a large player pool to pick from. I can see a full-time first class cricket structure in place in the next 5 years.