A look at Indian Hockey Team in 2012 Olympics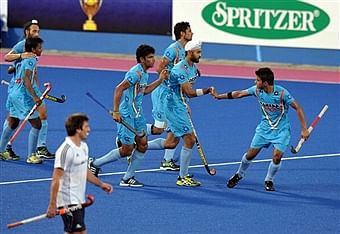 The recent victory against a higher ranked opponent, Great Britain in the Sultan Azlan Shah Hockey tournament, that resulted in the podium finish for Team India has certainly given us hopes of performing well at the upcoming London Olympics. But the question is where exactly we stand in terms of competing with other nations.
In terms of grouping, we are placed in Pool B alongside Germany, Netherlands, Korea, New Zealand and Belgium. A look at their current rankings will clear the picture  to some extent.
           Pool B
Country
FIH Ranking
India
10
New Zealand
7
Germany
2
Korea
6
Netherlands
3
Belgium
11
Given the current rankings of the other teams in the same group, it indicates that we are lagging behind at the fifth place with only Belgium behind us. But these rankings are not the sole indication of the current form. Germany who played in the 2011 Champions Trophy alongside teams like Korea, Netherlands and New Zealand, finished fifth in the tournament. The Netherlands also participated in the same tournament and went on to have a podium finish with a third place finish. Teams like Korea and New Zealand also were there; Korea on one hand finished last and New Zealand finished fourth. This gives somewhat a clearer picture of how the teams ranked above India fared in the past tournament.
Again a look at India's performance, where we were able to beat higher ranked opponents like Great Britain, Korea and Pakistan; this gives much hope to us. Moreover, some of the teams are not in their best of forms as well. But Olympics is a different scenario. Every team will give their 100% at any cost. Given all these facts, the chances for qualifying in the semi final might be a tough ask, but a qualification for the 5-8 play-off would be great and we can hope for the same.
As far as the preparations to the London Olympics are concerned, India is going to play two match test series against France at the end of this month followed by a three nation tournament  in Spain. Great Britain being the third team.
Key Players
1. Bharat Chettri: He is the goalkeeper and has been selected as the captain for the upcoming European tour. His performance against against Malaysia in the recently concluded Azlan Shah Hockey tournament speaks of his potential. India will need an astute performance from their goalkeeper in order to keep their medal hopes alive.
2. Sandeep Singh: In order to win games, scoring goals is necessary and penalty corners provide an incredible opportunity for that. But for that, one needs a penalty corner specialist. Sandeep has provided that added dimension to the team. Even though he is a full back, his eye for goals in penalty corners is something special. If India were to reach the medal round, Sandeep has to fire all cylinders.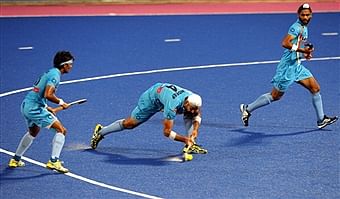 3. Sardar Singh: Currently selected as the vice captain of the Indian team for the European tour, he plays in the centre half position. He is also a drag flick specialist.
4. Shivendra Singh: Shivendra Singh plays as the centre forward and is known for scoring beautiful field goals. His partnership upfront with Tushar Khandekar is something to watch for in the forthcoming tournament.
Finally, a lot will rest on the coach Michael Nobbs, how his tactics help India to sail past the opponents.
Let's keep our fingers crossed and hope for some miracle to make India grab the top medal.