Rafa v Nole: The battle of wills
Senior Correspondent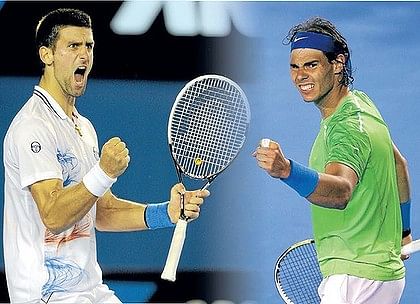 The crowd was on its feet, cheering and clapping in frenzied anticipation. Djokovic looked towards the heavens and paused for a moment before readying himself for the next point. After six grueling hours into the match, the score stood at 6-5 in the fifth set with Nole serving for the Australian Open Championship. Rafal's body language gave nothing away as he readied himself for the match point. Djokovic bounced the ball for a few seconds and thumped the serve down the line. Rafa barely managed to reach the serve and yet he sliced the ball halfway down Nole's court, and the Serb quickly got inside the line and cleanly hit the ball past Rafa. The stadium erupted in a wild chorus and Novak Djokovic collapsed on the court in a heap of joy and emotions.
It was a grand slam final that had changed into a punishing battle of dogged will and inconceivable skills by Rafael Nadal and Novak Djokovic. Two players who had dominated the world of men's tennis in the last twenty four months went up against each other in a historic duel that would be later known as one of the greatest ever grand slam final played at the Rod Laver Arena. And the battle of the inhumanly ruthless versus the incomprehensibly efficient will be on display again today, as the clay court season culminates into its grand finale, with Rafa aiming for a record-breaking seventh French Open title and Nole aiming for a feat not achieved in the last 43 years: winning four grand slams in a row.
A pattern has been emerging in every tournament since the past one year. A certain Roger Federer threatens to slip into the final with sparks of brilliance and glimpses of erstwhile domination in the early stages of the slam. Tsonga, Del Potro, Berdych and Murray show promise of upsetting the top seeds. David Ferrer is there somewhere, running around in his gritty frame and pushing himself into the semi-final stages. There is that one player who is having a dream run, whether it is Mardy Fish or Andreas Seppi, only to be stopped short before turning the final corner.
But it is inevitably the Spaniard and the Serb who steadily overcome opponents and reserve their best for the last. When Nadal and Djokovic walk into the stadium with the championship trophy gleaming in the corner, there is no fear in their step, no mark of anxiety on their face, and everything is invisible to them except their opponent. There is only a win at the end of the journey, an indispensable, vital win that drives the body beyond human constraints.
So will today's final live up to its unfair expectations? Let us look at each player's build up to the final.
Rafael Nadal
1st round: Simon Bolelli, 6-2, 6-2, 6-1
2nd round: Denis Istomin, 6-2, 6-2, 6-0
3rd round: Eduardo Schwank: 6-1, 6-3, 6-4
4th round: Juan Monaco: 6-2, 6-0, 6-0
Quarter-final: Nicolas Almagro: 7-6(4), 6-2, 6-3
Semi-final: David Ferrer: 6-2, 6-2, 6-1
Rafa's journey so far in the French Open has been the typical steamrolling of opponents that his excursions on the Paris clay usually consist of. He hasn't lost a set and has dropped serve just once. And with every outing, his confidence and hitting rhythm is building into a formidable display of form. David Ferrer could do little as he tried to run down Rafa's ripping forehand one after another. There is no doubt that when the surface is clay, it does give Rafa's game a forbidding advantage over every other favourite, including the world no. 1 Novak Djokovic. Statistics say that Djokovic has defeated Rafa seven out of their last nine encounters, but that does not stop Rafa from being touted as the favourite in outlasting the Serb.
Nadal has looked even more fluent in his game than he did in Rome, comfortably shaping points from the baseline and attacking ruthlessly with his forehand. It will be key to keeping Djokovic at bay, who will be an apt foe in matching Rafa's speed and agility.
"You want to be aggressive, you want to change the rhythm," Nadal said. "You want to make him uncomfortable. You want to be able to defend with very deep balls. You want to have a very good serve, fast serve, and I guess the rest will follow."
Having worn the title of being the favourite to win almost every time he plays on clay, the Spaniard is not daunted at the task at hand and downplayed the tag of being an outright favourite. when told about Federer's comments of him being the "overwhelming favorite", he said, "Eliminate the words 'big favorite.' You can keep favorite if you want."
Novak Djokovic
1st round: Potito Starace: 7-6(3), 6-3, 6-1
2nd round: Blaz Kavcic: 6-0, 6-4, 6-4
3rd round: Nicolas Devilder: 6-1, 6-2, 6-2
4th round: Andreas Seppi: 4-6, 6(5)-7, 6-3, 7-5, 6-3
Quarter-final: Jo-Wilfried Tsonga: 6-1, 5-7, 5-7, 7(8)-6(6), 6-1
Semi-final: Roger Federer: 6-4, 7-5, 6-3
Novak Djokovic isn't one to go by the head-to-head statistics, and knows that he is up against some class after being defeated by Nadal in their two clay-court meetings this season. He admitted in his press conference after a straight-sets routing of Federer that he can't afford the kind of slip up in the final that he had against Swiss No. 1 in the second set. He has had a tough week, having played two five setters against Seppi and Tsonga, and had to dig deep to overcome the French favourite in the quarter-final. It may well be a blessing in disguise for the Serb as the tough run has made Djokovic  battle-ready for the big final.
When these two men shake hands on the center court today, all pre-match talk and discussion will be forgotten, as both players will stand toe to toe. Having played each other quite a few times over the last eighteen months, they would know each other's game and tactics quite well. Rafa will look to go even higher on Djokovic's efficient backhand with some kicking forehand rips and disable him from playing flat and dictating the points. Djokovic will know that outlasting Rafa in a baseline duel could only prove to be a futile exercise, and will look to hit deep and nullify Rafa's forehand prowess. In the end, it might just be the player more assertive and innovative with his shots who will emerge victorious.
Predicted winner: Rafa in five.