'If I am an actor, so will be my son': that's the common thought that runs through a father/mother on their child's future. Cricket remains no exception either. The sport has become so powerful that it has gripped families on a whole and become a family profession. Be it the Gavaskar duo, Srikanth duo and many more. The adrenaline of cricket still rushes through the veins of the veterans and they are more then eager to sprint it through their sons.
Gavaskar though remained silent on his son playing for team India, but the excitement and nervousness his words showed were evident signs of the feeling he was going through. This was the incident of Rohan Gavaskar's debut in the Tri-series against Australia and Zimbawe. Gavaskar was on the commentary panel an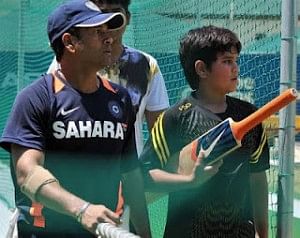 d by fate was in the commentary box when Rohan walked in to face the first ball of his International career against Australia. Gavaskar only scored 3* before the 50 overs expired. His run with India was a short one as his performances, despite the domestic run, were not up to the mark. He scored his only half-century of the series against Zimbawe and was dropped for the upcoming series.
Sunil Gavaskar's intent was very clear, he did not want to spoon-feed Rohan with the status the former had achieved. Gavaskar Jr. was up for the task as he battled it out in the domestic circuit for Bengal and went on to play in the ICL and later the IPL. After a successful stint in the domestic cricket, he called it quits and was found on the panel of presenters in the fourth edition of Indian Premier League.
If Gavaskar duo were up for it, then the flashy duo of Srikanths was no exception either. Anirudha Srikanth appeared on the national front through the IPL where he was pitched in by the Srikanth franchise Chennai Super Kings. His outing was ordinary and didn't fetch him a nod from the selectors. Kris Sriknath was earlier in scrutiny for Anirudh's selection for the India-A side this month. That is how the story has been, star kids are treated like stars and have openings like the same.
If the veterans are up for it then the greatest batsman of world cricket can't be far behind. Sachin Tendulkar is enthusiastic about his son Arjun Tendulkar making a name in the world of cricket. Sachin takes time out and trains Arjun at the NCA. He was spotted doing the same in London earlier. Still young, Arjun played the Nationals last year and was an ordinary performer as he was run out early. With Tendulkar behind, junior is expected to show what he's inherited from his father. In case of Sachin, cricket is in his genes. So, Arjun remains no exception either.