Euro 2012: Team of Day 4 - Ukraine
It's not just 'what if?', but 'why not?' And here we go again folks. We're allowed to witness another "a man past his prime" banging in the goals again. This time it was the 35-year-old Andriy Shevchenko, who led his nation as well as the co-hosts to their first ever victory in European Cup history.
The inspirational Ukraine captain and one of the 'deadliest' strikers ever to play in Europe, scored with his two headers. Which mean he is now the top scorers in the tournament alongside Dzagoev and Mandzukic. (PS: The last name I mentioned above also scored two goals with his head.)
Well then, back to the game.
I was impressed with the way Ukraine played. Their passing and movement really troubled the Swedish side, surprisingly dominated the possesion thanks to Tymoschuk and the heavily mentioned Konoplyanka, who played well last night.
And so who's that guy wearing the 11 shirt? Andriy Yarmolenko, isn't he? His technique is just superb, very dangerous from the right flank. At least three or four times, he was troubling Martin Olsson there according to my note.
From the Sweden side, of course Zlatan was the man (he always is though). Had a couple of chances and successfully scored one from his typical style, a first touch goal.
But the same can't be said for John Elmander, when he could've tied the score, wasting such an 'easy' chance at a crucial moment. And Larsson also failed to shine last night. Poor Sweden.
Nah, I didn't write this piece to comment on a player's poor performance and yes, Shevchenko is the main reason why I wrote it.
Two goals in seven minutes for Sheva and Ukraine. The joy and sheer elation of those fans (and a kid caught on camera with his delicious smile when Sheva put in the second) were just beautiful.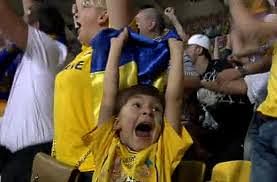 I'm not a Ukraine fan, but this is the reason why I enjoy football; the joy and happiness that it can bring to any fan.
And that's all I have for you today. I'm happy for you Ukrainian fans and hopefully your nation can pass this group.
So thanks for reading and please let me know in the comments below, if there's anything wrong with my post.
Cheers and take care folks.
Written by Jason Leonardo
Follow me on Twitter @jason040404
Please like O-Posts on Facebook
Follow the site on Twitter
A site that displays various opinions, insights, reports, etc from a host of talented writers, covering various clubs and leagues.
Published with permission from O-Posts.