West Indies - The team to watch at the T20 World Cup in Sri Lanka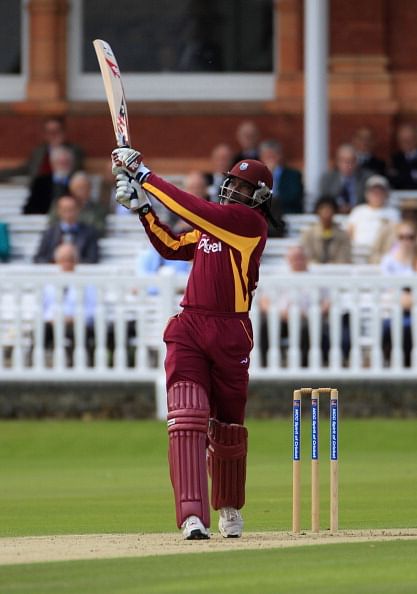 Did anyone take a close look at the recent list A match where West Indies took on England? The Windies batsmen blasted the Middlesex bowlers all over the park. The 'Big Jamaican', Chris Gayle is back, and he is back with a bang – he made the spectators happy with two huge sixes. He got out cheaply but West Indies did not fall like a pack of cards like they have been doing from the past 5 to 7 years. The young and hard-working lot under Darren Sammy hit back strongly with their out-of-form, Brain Lara look-alike, Darren Bravo hitting a well-composed run-a-ball century. Dwayne Smith also helped his own cause by hitting a brutal 81-ball 96. The West Indies middle order is looking more frightening than ever. With the likes of Dwayne Bravo, Darren Bravo, Keiron Pollard, Dwayne Smith and Andre Russel, they are looking very stable and are raring to go against an English team who are still wondering what happened to Kevin Pietersen after he hit two back-to-back centuries against Pakistan.
West Indies have slowly and steadily built a very good one day and T20 side. Adrian Barath is a steady opener and with Chris Gayle back, they are looking very strong. Johnson Charles, the reserve opener is also a promising talent and showed that he has more to offer in the Australian Series. Darren Bravo looked out of sorts against England but he made up for it with his innings against Middlesex. If he does not perform well, then West Indies have their recent superstar Marlon Samuels to fall back on who has had a dream run in England up till now. Dwayne Bravo and Keiron Pollard who had a decent IPL would be raring to fire against the Englishmen. Andre Russell is a huge bomb which is waiting to explode and the premier tournament in Sri Lanka might just be the perfect time for him to make a mark. Not to forget the mystery spinner Sunil Narine who spinned Kolkata to victory in IPL 2012. He has a bag of tricks up his sleeves which will test the best in the world. The Windies have also excelled in the pace department and have Ravi Rampaul and Kemar Roach who can provide the early break through in the innings. Darren Sammy has shown considerable improvement in his batting and looks very lethal down the order. He can chip in with gentle stump-to-stump length deliveries and be very deceptive. They have the best T20 specialists of the game with Keiron Pollard, Dwayne Bravo and Chris Gayle who can also be dangerous with the ball. Dinesh Ramdin who found form with a well fought century in the last test against England, also has a strong case for himself. With Carlton Baugh and Andre Fletcher on the bench, he would have to work hard to maintain his place in the T20 squad.
They have got a dream team with a cool-headed captain, and can go all the way if they don't go all West Indies on us. The team shows a lot of promise on paper and any team would die to get the all-rounders that Windies have right now. The recent IPL showed that Chris Gayle is the ultimate six-hitting machine and has a lot left to offer to his country. Keiron Pollard is also maturing fast and he has found the hunger for more runs, so that would be interesting to watch as well. With the T20 tournament being held in Sri Lanka, where the conditions are similar to their home, they would not want to miss this chance of getting an ICC trophy. My proposed team would be:
1. Adrian Barath
2. Chris Gayle
3. Darren Bravo
4. Dwayne Bravo
5. Keiron Pollard
6. Dwayne Smith
7. Dinesh Ramdin (wk)
8. Andre Russel
9. Darren Sammy (c)
10. Sunil Narine
11. Kemar Roach
12. Ravi Rampaul
13. Marlon Samuels
14. Johnson Charles
15. Carlton Baugh / Andre Fletcher