Tamasha and cricket: Why cricket needs the IPL
Featured Writer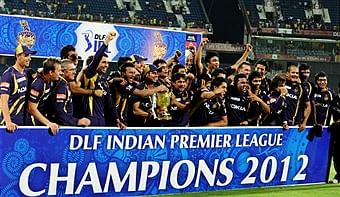 So it's all over, 110 m sixes, sex kittens and cartwheels, the carnival has left town and everybody can go to sleep for the next year. What have we learnt? Nothing much – CSK cannot beat the odds forever, Shahrukh Khan is suddenly West Bengal's 'biggest ambassador' and Chris Gayle is the most dominant batsman in limited-overs cricket, no question. And oh, most importantly, Twenty20 is ruining cricket. Players have no incentive to play longer versions of the game anymore. Cricket as we know it is dead. The IPL, with money, Bollywood stars and after-match parties, is ruining cricket.
Nothing could be further from the truth.
'Less Tamasha. More Cricket' is the slogan of a recent ad campaign seeking to focus attention on upcoming international encounters in cricket. But here's the thing – we Indians like tamashas. We always have and we always will. The dramatic tradition in India has proved an enduring one, be it as street drama, Bollywood or Kyunki Saas Bhi Kabhi Bahu Thi. In fact, drama is implicit in the way we watch cricket, in the lexicon of the game – we talk of 'staging a victory', 'upstaging' another team, 'curtains for the team' etc. It's not a coincidence that the India-Pakistan cricket series' have the highest ratings. It's not completely apolitical that an India-Australia series is branded as 'Agneepath'. It's not by accident that sports fixtures are called 'clashes' and 'encounters'.
That cricket captured the Indian imagination the way it did is somewhat fortuitous, if one believes cricket's historians. The 1980s marked a watershed in the game's development, with India's World Cup victory and satellite television. After the World Cup win in 1983 followed by the Benson and Hedges victory, everything about cricket in India changed. More people started watching – housewives, children, women, older retired people (to quote Sharda Ugra) – and more people started watching ODIs.  43 Tests were played in India in the 1980s and 30 in the 1990s. With 1991 and the inception of the Gulf tournaments, cricket started its unalterable path towards high commercialization and corporatization. But here's the important thing – cricket would not be what it is today if not for these developments. Fewer people would watch the game. Players would be paid much lesser. In effect, more kids would have packed up their kits and thrown them into the attic, and at an earlier age at that. Cricket would have continued to be a thing of the cities. The Pathan brothers might not have happened.
Cricket, like all other sports, changes over time. It has to change – or perish. In the age of shortening attention spans and multi-tasking, what would be the future of a laid-back, five day long game if it remained just that? By the time the IPL came around, the writing was already on the wall: ticket sales for Test matches had plummeted. Oddly enough, even ODI ticket sales were low. Cricket needed Twenty20, as much as we are loath to admit it.
Perhaps we can understand the need for change in sports. Cricket, as originally conceived, was a "gentleman's game". No, literally – it was not a game that was meant for Indian savages, it was a game to showcase stoic and sportsmanlike value of the phlegmatic Victorian English gentleman. If Indians were good at the game, the British 'civilizing mission' was responsible. The way cricket was played, or meant to be played in Victorian England, is far different from the way it is played today, especially in our maidans and gullies. People like Virat Kohli are simply just not cricket, to use a popular phrase that emphasizes the moral structure of the game. That cricket has overcome this and been appropriated by different cultures – West Indian, Kenyan, Indian – just goes to show that cricket is not some unchanging monolith of grace and gentlemanliness, in the narrow ways in which those phrases are conceived of by the erstwhile Empire.
That Indians reconfigured cricket – and Indian cricket is very different from British cricket, just look at the crowds – goes to show that change in cricket reflects a change in the times, in attitudes. This is the case with the IPL. Cricket purists may not be able to digest the fact that "good ol' days" are over, but the truth is, there are new "good ol' days" waiting to be scripted. The unique spectacle that is the IPL – a mix of cricket, Bollywood and drama – is phenomenally successful. The future of world cricket is, in many ways, being scripted by the IPL. Here's an interesting statistic: According to the Economist, 45% of all stadium spectators in the first season of the IPL were women. FORTY FIVE PER CENT! Those are unheard of numbers for cricket. Here's another: The IPL's main gain in television ratings was at the cost of TV soaps/melodramas during primetime slots. This indicates something important – people like watching thrilling cricket, dramatic cricket, 'tamasha' cricket. Most importantly, the short duration of Twenty20 matches means the game is accessible now to just about everybody. The casual cricket fan is what puts money in the pockets of players and officials, not the 'purist' who claims that only Test cricket is acceptable cricket. This is not to say that Twenty20 cricket is better than Test cricket – it just means that Twenty20 cricket is what people want to watch. And this new brand of cricket has far more reach than the old brand did. Fault it all you will, the IPL never played out in front of half-empty stadiums. And nor does any other Twenty20 leagues in the world. The times, as a big man once said, they are a' changin'.
An old adage goes: What is vice today is virtue tomorrow. This may hold good of Twenty20 cricket, especially the IPL. Now there are Twenty20 leagues everywhere, each seeking a glamour quotient. World cricket needs India and Indian players, because no other country watches cricket on television as we do and the big bucks are all in television. Twenty20 is more lucrative for players, more entertaining for casual fans (who constitute the main viewership in cricket) and might just make heroes out of nobodys (well, it earned Ravidra Jadeja a cool 2 million USD).
My mother, who isn't much of a cricket fan, speaks fondly of the time Ravi Shastri "won that Audi and drove it around with the entire team in it". I think I will, at some time, speak fondly of Ravi Shastri gushing with excitement: "Sreesanth…Sreesanth's under it…He takes it…India have won the World Cup!" And to be honest, that's a perfectly good memory to have. In the end, after a satisfying season of the world's biggest 'tamasha', don't let anybody convince you that the IPL is what's ruining cricket. The IPL is what's saving it.