Gutsy Saina enters Indonesia Open Superseries final
Featured Columnist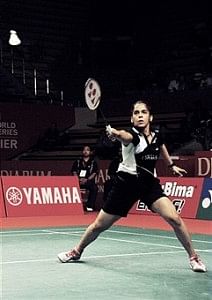 Jakarta: It wasn't pretty, but she got the job done.
Saina Nehwal entered the final of the Indonesia Open for the fourth straight time, beating a defiant Korean opponent and getting through in straight games without having to withstand yet another three-setter. Nehwal beat Sung Ji Hyun 22-20 21-18 and will play second seed Li Xuerui of China in the final on Sunday.
With Saina having spent 3-1/2 hours on court in her three matches, the big question was whether she could survive another long match. Saina had a 3-0 head-to-head record against Sung, but she has been in competitive action over the last two weeks – she won the Thailand Open last week – and coach Gopichand must've instructed her to try to keep the rallies short and close out the match in straight games if possible.
Saina did exactly that, and established a slim lead as she fired in winners without allowing Sung Ji Hyun the luxury of the long rally. As the game wore on, however, one got to see the devastating potential of Sung's drop shots – the whip-like overhead strokes causing the shuttle to home in on the forecourt and left Saina gasping.
It was a tight match from then on, and Sung edged ahead to game-point on a Saina error. The Indian was brave enough to fire in a crosscourt smash that found the line, and then won the game on another smash.
The Korean recovered and established a lead in the second game, and at 16-13 seemed to be taking the match to a third game. It was a hard battle, not very attractive badminton, but very gutsy at both ends. Sung probably knew she had the edge the longer the match wore on, and Saina would have realized that she would be at a disadvantage in a third game. The Indian desperately fought every point, and three consecutive errors from the Korean saw Saina take a lead and eventually close it out.
Saina will next play All England champion Li Xuerui, against whom she has a 1-4 record.