What is it like being a Fifa ref? The real inside story
By Walter Broeckx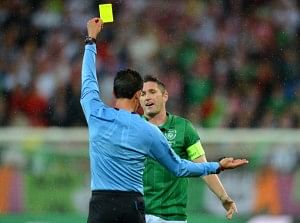 This week I had the pleasure of officiating a game as an assistant with one of the top referees in Belgium. And I had the chance of having a long talk with one of the most talented referees in my country.
The ref is still a very young  man (around 30) but has some three years of experience in the highest league. In my country, they have adopted a plan to promote the refs as soon as possible to the highest leagues, so that they can have a long career at that level and also can have a good international career.
And as a result, this ref has been handed a Fifa badge this year. And every year, Fifa organises a training camp for the freshly appointed Fifa refs. This time it was a one week training camp in Turkey. You might think it must be nice to stay in a star hotel on Fifa's expense. Who wouldn't want to have that? And even the flight to Turkey is paid by Fifa. And to make sure that the refs arrive in good shape they give tickets for business class on the plane.
Now before you start running to the nearest center where they are offering a refereeing course, you might want to listen about how their day would start every morning. Because, unlike England, we have no full time professional refs in my country. They do get some fixed money, but that is not enough to really make good living. So refs in my country have a day time job.
Most of the established refs have a part time job. But for young refs it might not be possible for everyone, they also have to see that they earn enough money to support their family. And only when you are a Fifa ref and start officiating international games you get more money that could allow you to start working less in your day time job.
So our young Fifa ref has a full time job. That means, in my country, it is something around 38-40 work hours a week. But being a top class referee in Belgium also means that you have to train. And this means one training session a week with the other top class referees in the afternoon. And one training session in the evening with the other top class referees of our county.
For the midday training, our ref has to take some time off work and he has to make sure he works these hours later on. Or start earlier in the morning. So you can straight away see that to be a top ref in my country, you need an employer that is willing to give you some freedom in your work.
And apart from that, our ref also has to train almost every day on his own. And it is not that you can just pretend to train. No. Each ref is giving a computerised watch and device that he has to wear when he is training. And at the weekly training his watch is checked and they can see if he has trained enough. And if you are caught cheating, you can lose your status as a top class ref.
The result is that our ref, after his full time job, trains everyday day for an hour and a half.
It usually is around 8 pm he reaches home. And then he still  has to eat his dinner. This is the everyday life of a ref in a country where there are no professional referees. So if you still think that flying business class and staying in a top hotel in Turkey is too much for such young refs…consider the hard work that those refs have had to put in to reach there.
If you sometimes think that a referee is blind while watching a game, then think again.
The young ref that we have been talking about is short sighted. He wears glasses during the day, but when he officiates a game he uses contact lenses.
Once in a while, the medical staff from FIFA check his vision, without glasses, with glasses and with the contact lenses. And it was found that he was not seeing things 100% with the contact lenses he used. So they told him to buy new contact lenses. He had to see a specialist and they have made special contact lenses just for his eyes only. Without those lenses, he would not be able to keep his Fifa badge in the future.
The contact lenses now make sure that his vision is 100% at all times during a game. They have cost him a lot of money to have them made. Money that he had to pay from his own pocket.
Work hard as a part-time employee, train like mad as a ref, pay a big sum for your game contact lenses, hardly have spare time for your  family and yet the love for refereeing and the chance to become an international ref pushes him everyday to do better.
Published with permission from Untold Arsenal: Arsenal News. Supporting the Lord Wenger; coach of the decade.