Origin no bar in multi-cultural Germany
Featured Columnist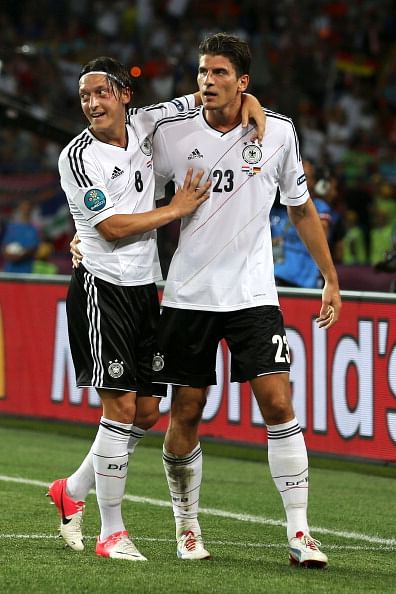 Germany is the most successful nation in the European football championships, thrice champions (1972, 1980 and 1996) and thrice runners up (1976, 1992 and 2008). They played in the Euro tournament for the first time only in 1972. This is their 11th tournament and they are favourites for the title. There are major differences between the German team that won the Euro championships in the 20th century and the current squad.
The current German squad does not grind out results with quick counter-attacks and resolute defence. Instead they play fluid attacking football, with subtle passing, quick release of the ball and intelligent off the ball running. The darting runs of midfielders Mesut Ozil, Lukas Podolski, Bastian Schweinsteiger and Sami Khedira are a delight to watch and difficult to contain. This change in approach play was started by legendary ex-international Jurgen Klinsmann during the 2006 World cup and continued by his assistant Joachim Loew who took over from 2007.
Besides the approach play, it is the composition of the German squad in the 21st century that is significantly different. It is multi-cultural and reflects the changing demographic nature of Europe. The first generation of migrant workers came to Germany in the 1960s and early 1970s in pursuit of employment and enhanced life style. Many German cities like Berlin, Munich and Hamburg are living examples of multiculturalism with a variety of cuisine available, different languages spoken and people crossing frontiers in pursuit of a better standard of living.
The children of these migrants adopted to the German way of life by enrolling themselves in world class youth development facilities and training programmes for football. They developed a passion for football and took to the game professionally as a way of integrating into the German mainstream and an avenue for upward social mobility. Thus the German team by the end of the first decade of the 21st century had a different composition. Midfielder Sami Khedira (Tunisia), playmaker Mesut Ozil (Turkey), defender Jerome Boateng (Ghana) and left midfielder are all naturalised Germans, who are all products of their youth development programmes.
After elimination in the league stage in both Euro 2000 (lost two and drew one game in Group A) and Euro 2004 (drew two and lost one in group D), the German Football Association also realized that they had to concentrate on youth development and attract the migrant populations to football. For a decade they set about it with typical Teutonic thoroughness.
Stung by the early elimination in Euro 2000 and '04, the German Football Association (DFB), started a nation-wide youth development scheme, a decade ago, with an investment of 100 million euros.
This system was based on two main pillars: regional centres known as Statzpunkte, and elite centres run by the 36 first and second Bundesliga clubs known as Leistungszentren. Across the country 366 Statzpunkte were established, with around 1,000 coaches paid by the DFB to train approximately 14,000 children aged eleven to 14. The best players are picked from their local clubs to train once a week at a Statzpunkt where they follow a standardised nationwide training programme.
Bundesliga clubs monitor the progress of youngsters at the Statzpunkt. The best among the lot are offered places at a Leistungszentrum, the professional club's youth departments which, from 2001, were required by the DFB to introduce certain minimum standards for youth development. These included hiring full-time youth coaches, introducing boarding schools for the most promising players and having access to a certain number of training pitches.
Over 600,000 players are being scouted annually by the clubs and within a decade 4,500 have progressed to the professional training centres.
The senior national team in Euro 2012, if we include Mario Gomes and Miroslav Klose, has six naturalized Germans. The number is much larger in the German age-group teams which are excelling in European competitions. This was evident in the biennial European U-21 year's tournament held inSwedenin the summer of 2009.
An Anglo-Saxon sounding Fabian Johnson, and a player with a seemingly Spanish name, Gonzalo Castro, scoring goals for Germany in an international football tournament? Sounds like a commentator's gaffe or the printer's devil. But truth is stranger than fiction.
Eight of the German players who helped their nation become champions, were born outside the country they represented in Sweden. Only three, goalkeeper Manuel Neuer, striker Sandro Wagner and 6ft 3ins tall central defender Mats Hummels were born inGermany. Hummels and Neuer are now first choice players in the senior team. Midfielder Johnson an Afro-American who plays for TSV 1860Munichand striker Castro (Spain) opted for German nationality. Similarly, midfielder Khedira (Tunisia), playmaker Mesut Ozil (Turkey), striker Ashkan Dejagah (Iran), defender Jerome Boateng (Ghana), left back Sebastian Boenisch (Poland) and right back Andreas Beck (Russia) are all naturalised Germans. Boenisch has now opted to play for the country of his parents Poland in Euro 2012 after being persuaded by the Polish coach Franciszek Smuda. The others have all opted to play for Germany. Khedira, Ozil and Boateng are regulars for the national team since the 2010 World Cup.
Clearly, Germany has shown the way. By offering superior youth development facilities, they have attracted talented players from all over the world. So in the World Cup of 2014 and 2018, a multi-cultural German could be on view, as the European U-21 tournament is considered a stepping stone toward the senior team.
Players such as Klaas Jan Huntelaar, Luis Figo, Petr Cech, Euro 2008 winner Iker Casillas, 2006 World Cup winners Francesco Totti and Andrea Pirlo began their international careers in the youth teams.
Germany's triumph at the 2009 Uefa European Under-21 Championship completes a remarkable year for their age-group sides. Victory for Horst Hrubesch's team in Malmo added the U-21 title to the U-19 and U-17 crowns Germany had already won in the preceding 11 months.