Wimbledon 2012 men's preview: Back to the (grass) roots
Featured Columnist
Wimbledon is ancient, Wimbledon is traditionalistic, even excessively orthodox sometimes, and Wimbledon is played on a surface that grew out of favor with tournament directors ages ago. And yet, for a tennis aficionado, it sometimes gets difficult to maintain a straight face as the Big Daddy of tennis tournaments rolls around. There's simply no way you can resist the pull of the strawberries-and-cream, the all-white dress code, the austere, formal voices of the chair umpires, and the bad bounces and skidding shots that leave all the players nonplussed. The TV ads help too – with the orchestral music and sweeping shots of Centre Court filling your screen, it's hard not to get goosebumps. As the tournament approaches, the frenzy builds up to such a fever pitch that you end up doing things that you didn't think possible: today, I gave up my sworn oath to never use the internet for listening to audio clips (why would you do something like that when you have the option of watching the action on video?) and actually tuned in to the live radio feed of the draw announcement. There's something about Wimbledon, even if I can't exactly place my finger on what that something is. So let's just give in to the frenzy and take apart the men's draw at this year's event:
First Quarter: Wrestling contradictions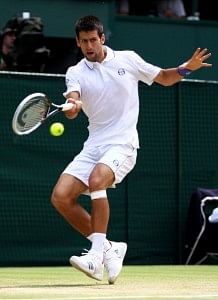 Novak Djokovic hasn't played a single match since the French Open, so it's hard to figure out whether he has recovered from his loss to Rafael Nadal in the final. That loss should have left Djokovic punch-drunk, even if it didn't seem so from his demeanor. After all, despite all of his talk about planning his season around the French Open, he was pipped to the post by Nadal, who stole the Roland Garros trophy and a piece of tennis immortality from right under Djokovic's nose. Ordinary humans sometimes find it difficult to regain their equilibrium within two short weeks of such devastating setbacks. But Djokovic has pushed the boundaries of what 'ordinary humans' can do in the last year and a half, and this time, he has one added weapon in his arsenal: the belief that he can actually win at the All-England Club. Djokovic's Wimbledon campaign this year, where his self-confidence from his inspired 2011 run might constantly wrestle with the despondent demons of his 2012 claycourt collapse, will make for fascinating viewing.
Djokovic's first round opponent will be former World No. 1 Juan Carlos Ferrero, who, at the ripe old age of 32, will likely provide marginal resistance before falling by the wayside. Things get tougher after that, but only just: Ryan Harrison potentially awaits in the 2nd round, followed by Radek Stepanek in the 3rd and Juan Monaco in the 4th. The first real test for Djokovic will likely come at the quarterfinal stage. Tomas Berdych has proven himself to be a reliable late-round presence at the Slams lately, and he doesn't seem to have too many troublesome players in the path: Ernests Gulbis, Berdych's first opponent, would have  been considered 'tricky' a couple of years ago, but not any more; Richard Gasquet has done nothing of note on grass since his semifinal run in 2007; and Nicolas Almagro has done nothing of note on grass, ever. A repeat of the 2010 semifinal is likely on the cards in the quarters this time, then. And to predict the result of that quarterfinal, all you have to do is ask yourself which player out of the two has made dramatic changes to his game since that career-defining 2010 semifinal. Hint: it's not Berdych.
Prediction: Djokovic def. Berdych
Dark horse: Florian Mayer
Second Quarter: Crumbling hope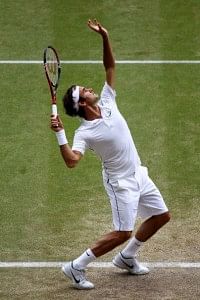 News flash: John Isner and Nicolas Mahut will NOT meet in the Wimbledon first round. But wait – we're not completely out of the woods: the two joined-at-the-hip players will likely face off in the second round this time. Is anyone else hoping that one of them loses their first round match? It's not likely: Isner opens against Alejandro Falla, while Mahut has to deal with Paolo Lorenzi first up. Both eminently winnable matches. But we can always hope, right?
Roger Federer returns to the scene of the greatest triumphs of his career, with the distinct knowledge that his grasscourt empire is crumbling, and fast. Federer has fallen at the quarterfinal stage two years running now, so any result better than a quarterfinal finish will actually be deemed progress. How the times have changed and all that. Federer's draw doesn't look particularly threatening – potentially, his opponents up to the quarters are Albert Ramos, Michael Llodra, Julien Benneteau and the winner of the match between Fernando Verdasco and Gilles Simon, in that order. On the other side of the quarter are Janko Tipsarevic, who faces David kick-in-the-shins Nalbandian in the first round, and Isner. Considering Isner's sub-par results lately, it would make sense to place money on Tipsarevic making the quarters. But if there's one thing I've learnt from following Isner's career, it is that you NEVER place money on his matches, either for or against him.
Prediction: Federer def. Isner
Dark horse: Who else but everyone's favorite dinner conversation topic, David uncontrollably-violent-display-of-anger Nalbandian
Third Quarter: Why me?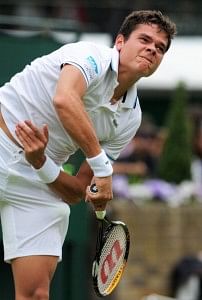 That's probably what Andy Murray is thinking right now, because the Scot has been handed the draw from hell this year. Just take a look at the possible lineup of opponents he has to face: Nikolay Davydenko, Ivo Karlovic, Kevin Anderson, Milos Raonic/Marin Cilic and Juan Martin Del Potro. And that's before he even gets a bite of Rafael Nadal. Murray's miseries have already been so highly talked about that Andy Roddick's relatively soft draw (the only seed he can face before the fourth round is the claycourt specialist David Ferrer) and Del Potro's ridiculously harmless-sounding string of early round opponents (there's Robin Haase, Igor Kunitsyn, Mikhail Kukushkin and Kei Nishikori in that lineup) have been pushed into the background.
What intrigues me most from this quarter, however, is the potential 3rd rounder between Milos Raonic and Marin Cilic. Raonic and Cilic have both got games built around big serving and first-strike groundstrokes, and they've both been due for a breakthrough Slam run since a long time (okay, Cilic already had his breakthrough – back at the 2010 Australian Open – but I've got a new rule: anything that happened more than 2 years ago doesn't count). The winner of the battle between these two towering players will either get Murray or the lucky chap who bundles Murray out of the tournament. In short, a winnable match one way or another.
Prediction: Raonic def. Del Potro
Dark horse: Grigor Dimitrov
Fourth Quarter: Bring out the popcorn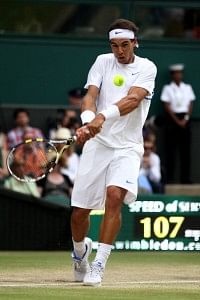 This quarter is first-round-thriller heaven: I can count as many as 5 first-round matches here that have the potential to make us actually watch the tournament on the first two days. There's Jo-Wilfried Tsonga vs Lleyton Hewitt, Jurgen Melzer vs Stanislas Wawrinka, Bernard Tomic vs David Goffin, Philipp Kohlschreiber vs Tommy Haas, and Alexandr Dolgopolov vs Alex Bogomolov Jr. Alright, I'll admit that that last one may not actually be popcorn-worthy fare, but it might be fun just to see the commentators struggling to alternate between the two players' names. Kohlschreiber vs Haas looks particularly mouth-watering – Kohlschreiber is coming off a win over Rafael Nadal, Haas is coming off a win over Federer, and they both have gorgeous one-handed backhands. Tsonga-Hewitt, on the other hand, might not be as exciting as it sounds – Hewitt, bless his heart, is well past his prime now, and as much as it pains me to say this, even taking Tsonga to four sets will be an achievement.
The star of the show here, of course, is Nadal, who faces fellow lefty Thomaz Belluci in the first round. The two-time champion will then get, possibly, the winner of the Kohlschreiber-Haas match in the 3rd round, and, if the Frenchman makes it that far, Tsonga in the quarters. Is that what you'd call a 'manageable' draw? From where I'm looking, it certainly is. And just in case you're wondering, I did not accidentally overlook 10th seed Mardy Fish; it's just that considering the American's numerous problems lately, getting to that scheduled 4th round matchup against Tsonga (possibly having to get past Tomic in the process) will be a minor miracle.
Prediction: Nadal def. Tsonga
Dark horse: Bernard Tomic
Semifinals
Semifinal 1: Federer has won this event 6 times, and is the consensus King of Grass among the current generation of players. But Djokovic is the reigning champion, World No. 1, a more solid player off the ground and the winner of 5 of the last 6 matches played between the two. You do the math.
Prediction: Djokovic def. Federer
Semifinal 2: If Raonic does actually reach the semis, it will make for a remarkable story, and will likely be a stepping stone for some great victories in the future. Unfortunately for him, that great victory won't come at this year's Wimbledon. At this point, Nadal is too adept at getting returns back, and too efficient at taking control of points once the ball is in play, to lose more than a set to the hard-serving Canadian. Stranger things have happened, yes, but Nadal usually stays away from the strange and the spooky.
Prediction: Nadal def. Raonic
Final: Nadal may be the trendy pick at the moment, but I'm going to go with Djokovic. The Serb has still won 7 out of the last 10 meetings between the two players. And he is still the undisputed king of non-clay surfaces, until proven otherwise.
Champion: Novak Djokovic