Sania's stance is valid but can We move on?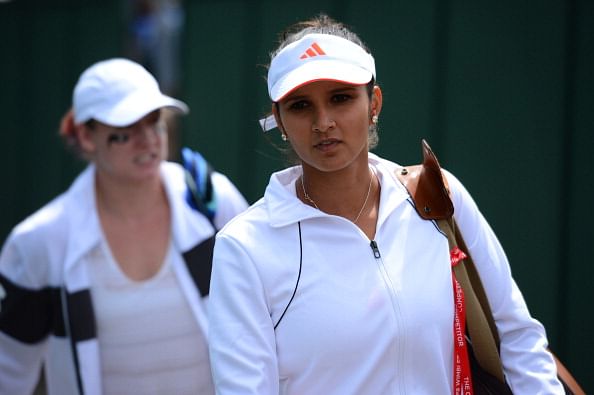 Fierce shot, strong return, cheeky drop shot, helpless leave and a brutal serve is what Bhupathi, Paes, Bopanna, AITA officials and Sania respectively have had to offer over the last couple of weeks; all in the verbal sense of it!
The Olympics are barely a month away and at a time when India is about to send its largest contingent for tennis, here we are debating and analyzing what the players have to say about each other and about the governing body, rather than discussing their skills and potential ability to win medals. Each of the enlisted entity have had its elaborate share of washing dirty linen in public and the latest to that is India's highest ranked 'female' tennis player.
So is Sania's stance appropriate? Does that add to the muddle that has already swelled to a point of embarrassment?
For starters Sania's views are well timed and hence appear more than genuine; she spoke only after her entry into the Olympics was confirmed. If you read the entire transcript completely you will realize that her position has been well advocated, exaggerating the language only wherever it should be (the part about male chauvinism). The quotes sparked off sharp responses from many, including those who aren't her fans, the consensus endorsing her dissent about the kind of treatment that was dished out.
Sania's anger vented at Paes, Mahesh about the team selections could be valid but should be overlooked, for each member of the tennis team has now expressed his/her preferences. You could argue that she is way to junior (with respect to experience) to Paes & Bhupathi and that doesn't give her the right to comment about her senior pros; but was the same logic applied when Bopanna was raising objections to play alongside Paes?
That begs to ask – do we as fans/media treat our players in a sexist manner? The selectors with their hands tied down could appear to have selected indiscriminately, but if there exists any possibility of chauvinism then that deserves outright condemnation.
What strikes you most is the part regarding the AITA & the selectors. Yes, she went overboard with her remarks about them, but isn't her stance valid and justified? While selecting the teams, the panel gave in to Bhupathi & Bopanna's demand; in process enraging Leander.
As expected he was offered a deal of being paired up with Sania for the mixed doubles draw. Leander & Sania forge India's best team (in terms of ranking) but she has played alongside Mahesh for the last 3 Slams; doesn't this fact reduce a medal hope?
In sports selectors are meant to be the authority to take a call on who plays and along with whom, but when the selectors acceded to the demands of Bhupathi, Bopanna and later Paes why wasn't Sania consulted? After all she is the only Indian female player who has made it to the international level with some credibility, and ranked way too far ahead of other female compatriots.
The question isn't of making Sania's image more credible than Leander/Bhupathi/Bopanna but addressing the valid concerns raised by her. We shouldn't forget that Leander & Bhupathi are India's big medal hopes, whoever they partner, and should continue to support our 7-membered contingent without bias or preconceived notions.
Let us hope that the last couple of weeks are a phase of shadow boxing which is necessary to go into a big tournament, perhaps to keep your mind and ambiance uncluttered. Amidst all this slugfest very few have noticed that Somdev and Rushmi too have got an opportunity to participate in the extravaganza; a moment which could build a legacy for the future of the game in this country.
The mixed doubles saga doesn't seem to be over, but in the 'best interest of the country' it would be appropriate if the players focus 'only' on their game at the Wimbledon!