Tony Greig congratulates BCCI, asks "So, We Cool Now?"
LONDON – In a shock reversal, Tony Greig surprised the crowd gathered at his MCC Spirit of Cricket Cowdrey Lecture, using the opportunity as a platform to congratulate India on becoming the game's "one and only superpower."
"Undeniably, India have a monopoly on international cricket. However, far from being worried about this ostensibly precarious state of affairs, we should embrace the BCCI as our commanders-in-chief," said Greig. "The track record of the Indians in the last ten years has been exceptional, and for that, I must commend them.
"Fortunately," Greig added, "India is preoccupied with money and T20 cricket, and sees its IPL and Champions League as more important than a 'proper' international calendar. To compound its financial success, India has not only sold part of the game to private interests, but some of her administrators are seen to have a conflict of interest – I call this a convenient overlap of sports meeting business – and this makes it easier to act with financial accountability.
"For example, my good friend Mr. Srinivasan has links with both Chennai Super Kings, and the BCCI itself; this ensures excellent communication between all parties, and that players such as Ravi Jadeja are justly rewarded with opportunities at international level.
"We can huff and puff as much as we like, and have all sorts of external reports," Greig continued, "but this situation can only be resolved by India accepting that generating billions of dollars is far important to any flimsy concept of 'the spirit of cricket' – when's the last time this 'spirit of cricket' paid our bills?
"After years of selflessness towards the international community, it's about time that the BCCI stopped acting like Mother Teresa, and took a well-deserved holiday – maybe in a luscious Goan resort?" said Greig. "Maybe our good friends at the Sri Lankan and Bangladeshi cricket boards could join us if there's room.
"Pakistan? Well we'll see about that," added Greig.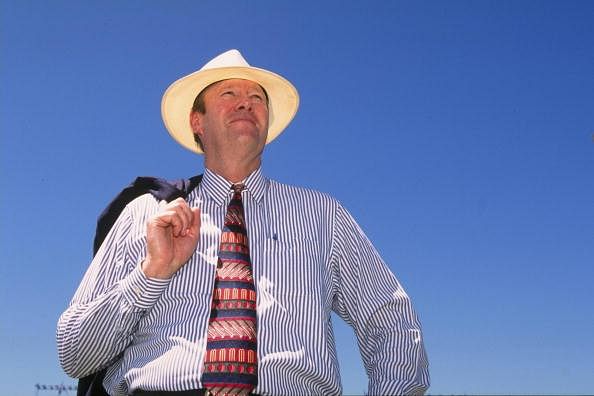 Greig, whose ICL links had all but made him persona non grata in the BCCI's eyes after accusing them of "whingeing and whining" over DRS, was keen to show that he had turned a new leaf, and was coy on any potential reconciliation.
"I admit that in the past, I've made some mistakes," said Greig. "I've sometimes raised questions over the BCCI's governance, but I must set things straight here – look me in the eyes, as I tell you this – I promise, I swear on everything that's holy: I only ever did it to bring the best out of the BCCI. And look where we are now? I was onside all along!"
"Also, I must hasten to add – I've previously erroneously said that the jumbo prawns in Colombo are second-to-none, but now I've had the chance to sample some of Mumbai's finest, I'll have to reconsider."
Tony Greig was unavailable to comment after his lecture, as he had to fly directly to Mumbai in order to attend a BCCI felicitation in his honour. 
At the time of writing, effigy factories were clearing out life-sized non-flammable replicas of Tony Greig for as low as 100rs.
Published with permission from Alternative Cricket...cricket for grown-ups.