Player Ratings: Spain vs Italy
Featured Writer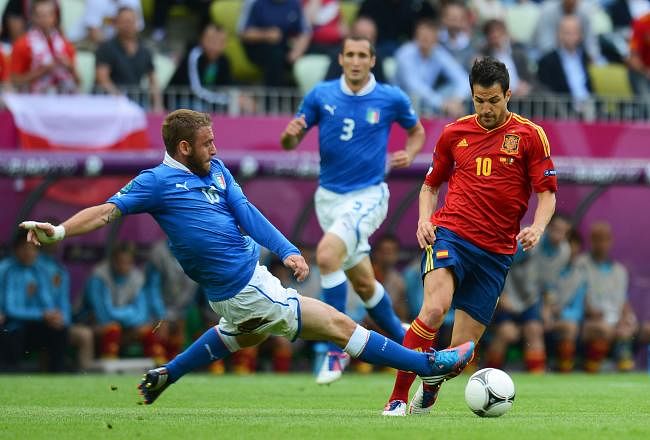 So what was touted to be a pulsating encounter between the two European powerhouses turned out to be a tame affair. The Italians' famed resilience under trying circumstances did not come to their rescue in the final and for most of the second half, they were very tired and dispirited. In the end, Spain were deserved winners and became the first team to win 3 international tournaments on the trot and do the treble.
Spain
Iker Casillas – 8/10
In the first half, he was able to make important saves to ensure that Spain maintained the 2 goal lead. In the beginning of the second half, he was alert to the threat of Antonio Di Natale. Once the Italians were reduced to 10 men, he had not much to do.
Alvaro Arbeloa – 7/10
Did his job effectively and did not make any mistakes. Ensured that the Italian forward line was nullified and did not give them too many chances at goal.
Gerard Pique – 7/10
Even though he was careless when he got himself booked for a illegal tackle on Cassano, he was able to ensure he did not make any further mistakes. Had a good game overall.
Sergio Ramos – 9/10
Did a fabulous job in ensuring that Balotelli did not get any sight of goal. Did what Germany had failed to do and stayed very close to Mario and denied him any space. He also had a chance to score early on in the game.
Jordi Alba – 8/10
He scored a brilliant with a surging run on the flank to ensure that Italy had no chance of coming back. He was very effective coming forward and at the same time did not neglect his defensive duties.
Xavi – 9/10
Even though has not met his own high standards in this tournament, he was at his impervious best in the final. He almost scored at the start of the game and got assists for the second and third goals.
Sergio Busquets – 7/10
Played the role of screening his defence to perfection. Had a disciplined performance and ensured that Spain's defence was not too overworked.
Xabi Alonso – 8/10
Another exceptional performance from the Spaniard. His distribution was flawless and was instrumental in all the forward attacks of Spain.
David Silva – 8/10
Got himself into a good position to score the goal from Cesc's cross. He might have done better with his passing, but made good runs which confused the Italian defenders.
Andres Iniesta – 8/10
Had great foresight to pass the ball to Fabregas who then created the chance for Silva to score. Was lively throughout the game and has been the best player of the tournament.
Cesc Fabregas – 8/10
Was far better as the designated striker in this game rather than when he was in the first group game against the same opponents. Even though he did not score a goal, he was able to create chances and cause problems to the Spanish defence.
Substitutes
Fernando Torres – 8/10 - Scored one and created the other to cap off a brilliant cameo.
Pedro – 6/10 - Was on the field longer than Torres but was ineffective.
Juan Mata – 6/10 - Came in very late but scored a goal almost immediately.
Italy
Gianluigi Buffon – 5/10
Even though he had an assured display bar the goals, he should have done better on the ones that he did concede. The 3rd and 4th goals were conceded when the team was done to 10 men, and so cannot really be faulted for it.
Ignazio Abate – 6/10
Was an attacking threat down the flank and was able to put in good crosses into the box. But was partly responsible for the second goal as he let Alba get past him with ease.
Andrea Barzagli – 6/10
Could have scored with the header in the first half but missed his chance. Was also culpable for letting Alba make the run and score the goal.
Leonardo Bonucci – 5/10
Was lucky that he did not have a handball given against him, which would have resulted in a penalty for Spain. Was not really that effective even though he made some crucial interventions to prevent further damage.
Giorgio Chiellini – 5/10
Had a bad game as he was responsible for the first goal, when he couldn't beat Fabregas. On top of that, he got himself injured and had to be substituted very early.
Andrea Pirlo – 7/10
Did his stuff with the passes, but the forwards were not able to make maximum use of them. He was good with the set-pieces too but was not as effective as his previous games.
Daniele De Rossi – 7/10
He did a very good job in midfield and was the brightest spark in the Italian team. He was involved in a lot of tackles and forward moves but could not make the breakthrough.
Claudio Marchisio – 5/10
Was alive and energetic early in the game but then faded as the game progressed. Not his best game.
Riccardo Montolivo – 6/10
Tried his best the entire game but could not make any difference. Was substituted in the second half.
Mario Balotelli – 5/10
Had a frustrating game, especially after his demolition of the Germans. Did not get enough service and was closely marked by the Spanish defence.
Antonio Cassano – 4/10
Had a couple of chances in the beginning but could not capitalise as Casillas made the saves. Had a bad game and was substituted at half time.
Substitutes
Federico Balzaretti – 4/10 - Was brought on Chiellini and had a hard time coping with the Spanish attack.
Antonio Di Natale – 6/10 - Had an immediate impact as soon as he came on but faded as the half progressed.
Thiago Motta – 2/10 - Injured himself almost immediately after coming on and reduced Italy to 10 men for more than half an hour.