Armstrong devotee Tejas Chaukulkar looks to be India's next big tennis hope
Intern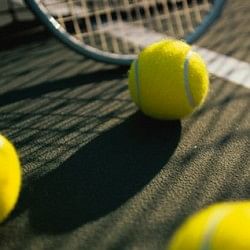 The famous American writer Harry Golden once remarked, "The only thing that overcomes hard luck is hard work".  All of us, are, in the grand sense of things, born to achieve something in our lives. Life puts in obstacles and challenges and while many succumb to those hardships, some of us overcome them and achieve what our potential allows us to do. The same could be said of rising Indian tennis star Tejas Chaukulkar. The 22 year-old, ranked No.38 in the country, still holds on to his dream of making it big and with Lance Armstrong and Pete Sampras(two people who didn't do too badly in their field) as his idols, has chosen the right example to follow as he seeks to achieve his childhood dream.
Born into a regular, hardworking Maharashtrian family in Pune, tennis was not Tejas' first love. Infact, he was almost forced out of the house by his mother to take up a sport to channel his bounding energy as a child.  By his own admission, he was a 'very restless child who would run around the house during the afternoons, creating a racket when everyone was asleep!' Starting off with athletics at the age of 6, Tejas drifted from one sport to another, taking up swimming like his older sister Maitreyee(a national level swimmer herself) and like every Indian kid, trying his hand at cricket. Cricket was also to be cast to the side though, as he found himself far more attracted to the tennis courts around the cricket ground, spending hours just watching children his age play tennis. Older sister Vaidehi noticed him during one of these tennis 'daydreams' and from then on, there was no looking back.
Always fascinated by the sport and with good tennis genes in his family(his uncle having been an accomplished junior player), he started training under the watchful eyes of his first coaches, Mr. Ram Gonte and Mr. Balachandran, both of whom he holds in very high regard. The talent was there for all to see and before long, he had won a local tournament in the U-8 age category despite having played for only three months. Tejas worked relentlessly on his game and soared through the various age groups, reaching the No.3 rank in the U-10's and No.2 in the U-12's in Maharashtra.  Supported whole-heartedly by his family who always backed him and provided him with the best of equipments, he won a host of tournaments at the U-10 and U-12 levels and peaked at India No.2 in the U-14 category, winning national-level tournaments in both Pune and Hyderabad. The wins boosted his confidence and it seemed like the consistent hard work and dedication he showed was finally paying off and the dream of making it big was well on its way to being accomplished.
However, luck was not on his side. Infact, it was as if 'bad luck' was sniggering away in a corner while he racked up his achievements, waiting to pounce. A freak accident during basketball practice in school left Tejas with a broken femur, and abruptly derailed his fledgling career, sidelining him for a whole two years. With his tennis future now hanging by a thread, he turned his attention to academics. While he was never a slouch on the academic front, the increased time available to him was put to good use as he stood third in school during his Class 10 examinations, and followed it up with a strong performance in his Class 12 exams, earning him a place in the city's best engineering college, College of Engineering, Pune(C.O.E.P).
Having fully recovered from his injury, Tejas returned to the courts as he sought to revive his tennis career. A win in the U-16 Super Series tournament in Kolhapur served as a major confidence-booster and provided him with further impetus and drive to make it as a tennis player.  While there were frustrations as he realized he had lost valuable playing time and had fallen behind most of his peers, constant belief in himself plus the inspiration of seven-time Tour De France champion Lance Armstrong kept him going as he continued to play tournaments and steadily improved his game while simultaneously getting his B.Tech degree in Metallurgy and Materials Engineering.
Having completed his engineering, Tejas has now turned his focus completely to tennis. It is a well-known fact that tennis is a young man's game and while time is not on his side, belief and will are qualities he possesses as the struggle to make it on the pro tour continues. He is currently playing on the ITF Futures Circuit and while he is currently ranked at No.38, aims to make it into the Top 15 in the country by the end of the year, along with gathering a few ATP points. With the aim of turning pro and breaking into the top 500 within the next two years, Tejas now trains part-time in Pune under Indian Davis Cup coach Nandan Bal and part-time at the Canas Tennis Academy in Miami, Florida, a move which he says helped him understand and realize the gulf in class between him and the pro players. While at the academy, he got a chance to meet top tennis players like Juan Martin Del Potro, Feliciano Lopez and Fabio Fognini and got to hit with talented youngster Ernest Gulbis, experiences which made him appreciate the amount of hard work needed to make it on the pro tour.
When asked about the problems facing young Indian tennis players, Tejas was upfront  and poured his heart out. While he is relatively lucky that with his family background, he can afford to travel to academies halfway across the globe without a sponsor, it is not the same for a number of talented youngsters who fall by the wayside due to lack of proper funding and sponsorship. Infact, Tejas too is painfully aware that he can carry on without a sponsor only for a limited period of time and is already feeling the pinch as the expenses increase.  When you hear him blame people in the 'system' who are 'more interested in making money for themselves rather than spending it on the players' and  bemoan the 'lack of world-class infrastructure', it reeks of the now all-too-familiar problem of neglect in Indian sports, i.e. sports which don't involve a bat and a ball.
Tejas Chaukulkar is just one of many Indian kids who take to the tennis court dreaming of becoming professional tennis players. While it was perhaps by chance that he took to tennis, it has been anything but chance that has led to him rising to the level he is at. He says he admires Pete Sampras for, among other things, his 'attitude and discipline'. With those qualities not lacking by any stretch of imagination in himself, Tejas could well be a future professional, fighting it out on the circuit within a couple of years. Now all he needs, is a bit of luck.