Taking the piss out of Arsenal fans
Featured Writer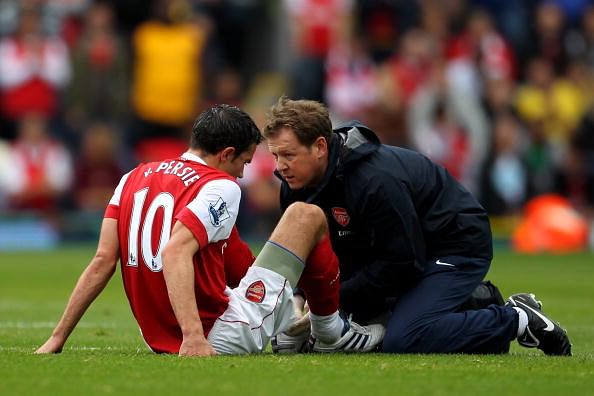 Robin van Persie has managed to pour cold water on Arsenal's plans for next season with a message even shorter by Twitter standards. The transfer buzz that Lukas Podolski and Olivier Giroud created last month has now evaporated and the Gooners  await the start to next season with a clean slate.
This is no reason for the Gooners to draw their curtains, and seclude themselves  from the public eye with a tub of ice cream and a box of kleenex. As things stand, Robin van Persie is still contracted to Arsenal until 2013.
It doesn't take much effort to make a player change his mind and perform a u-turn. All it takes is an angry mob wearing balaclava's and a manager willing to use jedi mind tricks.
It worked with Wayne Rooney before and van Persie is not impervious to the "force".
But fans demanding the player to repay their faith is downright wrong. Allowing emotion to blind you is understandable, but one should not allow oneself to be carried away with the tide.
There is so much you can learn from what Gary Neville said about van Persie on twitter last night.
"Only a passenger on a ship remember! The ship will always be there!!"
It is easy to sympathize with the manager and the club. A 62-year-old manager can only take so much. From the last eight years he tried to build the team around one player, but each of them bailed on him and went south. The foundation of Arsenal is weaker than a house of cards.
Flawed philosophy, deranged expectations from the fans, or players looking for a springboard is an argument without a full-stop. Throw in the finances, debts, loans and wage structure and you have a dark bottomless pit staring back at you. The endless blame game and pointing of fingers is best avoided. Lather, rinse, repeat: this has been Arsenal's start to a new season since the last three years.
This Arsenal side seem to be more worried about what the papers will be saying about them tomorrow morning than their season targets. It is easy to say that they have brought this on themselves, but Arsene Wenger should have seen this coming.
If his past experience haven't taught Wenger anything then there is nothing wrong in calling him a slow learner. When Persie postponed the talks for his contract extension till the end of last season, Wenger should have put a gun to his head and got the contract sealed. Persie has lead Wenger, Ivan Gazidis, and Stan Kroenke like three blind mice from a nursery rhyme to make-believe he will sign a contract after the Euros.
If Wenger has already locked away his cheque book and flushed the key down a toilet, it is not bad to lose Persie now since he has already been used as leverage to sign Podolski and Giroud.
The question begs whether Wenger is willing to allow Persie leave before being cup tied or face a Mexican stand off and risk losing him for nothing. A u-turn would mean that the skipper has to lie with a straight face to get out of the muck he got himself into. If Wenger pulls it off, the world will never know what skeletons he hid in his cupboard.