Featured Writer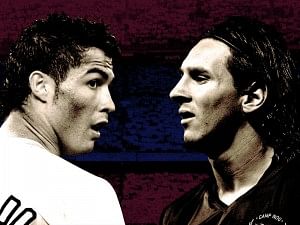 When the age old question of – "who is the greatest footballer on the planet?" – is thrown into a conversation, the same two names are thrown back instantaneously. In fact, the question should be – Lionel Messi or Cristiano Ronaldo – who is better?
For almost half a decade, Lionel Messi has been the common answer. His goal scoring prowess and joyous touches have elevated the little Argentinian to levels of respect unheard of since the heyday of his mentor Diego Maradona and of course, the legendary Brazilian, Pele. Some, nowadays, go as far as to suggest that the Barcelona man has class surpassing those legends even and has become the greatest footballer, not of his generation only, but of all time. Quite a claim.
The man who challenges Messi's claim to be the planet's top performer is Cristiano Ronaldo. So often cast aside by fans and media alike, the Portuguese captain has enjoyed a 2011/12 season that has seen his Real Madrid side beat Messi's Barcelona outfit to the La Liga crown, in doing so defeating a side backed by many to be the greatest club side ever assembled, and causing ex-Barca boss Pep Guardiola to tender his resignation. The two men are without doubt the heartbeat of their respective teams, the focal point for their success, and in this area, Ronaldo takes the points.
Indeed, in terms of pure goal scoring form, it was the Barcelona hitman who took the La Liga top scorer gong. His amazing tally of half a century of goals edged out his nemesis. Additionally, in all competitions, Messi scored sixty seven goals to Ronaldo's fifty two.
One criticism angled at both players is their collective failure to produce their best form on the international stage. Top players such as Maradona, Pele, Franz Beckenbauer and Zinedine Zidane all achieved highly at the big tournaments and many deem the two stars to be a lot behind in this area. However, with the coal of Euro 2012 still cooling and the agony of a Portugal semi final defeat still proving difficult to renounce, the notion that Ronaldo broke the shackles of international under performance is fair. The forward carried an otherwise unfancied outfit through the 'group of death' and to the semi-finals, beaten only on penalties by the irrepressible Spanish.
This idea that each player 'carries' their sides can also be considered at club level, especially in terms of goal scoring. Messi scored 36.6% of Barcelona's goals in the league, whilst Ronaldo was attributed to a massive 42.6%. Both are their team's key outlets, and whilst Messi's pass completion is slightly superior to that of Ronaldo (84.% to 80.9%), he is dispossessed far more (2.9 times per match to 1.9).
The Argentinian was the better performer in the 2011/12 Champions League, while his counterpart had a so-so campaign. His incredible tally of fourteen goals makes Ronaldo's eight look paltry by comparison, as does his four assists to two. Both sides, of course, fell at the semi final stage, an abject failure by their astronomically high standards and both players were criticized, perhaps harshly, for their lukewarm performances during those matches.
One area where Ronaldo blitzes Messi is in his experience of different leagues. In senior competition, Messi has played only in the Spanish top flight. In contrast, Ronaldo has achieved great success not only in La Liga, but also as a teenager in the Portuguese league and in the physically challenging English Premiership, in which he dominated to such a degree that his current employers forked out an incredible £80m to secure his services in 2009. This made him, by some distance, the most expensive footballer in the history of the game. But then again, who knows what Messi would go for in the modern market?
Diego Maradona shocked the world earlier this year by claiming that Ronaldo was "the greatest player on the planet." Pele thinks it's Messi.
Perhaps genius is incomparable. The debate will rumble on.