A comprehensive guide to the Wimbledon final
Featured Writer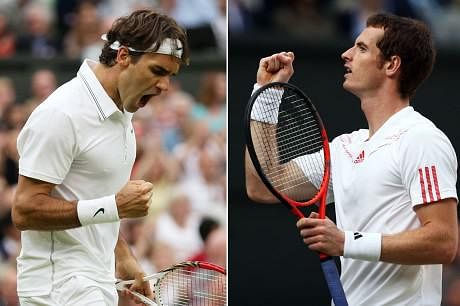 Frankly, I didn't see this coming: Roger Federer vs. Andy Murray?
Andy Murray had a draw that shouldn't have let him pass through the quarters; forget the fact that Nadal wasn't waiting for him in the semifinals. Roger Federer was supposed to make it to the semis with a bit of a struggle and quietly make way for the invincibility of Novak Djokovic thereafter.
Yet here we stand today: Roger Federer vs. Andy Murray.
Actually on hindsight, and completely on hindsight, (I won't claim I even had the slightest inkling of this just two days ago) you couldn't have asked for a better final. Explanations of-course are in due.
Historic moments in sport often hinge on results. World No. 100 beat World No. 2 and we are making compilations of the greatest upsets in the history of Wimbledon. If Nadal had beaten Lucas Rosol in the second round, we wouldn't even have remembered it. (Whom did Federer beat in the second round? See!) Yet, ever so rarely we come upon an occasion when irrespective of the result of the match, an entry into the pages of sporting history is assured: this final is one such. No matter who wins, this match will be remembered, as quite a few records and jinxes are about to be broken.
As much as we write emphatic articles about how statistics don't matter and how it's unfair to compare across generations, let's admit, we as a community of sports fans are obsessed with the numbers. 100th 100, 99.4, 16 Grand slams… rings a bell? Well, for the sports geek who is looking at the records, this match is nirvana.
Let's look at what's at stake for whom.
Roger Federer
Already the first man to make it to 8 Wimbledon finals, Federer will look to join Pete Sampras and William Renshaw as the 7-time Wimbledon Champion. This will also be his record 17th Grand Slam crown. Should he win this match, he will regain his No. 1 ranking that has been particularly elusive these days and with that, join Pete Sampras having spent 286 weeks at the top of the table. More than anything though, Federer will look to prove a point, that he is still good enough to win the Majors.
Andy Murray
Andy Murray broke one of the oldest curses in sport by making the final in the British major in 74 years and is now trying to become the first Brit to actually win it since Fred Perry in 1936. Should he emerge champion today, he is certain to go down as a celebrated hero in English sport. This will be also be his first Grand Slam. From what we have known of Andy Murray, he won't be bothering himself with the history today. He will rather try to disprove the innumerable critics he has earned and break into the domination by the Big Three.
Coming down to the match, here's a look at the numbers so far.
Head to Head
Andy Murray actually leads 8-7 against Federer, but then all these matches have been played on the hard courts. They have never met on grass before and if Federer's semifinals is anything to go by, Murray better be wary.
Wimbledon this year
Roger Federer took 22 sets to make it to the final, as did Andy Murray. Apart from the fact that Murray has faced tougher opponents, there is little to take away from here.
Aces
Andy Murray ranks 5th this Wimbledon with 74 aces while Federer is ranked 9th with 59. Murray holds a slight edge.
Double Faults
Almost as if to compensate for the aces, Murray is ranked 3rd in this category with 17 double faults. Federer isn't ranked in the Top 20 with 8. Murray certainly can't afford many today.
Service Points Won
Murray isn't even ranked in the Top 20 for the first service points won, while Federer is ranked 18th with 79%. However Murray makes up a little with the quality of his second serve winning 65% of the points while Federer won 61%. First serve has always been a concern for Murray and he will have to do better than the numbers suggest today to have a chance to win. Federer served extremely well in the semi-final (won 72% of his second serves! And averaged a 102 mph to Murray's 88mph) and if he can bring it that serve again, he is almost certain to go the distance.
Service Return Points Won
Both Federer and Murray are good returners, but Murray certainly holds the edge here. He is perhaps the best returner in the game right now alongside Novak Djokovic. Federer and Murray are ranked 1 and 2 in first serve returns and exchange places for the second serve returns.
Forehand
Federer by a distance. While Federer has an almost legendary forehand, Murrays is known to breakdown quite often. Murray will certainly look to avoid lengthy forehand exchanges. But there is a catch here. On the few occasions when Federer's forehand has broken down (like in Paris) it has almost always led to him losing the match. It could be a confidence thing today.
Backhand
Real close. Murray has an excellent backhand, the best after Djokovic's, while Federer has the best one hander, very solid on most occasions. Murray holds a slight edge here.
Nerves
Andy Murray by a bit. More than his exceptional footwork or backhands or returns, the reason Andy Murray is in the final is because he wanted it so badly. He has shown a brilliant approach and looks really determined. He will also be aware that Federer has a little more at stake.
Federer, likewise, will be aware of what's at stake and a nerve or two could creep in. He's been in the Grand slam finals before, in fact more than anyone else, and he knows the feeling exactly. Murray, on the other hand, has nothing to lose.
Other Factors
The crowd will certainly be behind Murray though it's almost certain they won't be against Federer who is a respected Champion at Wimbledon. If the roof remains closed, advantage Federer. He's amongst the best indoor players and his forehand is less likely to breakdown without the wind.
My Take
Andy Murray.
How: Magic.
Enjoy the match!!
Statistics Source: http://www.wimbledon.com/en_GB/scores/extrastats/stats_ms.html