At the crossroads - Federico Macheda
Featured Writer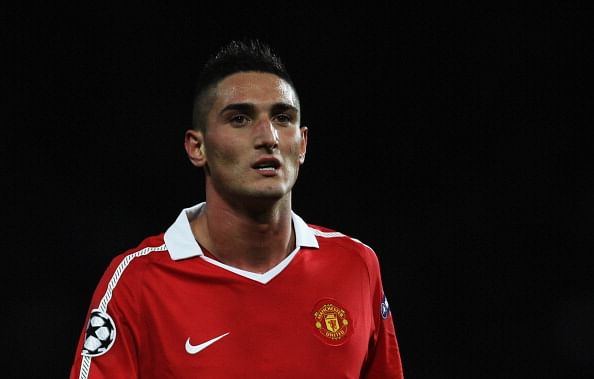 April 5, 2009. With an hour gone, Manchester United trailed Aston Villa 1-2. Sir Alex Ferguson made a change. He took off Nani, who was not all that effective but a big name, nonetheless. He brought on a 17 year old that hardly any one outside Old Trafford and only a handful of the Man United faithful themselves  had heard of – Federico 'Kiko' Macheda. Ronaldo equalized in the 80th minute. It was 2-2 deep into injury time. What happened next is the stuff of legends. A moment, like many in the past, that will, forever, be etched into the memories of Manchester United fans. A moment that made Kiko a folk-hero.
A week passed. Sunderland were next up in the Premier League. It was level. Kiko, the wonder-kid, was brought on again. This time in place of United's record signing and number 9, Dimitar Berbatov. 46 seconds in and Craig Gordon was picking the ball out of the back of his net. Two goals in his first two games. 'Forget about hitting the ground running; this kid has hit the ground flying,' remarked the commentator.
What followed was, in some ways, befitting of the title of a book that involved Lemony Snicket; a series of unfortunate events. Kiko hardly got any chances to shine in that season and in the season after that, injuries limited him to very few appearances. The 2010-11 season was a similar story with Macheda netting in pre-season but finding limited first team opportunities, not least because of Berbatov's scintillating early-season form.
A loan spell at relegation-threatened Sampdoria ended in the threat becoming a reality with Sampdoria's relegation to the second tier of Italian football. Kiko endured a tough time of it, but came back determined to succeed in England. 'For a youngster, England is a better place to play,' he famously remarked.
The succeeding season started off in pretty much the same fashion with first team opportunities being at a premium and a loan spell at QPR under Mark Hughes was arranged. Somehow, fate seemed to conspire once more and an ankle injury meant that he returned to Old Trafford after just 3 appearances.
For the time being, Kiko appears to be part of Sir Alex's plans for the upcoming season. Let's assess the striking department at United, shall we? Wayne Rooney: United's main man. Danny Welbeck: Sir Alex's partner of choice to Wayne for much of the last season. Javier Hernandez: A stop-start season last term, but very much at the forefront of Sir Alex's mind. Dimitar Berbatov: Looks most likely to be plying his trade away from Old Trafford next term but one never knows.
The aforementioned established internationals and perhaps the newest recruit, Shinji Kagawa, look to be in the way of Kiko and the first team. Perhaps, Nick Powell is in the mix too. Kiko does not really have exceptional pace; something that Danny and Chicharito do. He is not a human powerhouse that Wayne is. He does not have the class of Dimitar (well, in fairness, not many in the world do). Yet, he does have something to offer. He is a clinical finisher and makes some excellent runs. His first touch is not too bad and he does do his fair share of running.
With the arrival of Kagawa, it will be interesting to see the system that Sir Alex decides to adopt next term. Does he still go with two up top or does he go with four in midfield with Kagawa supporting Rooney? If he chooses the former, Kiko still has Danny, Chicharito and Dimitar (possibly) to beat in the pecking order. If the system is the latter, he has pretty much no chance.
The interesting thing about Kiko is that he seems determined to make a fist of it. You don't hear him moaning and complaining about the lack of first team opportunities. Given, he is not yet 21 but blokes much younger seem to be less patient. That is always a good sign. He seems to have his head in the right place. He seems to want to break into the first team and at Manchester United, if there is one thing, it is that perseverance pays. Just ask Darren Fletcher.
It will indeed be interesting to see what happens of Kiko this term. Perhaps, another loan spell is on the cards or maybe, Sir Alex has grander plans. The potential exists; the talent is undoubted. However, What will come of it? To borrow the title of the first of the Clifton chronicles, Only time will tell.