The greatest tennis players of all time - No. 10
Featured Columnist
Continuing with our series on the greatest tennis players of all time, here's No. 10 on our list
No. 10 – Billie Jean King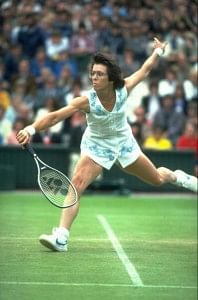 When you say that a player revolutionized a sport, you usually mean that in a very narrow, individualistic sense. A player introduces a new, radical style of playing, and he's immortalized for his influence on the game. Another player, with his charisma and flamboyance, attracts hordes of spectators and inspires a legion of cultural trends, and he is hailed for his contribution to popularizing the sport. But when a player changes the very fabric of a sport, not just by giving passionate speeches and impactful statements, but by actively doing all the dirty work and refusing to rest until the changes are implemented, you might have to think of a word stronger than 'revolutionize'. Billie Jean King did all that and more, which is why it is hardly surprising that she finds a strong presence in most 'Greatest of all time' discussions.
If King hadn't accumulated strong enough career statistics before she went about her sport-revolutionizing efforts, they would perhaps have not held as much weight as they deserved. But she put up the numbers alright. She won 12 Grand Slams singles titles in her career, with only one of them coming at the relatively under-competitive Australian Open; clearly, cleaning up the titles while the best players were elsewhere was not her style. She is one of only ten female players to have won all the 4 Majors (or the Career Slam), and she made Wimbledon her second home, winning as many as 6 singles titles (and 20 overall, tying Martina Navratilova for the all-time record of most titles won) on the hallowed turf of the All-England Club. Her doubles skills were nothing to sneeze at either – she won 16 Slams in doubles and a further 11 in mixed doubles, for a grand total of 39 Slam titles.
King played tennis like a game of chess, which hasn't always been a viable strategy in tennis (I'm looking at you, Anna Chakvetadze). The difference with King, of course, was that she had an aggressive mindset to go with her strategic acumen. Her extraordinarily quick movement around the court added to the lethality of her game. Her volleys were among the finest that tennis has ever seen – they were as destructive as they were gorgeous. And then there was her incredible fighting spirit; giving up was never an option for her. In many ways, King was like Rafael Nadal, Martina Hingis and Boris Becker all rolled into one – indefatigable mental strength, amazing court sense and ultra-aggressive athleticism. At the height of her powers, her combination of all-out attack and intelligent shot-making made her an almost invincible foe. Billie Jean King spent her whole life telling people that nothing was impossible, but she wasn't all talk – she backed up her words on the court. So irresistible were her tennis skills that, following a series of chauvinistic jabs by the legendary Bobby Riggs, she went out and obliterated him in the iconic 'Battle of the Sexes' match held in 1973. Maybe she really was an invincible foe.
Giving up was never an option for King, but that wasn't restricted to the tennis court. In an era when female players were paid a pittance compared to their male counterparts, King made a stand, and she stuck to it. Equal pay for men and women was her mantra, and she resorted to measures as extreme as threatening a boycott of the 1973 US Open to make the organizers sit up and listen. The threat worked – in 1973, the US Open became the first prominent tennis event in the world to offer equal prize money to men and women. In that respect, the 1973 Battle of the Sexes match was perhaps a microcosm of everything that King stood for, and a validation of everything that she had propagated. You couldn't get more symbolic than that.
King's role in the establishment of Open tennis is well-documented too. In her famous 1967 statement decrying the poor state of tennis professionals in the US, King openly challenged the debarment placed on professionals from entering the big events. She got just reward for her forthrightness: within a year, the Open Era of tennis began, and King and her fellow female professionals were allowed to enter the Grand Slams with their heads held high. King was also instrumental in the creation of a dedicated women's tour to match the one created on the men's side. She was the first president of the WTA, which would not have been the ubiquitous force it is today without King's tireless efforts to promote it. Just about every progressive step taken in tennis in the last 50 years had King at the center of it.
I used to wonder why the US Tennis Association renamed the USTA National Tennis Center (home of the US Open) to the USTA Billie Jean King National Tennis Center – surely there were a few too many words in that title? I mean, whoever had heard of an acronym that read USTABJKNTC? After getting to know all of King's sizable accomplishments, though, the USTA's decision doesn't sound quite so absurd. You may find it insanely difficult to let the name USTABJKNTC roll off your tongue, but that is nothing compared to the efforts King expended in trying to make the tennis world a better place. Imagine, for a moment, just how easy it would have been for King to ignore all the aspects of the sport that were crying out for change, and focus instead solely on her tennis. Would her on-court accomplishments have been even greater if she had chosen her game over her propaganda? No one could have put it better than she herself did, in a 1984 interview: "My only regret is that I had to do too much off the court when I was champion…I wonder how good I really could have been if I had concentrated just on tennis".
Billie Jean King is not just the Mother of tennis, she is Tennis herself.
And now for the obligatory video. This one is the last part of a series of clips from the 1973 Wimbledon final between King and Chris Evert, which King won handily. Take a look for yourself at the genius that was Billie Jean King!
Here are the other players who have made it so far:
No. 20 – Venus Williams; No. 19 – Justine Henin; No. 18 – Ken Rosewall; No. 17 – Andre Agassi; No. 16 – Pancho Gonzales; No. 15 – Monica Seles; No. 14 – John McEnroe; No. 13 – Ivan Lendl; No. 12 – Jimmy Connors; No. 11 – Margaret Court
Read the detailed write-ups on all the players in this list here: