Senior Correspondent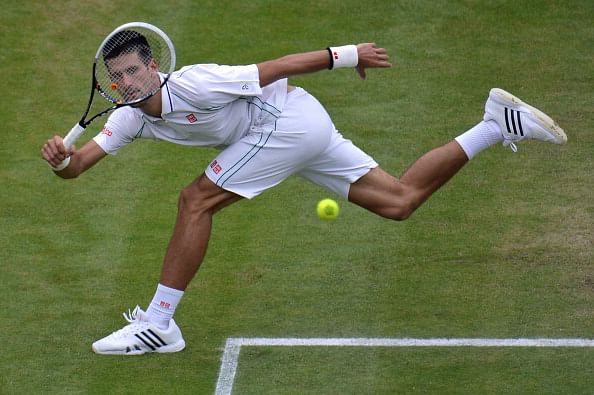 It is no surprise Novak Djokovic has been chosen to be the flag bearer for Serbia in the upcoming Summer Olympics in London. On the contrary, if anyone else had been selected it would have sprung a surprise to all of us. Amazing things have been achieved by this 25 year old Serb last year in 2011. Starting from Australian open 2011, he has won 10 titles, which was the maximum won by anyone in that period and also has earned the highest prize money ever won by a player in a single season.
Many of the former tennis players, including Pete Sampras, have felt that Djokovic's 2011 season was the best ever seen by them. Everything went in his favour and he became world No.1 tennis player so quickly as a result of that. He won every single tournament that he participated right from Australian open until he was stopped by Roger Federer in the semifinals of French open the same year. He looked almost invincible the whole year and dominated even the Spanish No.1 Rafael Nadal like no one has ever done before by winning all the six finals played against him.
His 2012 looked no different as he started the year on a winning note by prevailing over Rafael Nadal in a six-hour final in the Australian Open. Djokovic promised to shine more, having won last four of the five majors played by him then. We were hoping for Djoker to emulate Federer in pocketing grand slams year after year, like what we had seen from the Swiss between 2004 and 2007. It seemed then that the Serb has got himself equipped to play in all surfaces and looked as though he was unburdened with any sort of competition. In fact, he made us think of him as invincible till six months ago.
Well that was then. Since Australian open 2012, lots of tournaments have come and gone. Djokovic of 2011 played and won in Dubai, Indian wells, Miami, Madrid and Rome till French Open. Djokvoic of 2012 also played in all of them and to add to that, he played this year in Monte carlo also. However, his lone victory, apart from Australian open, came in Miami. So till date, out of the 9 tournament played by him including French open and Wimbledon, he was triumphant only in Australia and Miami. Tennis proved to be a great leveler for him this year. Atleast for Federer, it took four years of total domination before he was finally proved a human. But in Djoko's case, he has started looking down the barrel so quickly.
He lost to Nadal three times in a row this year already, which includes his four sets defeat in the French open, as he was aiming for his career slam. He was trounced at the hands of Roger Federer in another four setter, this time in the semifinals at Wimbledon. Both Nadal and Federer have proved that they are still dominant in their favourite surfaces but where is Nole now? We can argue so far this year it has been balanced as the top three guys have shared the first three grand slam titles with one left to be conquered which is at Flushing Meadows. But the way the things have gone since Australian open 2012, I would be amazed to see Nole retaining his US open Championship.
The game of Djokovic cannot be termed as something extraordinary to start with, to have a continual dominance over the others. He has been playing a baseline game which never guarantees consistency to any player until he learns to play it like Nadal. Nadal hardly makes unforced errors and throughout his career he has been able to maintain it which is the reason behind him winning atleast French open year after year. However, Novak has put in lots of efforts to improve his court coverage and he has imbibed in himself the requisite stamina to prepare himself for staying in the court so long, since last year. Other than that, he has a very good backhand, which he has been using it very well and he has somehow raised him game in spite of his limitations which is the reason behind him winning many tours last year.
Having improved his game, he found no other player except Roger Federer and Rafael Nadal having the game to challenge him. Outside the top three, there were not so much players who looked good enough to win a grandslam title or for that matter a mastes' title. So, his main competitors last year had been Federer and Nadal only and even as on today, the same holds good. Having done the easier job of reaching finals every tour last year, he found only Nadal standing in his way. He learnt how to beat Rafa by playing his own game of keeping the ball on courts and he kept on feeding into Nadal's backhands during rallies, where the weakness of the Spaniard lies. As a result, Nadal, especially as he was facing him mostly on hard courts, which has never been his favourite surface, went down to a rejuvenated Djocker on many occasions.
But the year 2012 has been presenting entirely a different look to Djoker. We could see a hole in Nole's game which has got exposed this year. After his triumph against Nadal in Australian open final, he could never get to face the Spanish Armada outside clay. All the three matches that he played against Nadal (Monecarlo, Rome and Roland Garros), have been on clay and as a result the Spaniard has gained an upper hand at the early going. The defeats he suffered at the hands of Nadal really pushed the Serb to the back seat as he hardly looked a shadow of his own self when he played against the master of grass last week in the semifinals at Wimbledon.
Federer when he gets leads such as these, as he had this year, with five titles including his seventh one at Wimbledon, becomes deadly.. He normally used to perform back to back at Wimbledon and US open so well. Now having done so well in grass, he, who holds the best hard court records among his contemporaries, Roger Federer may just be the guy who could go on to win three or more titles on this surface including US open 2012.
My second pick would be Nadal, if Federer fails to make it or else I would pick Andy Murray. Murray is improving as a player everyday and with a slightly bigger assist from Lendl I think his performance will grow rapidly. He has already been in three finals of grandslams, all on hard courts. As far as Nadal goes, he would be like a wounded tiger, having got beaten in the second round of Wimbledon to a little known Czech Lukas Rosol. As we have known about his resilience and mental toughness we are sure that he would come back strong for the rest of the season.
Coming again to Nole, unless we see him doing something extra than what he is doing at present, he may always be left fiddling second to Federer and Nadal in the world of tennis. The hole in Nole needs to be fixed soon for us to witness a three way or perhaps a four way battle in the years to come, hoping Murray to come good too.