Exclusive - "My ambition is to win an Olympic gold medal" says rising tennis star Ankita Raina
Featured Columnist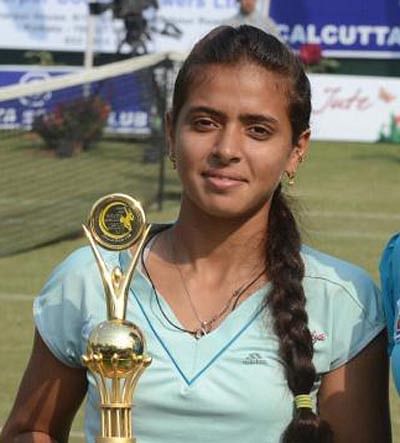 19 year old Ankita Raina is one of the rising stars in Indian tennis. The right-hander is currently ranked a career high no. 724 in the world in singles and no. 489 in doubles. Next week, Ankita will break into the top 650 to become the third highest ranked Indian on the WTA rankings list.
Ankita has been making waves on the ITF circuit in recent weeks – winning 3 successive ITF doubles titles in New Delhi – as well as winning her first ITF singles title last month and reaching the finals of another last week. We caught up with Ankita to find out more about the player and the person in this exclusive interview for Sportskeeda.com.
Not many followers of Indian tennis are familiar with Ankita Raina. Tell us something about yourself and your background. How did you get involved with the game of tennis?
I'm a professional tennis player, born and brought up in Ahmedabad, Gujarat and I shifted to Pune 5 years back, for advanced training. My mother herself was a TT player and played at the state level, so she is also a die-hard sports lover. The place where we stay in Ahmedabad, just behind our house there is a tennis club. So my mother used to take my elder brother for playing. When I was 4, she took me as well to the club to get started just for fun. My brother was playing national tournaments and my mother used to travel with him and as I was also very young she had to take me as well with her. So even I participated in the tournaments and I started giving great results by winning titles. So my parents then realized this fact and encouraged me to move ahead and participate in even more tournaments. So, slowly the journey began and I have reached at this point.
You recently won your first ITF singles title. And you have also won 3 successive ITF doubles titles. What  has the last few weeks been like?

Since past two years I was going through a tough phase, since I didn't get any many good results. This period was also my transition from the junior circuit towards the professional circuit. So this phase is somewhat of a struggle, as you need maturity, patience and many other factors to grow in yourself in order to get results at professional level. So a lot of hard work is required during this phase to develop skills. Since the past one year I have worked even harder. I am also traveling alone since the past one and a half years. So when you are alone for tournaments you have more responsibility on our shoulders. With this responsibility I have become more mature, patient and gradually I started performing better. Me and my coach are now very happy with my recent results at the ITF tournaments. I feel that we are slowly marching towards our main goal and I am aware for going ahead I have to work even harder, probably ten times more than what I am doing presently, but I am ready for it.
Where do you currently train and who is on your coaching team?
I currently train at PYC Hindu Gymkhana, with Mr. Hemant Bendrey and his assistant Ketan Dhumal. Also my team comprises of my physio Ms. Jyoti, who is responsible for always keeping me fit, my gym trainer Mr. Raman Kunir and my mental-fitness trainer Debashree Marathe.
A lot of sports persons in India complain about the lack of sponsorship. Do you have any sponsors and how do you manage being a professional athlete who is yet to hit the big time in her sport?

It is true that we lack sponsorships, but in this case I have been lucky as I have got support from Lakshya, an NGO supporting sports, along with Bharat Forge who are my sponsors. So these are the people with whose help despite hitting the big time, things have been managed. They are always there to help me out, in any area, where I need help.
As a young player from India trying to make it on the professional tour, what are the biggest obstacles you face?
One of the biggest obstacles I would say that as the game is very expensive and I have to travel alone for the tournaments, which at times becomes very challenging. Sometimes you are travelling alone for months and sometimes you feel that someone should be there with you like one of your parents or a traveling coach, which does help as you have a moral support with you, especially for a girl this support is really helpful at certain times.
Did you always know you wanted to be a professional tennis player? If not, what would you have been?
Yes, since my childhood I have always dreamt of making it big on the professional circuit. Besides that I am presently pursuing my Bachelor of Commerce degree from BMCC College in Pune, so I want to be a well educated person, but my priority is only tennis.
Who was your tennis role model while growing up? From the current lot, who are your favorite players?
My role model is Rafael Nadal, as I admire him for the hard work he does and his attitude towards the game. Also on my favourite list are Serena Williams and Roger Federer.
What are goals you have set yourself for the next 12-18 months? What are your career ambitions?

My current goals are winning a medal in the coming Asian Games. Along with this to get into the top 500 in singles and top 300 in doubles by the year end. My career ambitions are winning an Olympic Gold for India, winning all the Grand Slams and setting records.
What tournaments have you lined up in your schedule in the coming months? Are you planning to play in more events abroad?
Currently I will be training for a month, after which I am scheduled to play two tournaments in Japan. Then we have many tournaments in India this year which I will be playing, but for some experience I might again travel abroad during the year end for 1 or 2 tournaments.
What are the strengths in your game and what are the areas you are working on to develop?
I consider my consistent backhand to be one of my major strengths and I have also improved my forehand, which is also now fairly consistent. So I would say my ground strokes are my biggest strengths. I am working on improving the speed of my serve and also on increasing my fitness levels.
When you look at the success that Sania Mirza has had on the international circuit, does that inspire you to perform better?
Yes, Sania is the first girl from India who has achieved major milestones. So I get motivation and also the belief that if she being an Indian can do it, then so can I.
How do you spend your time off the court when you are not playing tennis or training?
I love going out for movies, going out with friends, visiting new places and going on outdoor trips.
What is your view on the current controversy in Indian tennis regarding the Olympic selections?

No comments.