Jonny Evans to miss start of season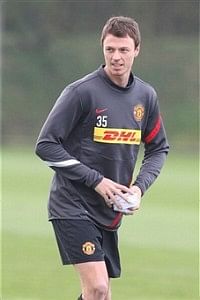 Sir Alex Fer­guson has con­firmed that Manchester United defender Jonny Evans is most likely to miss the start of the cam­paign. The North­ern Ire­land inter­na­tional had an oper­a­tion earlier this sum­mer after the player suffered a ser­i­ous injury to his ankle dur­ing the high scor­ing 4–4 draw with Ever­ton at Old Traf­ford back in April.
Although the player's recov­ery has taken longer than expec­ted, Sir Alex Fer­guson is con­vinced that the ver­sat­ile North­ern Irish­man will soon be back play­ing for Manchester United.
Sir Alex Fer­guson: "I am not sure that Jonny Evans will start the sea­son but he won't be far away. Nemanja Vidic will start the sea­son. I am sure of that. Chris Smalling has done a bit of train­ing. He had a rup­tured groin muscle which needed a lot of atten­tion but he has made gradual pro­gress and we expect him to start the season."
Read More Manchester United Articles
Published with permission from United Blog Articles.