Why cricket is better than football
Featured Writer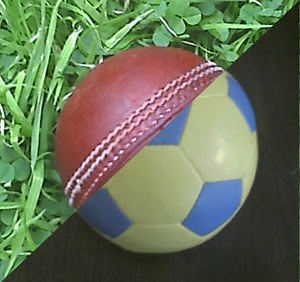 So it's Olympics time, the Euros and Wimbledon have just finished, and the IPL is a distant memory (except for the tax payers in the state of West Bengal who funded Mamata Banerjee's "Jeetechi re" celebrations). Cricket scores very low on the popularity scales with yet another India-Sri Lanka series looming on the horizon. I already hear some groans.
But despite all the idiosyncrasies and Shahid Afridis of cricket, I still feel cricket is somewhat better than football. I know this has been done to death by fans, who love cricket and fans who love football;  fans who love both and fans who love neither. But I still wanted to add my perspective on it despite (warning alert) having a limited knowledge of soccer. Also I would like to clarify right at the beginning that by cricket I mean Test cricket, and not its spineless younger brother ODI cricket, or its illegitimate son T20 (which I feel is more football than cricket).
1) Sledging – What is sport without banter? How would the crude version of football, where the choicest abuses about your opponent's mother, wife, daughter, granddaughter,aunt, niece, great-niece or any other female relative that comes to your mind stack up against the classier version  of cricket, where you delivered a bouncer which nearly decapitated your defenseless enemy and question his gender.
2) Action replays – Action replays in football are like Randeep Hooda and Arunoday Singh in a Sunny Leone movie – you know they are there, but you would rather wish they were not there. Action replays in cricket are like the Jigsaw Killer in the Saw series – testing your nerves and shredding your fingernails – while the third umpire uses Slow-Mo, Hawkeye, Hot Spot and Snickometer and a whole array of such mind-numbing weaponry.
3) The heroes – Yeah, you have the Messis and the Peles and the Cryuffs but do you have a Javed Miandad who could literally take his bat to the ball first and the bowler next (case in point: Dennis Lillee). And then to rub it on the faces of all his critics, he marries his son to the daughter of the most wanted man in the universe. Now that is called panache.
And then you have Inzamam-ul-Haq, who could use every ounce of fat in his body to put power behind a shot, rush towards a fan for calling his an aloo and demand that he at least be called an eggplant. Okay, the last bit was made up but how many of us would take offence to being called a couch potato? This, my friend is called, spirit.
Football may have its Supermen but cricketers wear their hearts on their sleeves. Essentially we all love our flawed geniuses and hate the Mr. Perfects – except Rahul Dravid perhaps.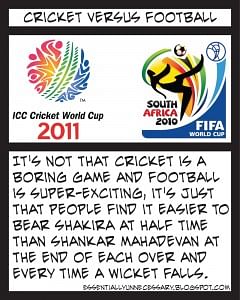 4) The trophies – Sport is supposed to be breed gentlemen. In football, you have a group of sweaty, foul-smelling savages holding a massive piece of silverware over their heads like the spoils of a bearhunt. Not exactly very civilized, eh? I believe that the honourable W.G.Grace would somersault twice in his grave if he were to know that somehow John Terry and his men have laid their hands on the Ashes urn.
5) Money matters – And this is exactly that point of time when, as stated earlier, I would like to distance myself from that dishonourable spawn of cricket and football called T20 cricket. It is true that football, through its league format, brought more money into sport but in doing so it created a horde of mercenaries – soldiers of fortunes and hired guns who were ready to prostitute their skills for the sake of wads of green bills. Gone was the sense of nationalism – something which sport was supposed to propagate and something that the likes of Pierre de Coubertin and his band of merry men had always emphasized upon. Loyalty shifted from countries to privately owned organizations. An English club Arsenal turned up to play with eleven French players. And sport became a business of monopoly.
While I would not connect this to the sport of football directly, but because of its short duration and fast-paced game play, it was seen as an ideal vehicle to promote consumerism. League football is like instant noodles – instant gratification, but not filling. Test cricket is like that elaborate seven course Mughlai meal which starts with the succulent burra kebab on Day 1, moves on to the aromatic mutton biryani on Day 3 and finally concludes with a bowl of heavenly phirni on Day 5. And T20 is a packaged version of heat-and-eat biryani coming from the kitchens of lesser chefs.