Sporting Clube de Goa look to build on last season's success
Featured Columnist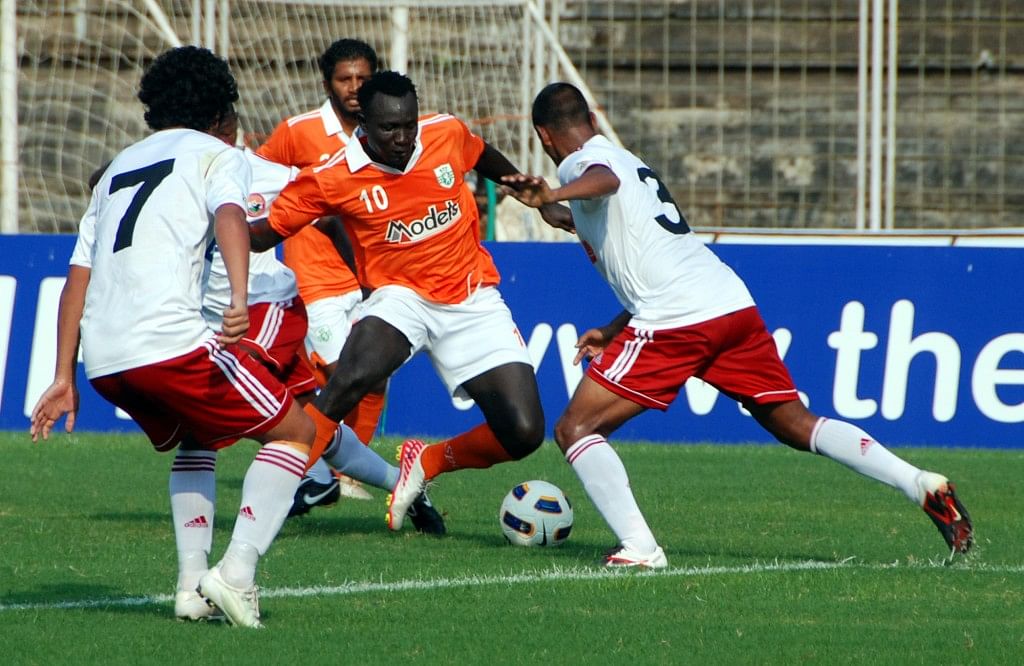 Goa is lauded as the land of beach, football and feni. Sporting Clube de Goa have merged the first two for now by beginning their build up for the new season on Miramar beach. The feni, of course, can wait till next year and it will certainly flow if they excel in the I-League and other tournaments.
Last season they finished a creditable eighth after coming back from relegation and also scored a whopping 53 goals, six less than winners Dempo, 27 of them being knocked in by the combination of James Moga and Ogba Kalu. The downside was that they conceded 43, albeit way less than the 68 that HAL let in while ending in the drop zone.
The South Sudan striker will not be sporting the 'flaming orange' this season, having decided to transform himself into a 'red lizard'. However, technical director Alex Alvares, who was supervising the fitness regime of the team while Ekendra Singh was attending the AIFF coaching camp in Navi Mumbai, is unfazed about Moga's departure. He maintains that SCG, funded by real estate baron Peter Vaz of 'Models' fame, will continue with their attacking ways.
"We have shown that if they have scored three, we can score four. And what is more, players from every department, be it attack, midfield or defense, have scored," Alvares told Sportskeeda.com after a morning training session at Miramar beach early this week.
Alvarez conceded that his is a "young side" and they would have to work hard and be strong, mentally and physically, to compete on level terms with the big guns. "At the end of the day our boys will have to perform and show what they have on the field," he averred.
The TD also stressed that his leaky defence will have to be stitched up and he will additionally have to work on the goalkeeping department. Last season, goalkeeping errors and defensive mistakes caused them a bagful of setbacks. Alvares blamed this on a spate of injuries due to which they had to field a different defensive set-up for every alternate match. "But our goalkeeping has to improve. The custodian is the key, a goalkeeper can make or mar the fate of the game," he said.
One option that the diminutive Alvares is considering is playing international Adil Khan, otherwise a midfielder and the only SCG player invited to the national camp for the Nehru Cup, in the back line. "He is a multi-faceted player and is a ball winner," he quipped of the long-haired character who has shot to a modicum of fame in recent times.
With a budget of around Rs 6 crore for the season, SCG have managed to retain the core of their side with the likes of long serving Joseph Pereira, Khan, Victorino Fernandes, Macroy Piexoto etc., all staying put, while adding Keenan Almedia (Salgaocar), goalkeeper Saurav Chakravarthy (Bhavanipur FC) besides recruits from Sesa Goa and Margao SC to the roster. On the distaff side Anthony D'Souza has left for greener pastures to Salgaocar.
There is no news about when Kalu and defender Keita Boubacar will troop in. Alvares revealed that the club is negotiating with Japanese Hazuo Honma, who plies his trade in Hungary, as their Asian recruit.
Moga's replacement will be the key. If the flaming orange can unleash another striker like their talismanic Dudu Omagbemi and Chidi Edeh who powered them within a whisker of the title in 2004-05, they will prosper. 2008-09 was another great outing. The Panjim-based club led the table for the first leg, propelled by the goals of Elijah Jr and Nathaniel Amos and solid teamwork, before finishing a creditable third, three points adrift of winners Churchill Brothers.
Will 2012-13 herald another good outing for one of Goa's most enigmatic clubs?