Four wheels off the track
Featured Writer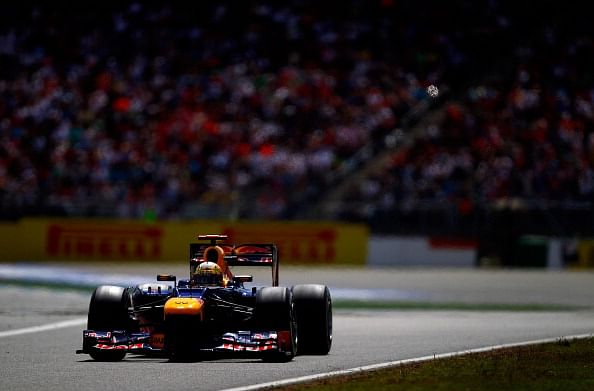 Three laps to go. Alonso looks to be cruising to victory. Button, from being on his tail, has suddenly dropped back just enough for Fernando to breathe easily. The race for the lead, that threatened to go down to the finish, does not seem to be. Out of nowhere, another battle seems to be materializing. Vettel is catching Button; and fast.
Two laps to go. Button's rear view mirror is full of Vettel. Suddenly, it is two wide into the turn. A medium speed right hander. Alonso has the inside line. Vettel has the slipstream. He goes 'round the outside. He's past Jenson. He's overrun it, it seems. He's carried too much speed into the corner. Suddenly, the Red Bull turns in. A fraction too late. There is a run off area. Vettel takes it. He carries the speed with him. He makes a neat arc. He exits the corner. He's ahead of Jenson. He's into second place.
There is a problem. He has all four wheels off the track. He has not really impeded Button on his way out. He has let him enough space. He's got the position, though. Unfortunately, it's an illegal move. Or so the stewards declare. On the podium, Nikki Lauda asks both Vettel and Button about the incident and the both of them played it with dignity. Button, it seemed, was always quietly confident that Vettel would be penalized. Vettel, for his part, it seemed, knew his fate but was just quiet happy with himself that he had indeed pulled it off.
Now, anyone who watched the incident would know that the racing was quiet clean. Vettel did have all four wheels off the grass; there can be no doubting that. However, when he did come back onto the track, he did not really squeeze Jenson. He clearly had the pace to make it stick and did.
The stewards declared that Vettel had used the run off area to his advantage and perhaps they are justified in that. It is simple physics really. What he essentially did was to blunt the curve. He widened the arc and that led to him carrying more speed into the corner and more importantly, more speed out of it that he would normally have carried, and what Jenson did carry, in the corner. This is deemed illegal, and well, going by the cold logic of it, it is true. The lap times are for staying on the lap. The whole purpose of having a 'track' is lost otherwise.
However, one can so easily argue that that's what racing is all about. F1 fans want to see more overtaking and there can be no doubting the fact that Vettel was, as the cliche goes, giving it one hundred and ten percent; and that is what everyone wants to see. It was clean racing. There was no malice in the move.
The conversation in the green room was most enlightening. When Vettel and Button exchanged words, Vettel said that he did not know how much room Jenson had on the inside and hence went on the outside. Jenson did understand that Vettel did not mean any harm but somehow, it always seemed as if he knew that second place was his. He almost did concede the last word to Vettel. He did nod a knowing nod but said, 'well, you didn't make my life a whole lot easier.'
Being penalized on a technicality is harsh but then again, rules are rules and F1 rules are perhaps the most stringent of any sport. In the end, Vettel was, in esssence, penalized for going at it a bit too hard. To use an old F1 cliche, he used all the track and more. All the track is OK. More, is not.