London Preview: Field Hockey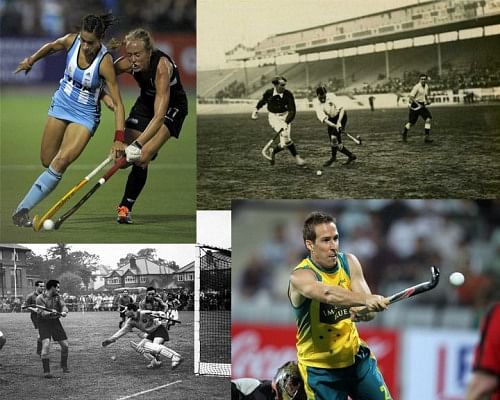 Think of someone hundreds or even thousands of years ago, turning a shepherd's crook upside down and using it for a game. Or, perhaps one would take a curved branch from a tree and use it for a game with others. These are the scenarios from which many games like hurling and field hockey originated. Versions of present-day field hockey date back to ancient times across most continents.  Evidence of similar games has been found in Egypt, Greece, Mexico, Ireland, and Mexico, followed by more modern and organized versions beginning in English sport clubs like Blackheath and Teddington. Move forward to present-day, where field hockey, the world's second largest team sport, is about to have its best players in the world compete for Olympic gold.
Men's field hockey was played first at the 1908 Olympics, removed in 1924, and then returned for good in 1928. Women's hockey has been an Olympic event since 1980. I watched a bit of field hockey today and while they're not identical, being a football (soccer) and ice hockey fan helps! Field hockey has both the yellow and red card, but also a green card (given first before the yellow). Up until the 1990′s, there was even an offside rule! I really enjoyed what bit I saw of it today. I wonder why more Americans aren't interested in it?
What I'm not crazy about in field hockey at these Olympics is the blue pitch. Even former Australian player and current Indian men's coach Michael Nobbs has openly criticized it, saying it's "slow and bouncy" and"unpredictable." I simply just hate the color. When did we start thinking tennis courts and field hockey pitches should be blue?
Men's Field Hockey
Australia, Germany, Netherlands, and Spain are all strong in the men's field hockey. Australia seems a shoe-in for gold, yet that was the story back in 2008 when it settled for bronze. The Aussies, along with Germany and Spain, are bringing back most of their 2008 team for 2012, which means gold is going to involve a hard-fought match! I love Australia, but maybe I'll pull for Spain! Let's see some new blood win gold! On second thought, I think I may have to go with the Kookaburras.
Women's Field Hockey
In women's field hockey, Netherlands and Argentina are dominating, with Germany, England, and China following behind. It may take two to tango, but it takes 11 talented players to make a winning field hockey team, and the women's Argentinian team definitely has that – Or does it? Two months ago, a drama (like that of a good telenovela) unfolded when Argentina's goalie Belen Succi announced she was pregnant. Teammate Luciana Aymar, considered the best women's player in the world, was openly critical, saying she wished Aymar would have waited until after the games to begin her family. Will this drama weaken Argentina's solidarity? Will Succi's absence weaken their defense? Argentina has never won a gold medal in field hockey. Vamos, Argentina!
Faster, Higher, Stronger.
Published with permission from The Olympic Fanatic.