Indo-Pak Series: Forget diplomacy, look at the context
Politicization of cricket has been a matter of constant debate in the countries of India and Pakistan. Those arguing against it believe that a cricketing embargo cannot be used as an instrument of one-upmanship by governments. Those favouring it are the politically expedient, believing that a resumption of ties would be a symbolic gesture of insensitivity to the kin of the victims of 26/11. A 3rd viewpoint, however, an apparent confluence of these two divergent theories, is what bothers me the most. It is the idea that the game has diplomatic value, and therefore any resumption of cricketing ties is in fact, positive politicization.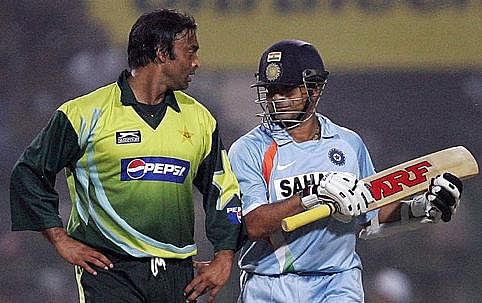 India and Pakistan played four, full bilateral series, every year between 2004 and 2007. It was more frequent than any other bilateral series involving India in the same period. But to look at these series as having aided diplomatic ties between the nations would be stretching it too far. Indo-Pak ties were still marred by distrust and uncertainty during the period. It could not prevent a 26/11 from happening. Neither will it in future. From the issue of Kashmir to sponsored terrorism to grapple with, our diplomats can hardly afford to look at a solution as trivial as cricket.
From a purely cricketing perspective, what is important to note is that none of the following series could match the first one in April 2004 in Pakistan, in both hype as well as quality of cricket.
Why is that?
The answer lies in an oft repeated word in cricket scheduling these days. Something mentioned even by Rahul Dravid in his Bradman Oration last December. The answer is "context". The fact that the countries were involved in a bilateral series after a gap of 14 years, that it was at the start of the cricketing season, that both teams were studded with superstars thirsting for a sustained contest for supremacy, provided sufficient context. The idea of seeing Shoaib running in full throttle to Tendulkar over 8 cricket matches was nothing short of mouth-watering. It was thus no coincidence, that none of the series in 2005, 2006 and 2007 made for that sort of viewership, or media coverage. As for diplomacy, the series itself was more a result of the diplomacy that preceded it, rather than it being a diplomatic initiative in itself.
In light of this, to view the BCCI's latest decision as a diplomatic one would be a gross overestimation of its priorities, as well as of cricket's value beyond entertainment. The series, planned for three one-dayers and a couple of T20s has absolutely no context, and will be played by a set of 22 fatigued players. In fact, for an organization as profit oriented as the BCCI to have taken this step is even more confounding.  In the middle of the cricketing season, with the number of players sustaining injuries these days, it is highly unlikely that the teams will even play full-strength.
Both the PCB and the BCCI would be well-advised to plan series based purely on cricketing considerations. Even if the boards were to behave as mercenaries, series such as the one planned for the end of this year is hardly the way to go. Better planning will make for better cricket, greater fan loyalty and more money in the long run.
Let cricket be what it is, an entertaining sport for its fans than a money–making proposition for other stakeholders. Let us not confuse it for a diplomatic instrument.