Rohit Sharma - Wonder to waste!
Featured Writer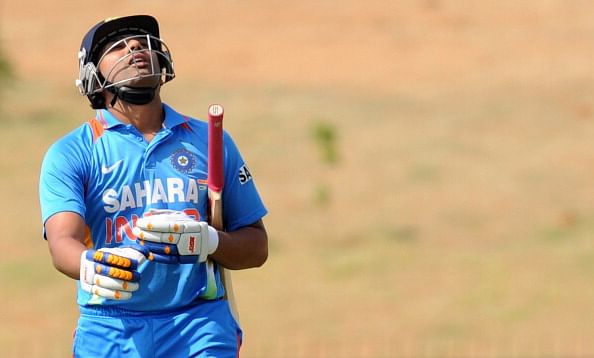 "Good…but can do much better!"
Throughout my life the remarks section of my report card has always been decorated with the above statement. Whenever my dad attended any of my parent-teacher meetings, the teachers always had the same feedback – "He's good but can be much better…"
My dad always kept a straight face through those sessions and I never understood how he felt. However, now I can completely comprehend how he must have felt when I see Rohit Sharma bat.
Elegant, talented, lazy, wasteful – A few adjectives that pop up whenever I think of Rohit Sharma. Perhaps the most talented batsman post the golden generation of Indian cricket, Rohit Sharma was touted as a favorite to fill the void of the Indian middle order. As it often happens with us Indians, every young prospect is compared to the likes of Tendulkar and Dravid after a couple of good innings and most often they fail to deliver in the longer run. But Sharma was different, distinctly different. Solid technique coupled with exquisite stroke play, this man was destined for greatness.
India has always produced exciting batsmen and even today, the Kohlis, Rainas, Tiwaris and Pujaras bear testimony to that. But Rohit Sharma was the leader of the pack as he had the "gift of time". The elegant back foot punches and the effortless hooks prove that he picks the length of the bowler a fraction earlier than most, and so his efforts with the willow ooze with lazy elegance.
But as they say, talent is as common as table salt. It's always there but how you use it, defines the taste of your dish. If we pitch Virat Kohli at one end and Sharma on the other, one can understand the difference. When Kohli came on the scene, the talent was evident but so were the problems – issues with the short ball, bat face closing too early, questionable shot selection. What was never in question was his temperament. Yes, volatile at times but the man dug his heels in and the results are there for everyone to be seen.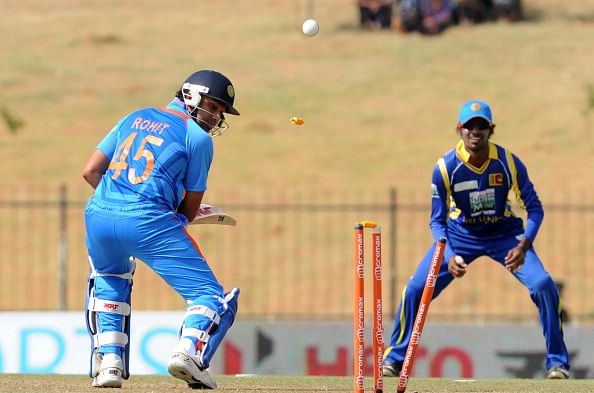 Rohit Sharma on the other hand, was one of the very few who could take on the short ball and looked ready to take up the gauntlet. His back to back fifties in the CB series finals against Australia, his IPL exploits – all show us that there is no dearth of talent but there are serious questions on temperament. Three hundreds against West Indies should have cemented him in the Indian middle order but today he's bordering on the possibility of being axed.
We have often criticized the Indian selectors for being too fickle with youngsters but with Sharma they have been extremely tolerant. Kris Srikanth and Co. have always received a lot of flak for their "questionable" decisions but for Sharma they have extended the rope very liberally. And they should be lauded for doing so because there's definitely a potential greatness there. But in his  "Pakde rehna…chhodna nahin…" stay at the international level, the selectors can only extend the rope to him, MSD can hold one end but it's up to Sharma to hang on to it.
In FIFA games, the player creation mode has an option that says "Late Bloomer" and it's unfair to expect everyone to perform from the word "go". But even after so many chances if someone fails to grab his piece of the pie, it may be well advised to extend the faith to Manoj Tiwari, Cheteswar Pujara and Ajinkya Rahane who are gathering moss sitting in the wings.
Though Sharma is a way too talented to be advised, he must remember that the likes of Amol Muzumdar, S. Badrinath and a quite few very-talented-batsmen in India never even saw the rope that he's toying with right now. He must be very careful because fans have ran out of patience and very soon the five stooges in the selection committee will too, because we all know that at the end of the day…
"Being talented isn't good enough… One should be good enough to use the talent!"