2012 Olympic tennis tournament: Predictions
Senior Correspondent
Normally, in the Olympics, it is highly improbable for a single sport to outshine the others. When you have Michael Phelps, who is vying to become the greatest Olympian of all time, and 'Sprint King' Usain Bolt, who looks all set to break record timings in the 100  and 200 m races,  you hardly expect viewers to be focusing on a single sport.
The London Olympics, though will set an entirely different precedent in this aspect. If there is one sport which can attract the most attention this year,  then that would be tennis, with the Wimbledon courts housing the matches.
The draw for the Olympic Tennis tournament has been released (64 players in all). Though the top-ranked players are always the favourites,  lower ranked players like Nicholas Massau have also won medals.
Here is the probable Quarterfinal line-up.
1. Federer vs John Isner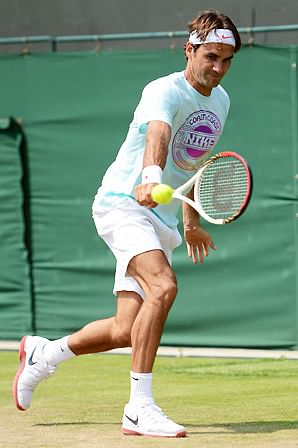 Having won his seventh Wimbledon title a couple of weeks back, stopping the Swiss Maestro would be really difficult indeed. Federer's draw does not seem to contain any great challenger who could succeed in denying him a place in the last eight. In fact, Federer is playing so well currently that only a selected few would bet a potential upset. Federer may face Julian Benneteau or Fernando Verdasco before the quarterfinal,  both easy opponents for the Swiss.
American Isner looks to be the most probable opponent in the quarters for Federer, who beat the Swiss in a Davis cup tie earlier this year. Also, Federer had beaten Isner in a close final at Indian wells. Federer is expected to beat Olivier Rochus in the first round and should have an easier second round outing too. The third round may be  tricky for him, where he might face either Ivo Karlovic or Janko Tipsarevic. However, Isner, with his terrific forehand and easier reach at the baseline,  would definitely come out tops against either of the two.
Federer looked impeccable in grass in this year's Wimbledon semifinal and final, beating pure baseliners like Djokovic and Murray, and winning rallies through some stunning backhand shots.
Prediction:  Roger Federer wins in straight sets.
2. Ferrer vs Del Potro
This match might be a repeat of their fourth round match in Wimbledon, which was held a couple of weeks back. Spaniard Ferrer, who is seeded fourth due to Rafael Nadal's withdrawal,  is expected to cruise past the first three rounds. Germany's Phillip Kohlscrieber and Japanese Kei Nishkori may not be easy pushovers, but the Spaniard who is in form this year (Ferrer won 5 tour titles), is likely to not put a foot wrong in the run up to the quarters.
Though Argentine Del Potro may not be a great grass courter, he is hardly a sluggish player. The former World No.4 has a big first serve which may be  tough for Ferrer to counter.
Prediction: Del Potro wins in straight sets.
3. Berdych vs Murray
Andy Murray always seems to be unlucky with draws. After Federer ended Murray and Britain's Wimbledon hopes (yet again!) this year, the Scot may well face Federer in the latter stages of the tournament. Stanislas Wawrinka, Jarkko Nieminen and Richard Gasquet are also probable opponents in the earlier rounds. Getting into the quarters may not be an easy task for Murray with such good players in his part of the draw, but considering his spirited showing in the Wimbledon final against Federer, he may succeed in reaching the last eight.
Tomas Berdych has had a difficult year till now. The Czech was booed for snubbing Nicholas Almagro (he refused to shake the latter's hand in their Australian Open match this year). Also, he squandered a great opportunity to beat Rafael Nadal in the quarterfinals of the same tournament (Berdych was almost 2 sets up against the Spaniard!).
A match against Murray may well be the opportunity for Berdych to prove himself. Berdych is an underrated player on grass and has always troubled Murray in their previous meetings. If Berdych gets a good start, he may just beat Murray.
Prediction: Berdych wins in three sets.
4.Raonic vs Djokovic:
Canadian Milos Raonic is a special talent. This tournament could give him the chance to win some important matches and showcase his class. Raonic may face Jo Wilfried Tsonga in the second round and has a serious chance of winning against the Frenchman. Probable opponents like Goffin and Lopez do not seem likely to beat Raonic, and he may reach the quarters if he does  manage to defeat Tsonga.
On the other hand, Novak Djokovic is just 75 points away from Federer and the World No.1 ranking. Djokovic looked totally out of sorts against Federer in this year's Wimbledon semifinal. Andy Roddick and Marin Cilic would probably not cause him much trouble, but Djokovic has always had problems against big serving opponents and may drop a set against Raonic. Still, with his experience, the Serb will probably win easily against Raonic.
Prediction: Novak Djokovic wins in three sets.
Probable Semifinal Lineups:
1st Semifinal: Federer vs Del Potro

2nd Semifinal: Berdych vs Djokovic
Probable Final: Federer vs Berdych
Probable Podium standings:
Gold:  Federer, Silver: Berdych and Bronze: Djokovic.