India at London 2012: Are we riding a flight of fancy?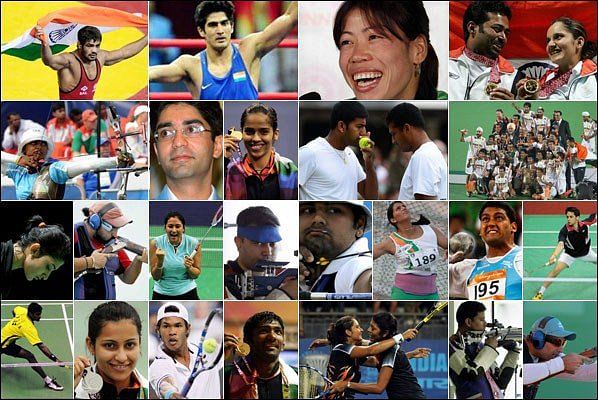 There is optimism in the air. And why not? For the first time, India will be participating in the Olympics with a realistic chance of winning more than just one gold and scripting its best finish ever. On the social media front, millions of Indian sport followers are busy predicting the number of medals the country will bring home this time around. They are rallying behind Indian contingent by hitting the "like" button at every post related to these athletes. Such are the high hopes that if we win more medals than the previous time around, our fans are likely to go drum beating on the roads and the social media platform about India's rising sporting prowess. The opposite may lead to abuses hurled towards the government, officials and even athletes. In all this euphoria, the question we need to ask ourselves as sports fans is this — are we over ambitious with our expectations? Have we really arrived on the big league of sporting nations as world-beaters?
Whatever happens in London over the next fortnight will surely go a long way in shaping the future of Indian sports, as it will give boost to the aspiring sportspersons who want to believe they can compete with the best in the world and make a professional career in sports. It will give millions of parents hope that their child is not playing with fire but aiming for a glittering gold in their career.
Though the work for Indian sports will begin post-London 2012, we must not get euphoric with a few medals won at London, we must aim to build on our success and through sport development at the grassroots, ensure that we are on right track to become a major force to reckon in world sports in the years to come. This will require coordinated efforts from all the stakeholders, be it government, corporate sector or NGOs.
I remember meeting a few coaches while doing a recce of the market for my venture, when I realised our coaches do have the skills and vision but lack career development practices and scientific methodologies. Coaches are insecure about losing their disciple to someone more qualified and experienced, so they do not partner with other coaches even though they understand they cannot groom the athlete beyond a point.
What we have in our country is sports academies run like a mom-and-pop shop by coaches, who are reluctant to hire the services of support staff (strength & conditioning coaches, nutritionists, psychologists etc) fearing they might dis-balance the equilibrium they have created over the years. I asked one of the coaches — why this reluctance? – the reply I got was that I am already producing players who are playing at the national level and few of them have even donned national colours. Why should I make changes to my training methods? The answer has merit, and he further adds that they have build this academy over the years, this is their only "earning" besides the salary they get from their fourth-grade government job, which they have obtained through the sports quota.
In India, coaches feel they are making good money, living a comfortable lifestyle after having worked hard in the beginning; they now have a name in the market and their academy gets good business. Why fiddle with a "tried" and "tested" model? Many middle-age and senior coaches I met, conceded they don't want to create world champions, they are happy to hold on to what they have. They fear competition yet they are unwilling to invest in updating their knowledge. They are happy organizing a coaching camp by a foreign coach or a top Indian player nearing retirement for a fortnight or sending kids abroad for so-called exposure trips (which those athletes who can afford to foot the bills) yet they are unwilling to innovate and invest in themselves or their academy to step ahead of the competition.
To compete on the medal count with the western superpowers (i.e. US, UK, Germany) and Asian giants (China, Japan, South Korea), we need to invest in our coaches and sports facilities so that our base is strong to fuel the talent pipeline. I even overheard in the sporting circles how an assistant coach of a national team told the federation to pay him a little more and get rid of the foreign coach who is an expensive baggage, since he now understands all the methodologies the foreign coach uses to train athletes. This dangerous "cut-copy-paste" culture highly prevalent in our sporting set-up is breeding cocky professionals who are leading the country nowhere. We need to remove the trap our current coaches are creating by encouraging their pupils to play overage, which gives us and these athletes a wrong sense of belief that our sporting future is bright.
For Indian sport to rightly progress, our best brains need to join this industry, not only in the role of a sports manager but also in the role of a sports nutritionist, sports psychologist, or a sports scientist. Unless we nurture nurseries across the country (guided by qualified sports professionals) where the future "Sainas", "Leanders", "Bindras" or "Sushils" can groom their skills, we will continue to struggle for our next sporting icons that can rightfully step in their shoes. There will be surely one or two odd ones who will challenge the system and become a sporting great primarily due to their own efforts, however by the time they do so, we might lose this great sporting wave which we are in. We have seen in the past how it took 28 years for Indian cricket team to replicate 1983 World Cup win, we haven't won a tennis medal since 1996, we haven't been able to raise the profile of weightlifting despite a breakthrough bronze medal by Karnam Malleshwari in 2000 Sydney Olympics.
We need centres of excellence in the form of sports institutions on the lines of Australian Institute of Sport and Loughborough University in the UK to raise the profile of Indian sports. There is hope that the London Games can herald a revolution in Indian sport, however we will need a sustained effort from every stakeholder in this country to make this dream come true.
By Aman Dhall
(The author is Co-founder & Partner, Pro4Sport Solutions, a high-performance coaching firm that trains young athletes in the sport of Basketball, Cricket, Football and Table Tennis)