The Great Khali undergoes brain surgery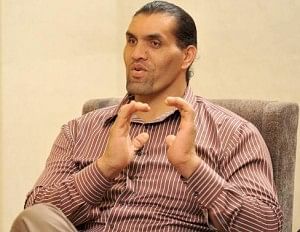 International wrestling star Dalip Singh, who goes by the ring name The Great Khali, successfully underwent surgery at UPMC Presbyterian to remove a tumor from his pituitary gland, according to hospital officials.
Singh, 39, made his debut with World Wrestling Entertainment in 2006 and became the World Heavyweight Champion in 2007.

The tumor removed during a four-hour procedure on Wednesday led to the growth spurt that caused Singh to achieve a height of 7 feet, 1 inch and a weight of 347 pounds, according to UPMC neurosurgeon Dr. Joseph Maroon, who led the surgical team.
Maroon said Thursday the tumor causes a condition called acromegaly, which can be fatal if left untreated.
The wrestler Andre the Giant, who was 7-feet 4-inches tall and weighed nearly 500 pounds, was afflicted by the same condition. He died in 1993 of congestive heart failure at 46.
Maroon, who has been team neurosurgeon for the Pittsburgh Steelers since 1977 and was named medical director of Stamford, Conn.- based WWE in 2008, expects Singh to recover fully within two to three months.
In addition to his wrestling career, Singh, who is a native of Punjabi, India, has appeared in the feature films "The Longest Yard," "Get Smart" and "MacGruber."
Published with permission from The WWE Gang.