Chhetri goalless in a friendly against Mafra
Featured Writer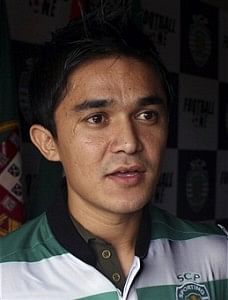 India striker Sunil Chhetri played 45 minutes in Sporting Clube de Portugal's 2-0 win in an away friendly match against 2nd Division side C.D. Mafra on Friday. Sporting 'B' Team coach Oceano started with Victor Golas, Chula, Nuno Reis, Eric Dier, Turan, João Mário, Zezinho, Yang, Filipe Chaby, Bruma and Sunil in the pre-season match. Sporting dominated the match in the first half, but failed to convert their chances. Oceano used his option to give all players in the squad a chance to get some playing time and Sunil was replaced by Betinho at the lemon-break. Renato Neto gave the visitors the lead in the 70th minute, while Betinho added a second one in the 85th minute.
Read more at http://www.sportskeeda.com/wordpress/2012/07/27/chhetri-goalless-in-a-friendly-against-mafra/
Reproduction in any media, publication and/or social media (e.g. Facebook) without giving proper credit to www.sportskeeda.com is prohibited!
Copyright © Chris Punnakkattu Daniel | www.sportskeeda.com
Published with permission from www.sportskeeda.com | NEWS » SportsKeeda.