Bhupathi-Bopanna win hearts by securing India's first tennis victory
Contributor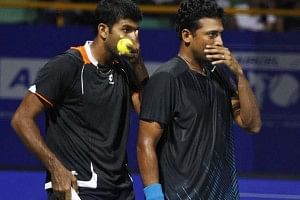 After three days of disappointing results, you knew something had to give. The fact that it was the team of Mahesh Bhupathi and Rohan Bopanna out there – the pair that antagonized nearly every sports follower in India with their protests prior to the selection of players for the Games – guaranteed that there was going to be incredible drama one way or another. And Bhupathi-Bopanna delivered, perhaps even endearing themselves to the Indian public in the process, by registering a thrilling 7-6, 6-7, 8-6 victory over Belarussian team of Max Mirnyi and Alexander Bury.
There was only one break of serve in the entire match, and even that didn't come until the second-last game of the contest. Bhupathi and Bopanna were completely untroubled on serve in the first set, and were justly rewarded for their serving efficiency with a 7-4 win in the tiebreaker. The second set went much the same way as the first, with Bhupathi-Bopanna getting an occasional look at their opponents' serve, only to be denied any chance to break through. This time, the tie-breaker went the other way, as Mirnyi-Bury pocketed the set with the exact same scoreline as Bhupathi-Bopanna had the first: 7-4 in the tiebreaker.
There was nothing to separate the two teams by the time the third set started, which was perhaps the cue for the drama to shoot up. The Indian duo were put under pressure when serving at 1-2, but they withstood the attacks to get a hard-fought hold. Things then went with serve right until the fag end of the set, with the any infrequent break chance being snuffed out by either team with a minimum of fuss and a lot of panache.
Then, at 6-6 with the Mirnyi-Bury team serving, Bhupathi-Bopanna made their definitive move, swooping in to break serve and earn the opportunity to serve for the match. This was the first break of the match, but that wasn't necessarily a guarantee that Bhupathi-Bopanna would coast through without any trouble. Serving for the match is always a nerve-riddled affair, but the Indians handled the pressure with aplomb, holding serve one final time and winning the third set 8-6, thereby securing a ticket into the second round.
Bhupathi-Bopanna have had to face a lot of criticism in the last few weeks, but they put up a tremendously spirited performance today, which is sure to help them win over the hearts of the Indian public. If they keep winning like this, they might even become the darlings of the nation!