'Ghost laid to rest' says Kashyap as he clinches pre-quarter place
Featured Columnist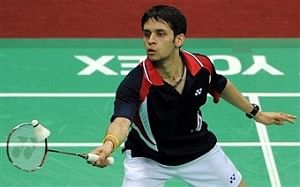 Live in London:
Parupalli Kashyap became the second Indian singles player in the pre-quarterfinals of the Olympics when he beat Nguyen Tien Minh of Vietnam to top his group. That means Kashyap will take on Niluka Karunaratne of Sri Lanka, a surprise winner over Kenichi Tago of Japan. Kashyap is heavy favourite against Karunaratne, and should be able to cruise into the quarterfinals. From there, one win can take him into medal contention!
Kashyap said he was keen to avoid a repeat of his last result against Nguyen. "He (Nguyen) beat me at the World Championships last year where I let seven match points go. This came back into my mind towards the end of the match and I was determined not to let that happen again. That ghost is now laid to rest.
"I can look forward now to the last 16 and I know I will play Niluka and I also know he is dangerous and much better than his world ranking suggests."
In the Group D match on Tuesday, Kashyap, needing a victory to ensure qualification from his group, played a near-perfect match, keeping his concentration at a high level and choosing the right shot at the right time.
Nguyen, a former top-ten player, is a dangerous opponent, but Kashyap did not give him an opportunity. He took off well, establishing a 13-7 lead and just kept going from there. Nguyen is a rally player, able to play defensively for long stretches, and Kashyap had to keep the points short. This he did admirably, by constantly using the flick to keep his opponent off-balance. He also worked the points cleverly, opening up the court with his tight dribbles or half-smashes before going for the kill.
The first game was won in quick time, 21-9, with a down-the-line smash.
The second game was tighter. Nguyen had come from a game behind to win his opening match against Yuhan Tan of Belgium, and there was the danger that he could do likewise against Kashyap. Points remained close until 7-all, but the Indian then turned around a couple of rallies with his brilliant defence. He took the break at 11-7, and even though the Vietnamese pulled back a few points to make it 11-13, the Indian stayed patient. At 14-11 came the rally of the match; Kashyap countered everything that Nguyen offered before waiting for the opening and killing with a smash.
A jump smash on match point was a fitting conclusion to a high-quality performance, and Kashyap can now fancy his chances of getting into a medal position.