Brothers in Arms: The ultimate 'Hazards' of football
Correspondent
With Thorgan Hazard's move to Chelsea now official, football aficionados are smacking their lips as the rare case of brothers being united at a top level football club is about to unfold (Re: Eden Hazard already signed). While there have been many pairs of brothers who have graced the world stage, some have had contrasting careers, while a rarer few have succeeded in sharing the glory with each other. Today, we look at those siblings in football who have tasted success playing together.
Bobby & Jack Charlton
Sir Bobby Charlton is one of England's greatest ever and has achieved almost everything with Manchester United and England. One of the famed Busby Babes, Bobby was lucky to survive the Munich air crash that obliterated half his team. He won 12 titles with United, including their maiden European title in 1968. He became the first Englishman to play 100 internationals and is still their leading poacher with 49 goals. Elder brother Jack was a centre-half and a one-club man, incidentally, at United's Yorkshire rivals Leeds. Jack made 773 appearances winning 6 titles. Both featured in every game of the '66 World Cup triumph, with Bobby scoring thrice. In all, Jack won 35 caps for England and scored 6 times, despite making his international debut at 30!
Michael & Brian Laudrup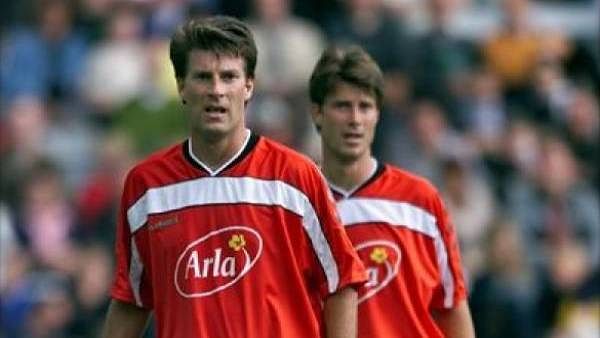 Michael Laudrup won league titles in Italy (Juventus), Spain (Barcelona and Real Madrid) and the Netherlands (Ajax). He won 4 successive La Liga crowns, the European Cup and the Copa del Rey with Barca and followed it up with another title at arch rivals Real. With 104 international caps, Michael was voted the best Danish footballer of all time. Brother Brian never featured alongside Michael in domestic football, but they have teamed up in more than 60 internationals. They decided to quit the national side mid-way through the Euro 1992 qualifiers after differences with coach Richard Moller Nielsen. As fate would have it, the Yugoslav war gave Denmark a free pass to the Euro which they subsequently won. However, the brothers returned next year and clinched the 1995 Confederations Cup. Both Laudrups scored in the tournament.
Ronald & Erwin Koeman
Sons of Martin Koeman, who played over 500 games for Groningen and had one international cap, Ronald and Erwin also turned out for the club at some point during their careers. The duo were part of the core Oranje unit that brought home the 1988 Euro. After winning Eredivisie titles and KNVB Cups with both Ajax and PSV Eindhoven, Ronald Koeman had even greater success with Barcelona. Sturdy in defence and lethal from free kicks, he won 9 titles at Camp Nou besides emulating his European Cup win with PSV. Erwin, a midfielder, conquered Belgium and Europe with Mechelen. He also won league titles with PSV. Unlike the managerial success that his brother has achieved with Ajax, PSV and Valencia, Erwin is yet to win a trophy with any of the Eredivisie clubs he has managed.
Willy & Rene Van de Kerkhof

Perhaps, never quite included in the same breath as the Koemans and the Laudrups, Willy and Rene van de Kerkhof were a pair of twins with exceptional talent. The fact that besides the Laudrups, they are the only pair of brothers included in Pele's FIFA 100 list is saying something. They led PSV to a treble in 1978, including the club's first ever European trophy, the UEFA Cup. The twins also played all 7 matches of Netherlands' World Cup campaign that summer where they lost to hosts Argentina in the Final. The midfield duo hold the Dutch record for most games played together by a pair of brothers in major tournaments.
Ronald & Frank De Boer
During their golden era, Netherlands had quite a few pairs of siblings who shone at the top level. Frank and Ronald de Boer were rare in the sense they followed together at a number of clubs. After 11 seasons at Ajax, winning 5 Eredivisie titles, Champions League, UEFA Cup, and Intercontinental Cup, the twins moved to Barcelona where they won just one league crown. Later, they briefly united at Rangers in Scotland before ending their careers at Qatar's Al Rayyan and Al-Shamal. For the Dutch, they played in 2 World Cups (1994, 1998) and 4 Euros between them, scoring 13 goals each.
Gary & Phil Neville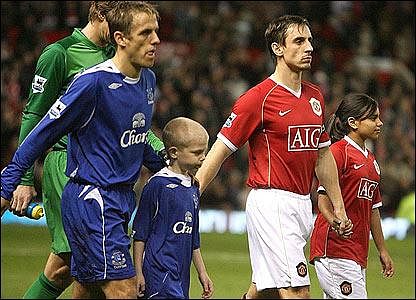 Part of the fabulous Fergie's Fledglings that began a dream run with the 1992 FA Youth Cup win, Gary and Phil Neville heped United establish Premiership domination. 6 EPL crowns, 3 FA Cups, a Champions League and an Intercontinental Cup later, Phil moved to Everton to get more playing time. Gary went on to enjoy 2 more League scalps. In 2006, they became the first siblings to captain against each other in the EPL. The Nevilles also hold the record for the most starts in the same England team by two brothers (31). Along with their dad, they have a cult status among fans courtesy this popular chant:
Neville Neville, they're in defence
Neville Neville, their future's immense
Neville Neville, they ain't half bad
Neville Neville, the name of their dad
Kolo & Yaya Toure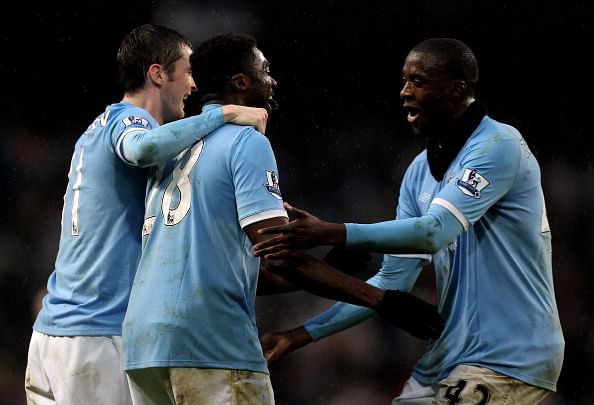 The Ivorian siblings started their youth careers at ASEC Mimosas. Then Kolo joined Arsenal and had 7 good seasons during which he won the 2003-04 league title, 2 FA Cups, and reached a Champions League final (2005). A move to Man City in 2009 has so far fetched him another FA Cup and a Premier League medal, both with Yaya. Arsene Wenger almost united the brothers in 2004 when he handed a trial to Yaya. However, Wenger felt the youngster was pretty average and could not decide where to play him. After scalping a league and cup double  at Olympiacos, Yaya won every possible silverware with the all-conquering Barcelona before City happened. Twice runner-up at the African Nations Cup with Cote d'Ivoire, they have earned a combined 163 caps, scoring 15 times.
Uli & Dieter Hoeness
Despite starting their youth careers at hometown club SSV Ulm, Dieter Hoeness succeeded his elder brother Uli's reign at Bayern Munich in 1979. Both made over 200 league appearances across eight seasons at Munich. They did feature together at the 1986 World Cup where West Germany gave up their crown to Argentina. Uli won 3 Bundesliga shields and a hat-trick of European Cups with Bayern, netting 86 league goals. Dieter won 5 league titles and scored over 100 goals.
Socrates & Rai
Like the Hoeness siblings, Socrates and Rai too did not have their glory days simultaneously, since they were born 11 years apart. A qualified doctor, Socrates set quite a trend with his beard and headband. Considered by many to be one of the greatest attacking midfielders ever, he was a prolific scorer. Younger brother Rai led his hometown club Sao Paolo and French powerhouse Paris Saint-Germain to a host of domestic and continental silverware in the 1990s. He was also part of the Brazil team that won the 1994 World Cup. The duo scored 39 goals in 111 internationals.
Denis & Leslie Compton
Lastly, a truly unique pair of brothers who won the national title in both football and cricket. Although a batting legend in Test cricket, Denis played 60 times for Arsenal, scoring 16 goals until a knee injury shortened his career. Despite playing 274 FC matches, Leslie was more of a footballer, notching up over 250 league games in the Gunners' defense. The duo won the 1947 County Championship with Middlesex and the Division One title with Arsenal the next year. An FA Cup triumph followed in 1950. Had it not been for World War II, they would have played quite a few internationals.