Boucher vs Lee – The most memorable faceoff
Featured Writer
When you talk about rivalries in cricket, the first two which would come to your mind are India-Pakistan for the sheer passion of the supporters, adding to the general animosity between the two countries, and Australia-England just for the sheer weight of the 137 year old heritage of this battle. Both of them do tend to get monotonous though.
Post Javed Miandad's jaw-dropping last ball six off Chetan Sharma, most of the late 80s and 90s were dominated by an extremely strong Pakistan bowling unit over a chopped-and-changed Indian batting line-up barring Sachin Tendulkar. The power centre shifted in 2003 when Tendulkar returned the favor by upper-cutting Shoaib Akhtar over the boundary ropes. Wrought by political turnmoil and match-fixing issues, Pakistan would become a pale shade of their former self despite winning the odd World T20. But India seemed to have at last found a settled batting line-up (at one point India started with six double centurions in their Test XI) which would decimate the best of the bowling talent which the world could throw at them.
On the other hand, after 1989, England seemed to have given up any hope it had of winning the Ashes. While they went steadily downhill after their lucky charm Botham retired in the early 90s, Australia were beginning to emerge as the next superpower in the making under the likes of Mark Taylor and Steve Waugh. What followed was sixteen years of relentless thrashing till 2005, when Kevin Pietersen and Andrew Flintoff hung on with a bloody-minded intensity to give England its first Ashes in a long time. Again the balance of power was going to shift – after the exit of the big guns, Australia are still trying to find their feet while England has steadily risen to the top of the Test match rankings.
But somehow when it comes to rivalries, no one ever mentions South Africa. The problem is the fact that they had always been the second best team in the world. The first place has traded hands many times but not the second place. Somewhat surprisingly, South Africa has not found the mojo to make the leap to the top spot but has always ensured through a steady supply chain of biffy all-rounders, lightning speedsters and sturdy batsmen that it does not stray too far away from it. And this is why if you were to talk about a man-to-man rivalry between two teams purely on the basis of talent and eliminating all other factors, I would choose Australia- South Africa simply because of the number of evenly-matched thrillers they have given us over the years. And more often than not, the two giants of world cricket who retired last month – Mark Boucher and Brett Lee – have had a major role to play.
This brings us to THE match in question. When Australia took on South Africa at the New Wanderers stadium in 2006, nobody had any doubt that this would be a good contest. It was the last match of the series which had been nicely set up – two wins each for both of the teams. The pitch was a batting beauty – a perfect platform for a fitting finale.
What no one had expected was the score line after the first innings – Australia 434/4. The highest recorded score in Limited Overs Internationals' history. The first time a team had breached the barrier of 400.
When Lee came out to bat, the score already read 407/4. Ponting had just been dismissed after a brilliant innings of 164 and the team decided that it was a better bet to send Lee two notches above his regular position in the batting line-up so that he could utilise the long handle to good effect. He did not disappoint, adding 27 runs in 14 balls with Andrew Symonds to take the score to a seemingly impregnable score. All throughout the Australian innings, Boucher's services were rarely required as he watched Ponting and his men making merry on the other side of the stumps.
Seemingly impregnable because it had never been done and would never be done again – at least in this match. Or so, the Aussies thought. But Graeme Smith and Herschelle Gibbs were thinking otherwise.
When Smith fell for an amazingly well made 90 at the start of the 23rd over, the score-book read 190. Gibbs did the bulk of the scoring over the next ten overs, taking the total to 299 and it took a tired shot and a good catch by Lee to end his innings. When Boucher walked in, South Africa was well and truly in the ascendancy. They had 18 overs and six wickets to score 136 – not a very difficult task considering they had Kallis at the crease and two big hitters in Justin Kemp and  Johann van der Wath along with the journeyman batting skills of Andrew Hall to follow.
But Nathan Bracken had other ideas. After Symonds took out Kallis with a smartly held return catch, Bracken struck three crucial blows – a wide slower ball to dismiss the dangerous Kemp, a full toss which van der Wath hit straight to cover after a blistering 35 off 17 balls and a good length delivery which Roger Telemachus (after a more than useful cameo of 12 in six balls with two boundaries) tried to send into orbit but only ended up in Michael Hussey's safe hands. At the end of the 49th over, South Africa needed seven to recreate history while Australia needed two wickets.
Enter Brett Lee. Two deliveries into the over, Hall drove a good length delivery over midwicket to the fence. Two needed off four – the game was all but over. All but over when Hall tried to drive again, only to see Michael Clarke take a comfortable catch at mid-on.
Makhaya Ntini was a useful slogger but then in times like these more reliable men had committed hara-kiri earlier. However, Ntini used all his experience into what the commentator called the "coolest cut ever" as he dabbed the ball down to long third man. Scores tied.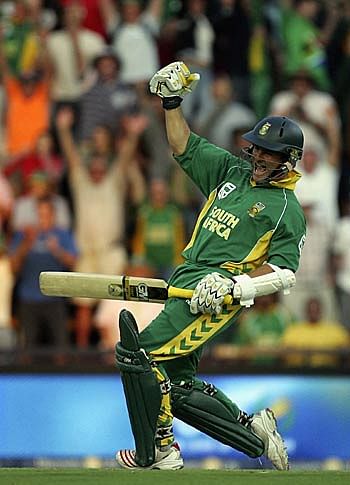 This was a moment of reckoning for both men. For Boucher, a winning hit would be a partial redemption for the 2003 World Cup match against Sri Lanka when he was at the receiving end of Messrs Duckworth-Lewis' complex calculations, having misread the fine print after hitting a seemingly match clinching six off the penultimate delivery. For Lee, the scars were more recent as he took Australia to three runs from victory, only to agonisingly watch last man Michael Kasprowicz glove a short ball from Steven Harmison to the keeper. It was at this moment when that series had turned and the momentum helped England to turn the series on its head and ensure an open-top bus ride through the streets of London.
Back to Lee vs Boucher in 2006, the end though was far less dramatic but none the less fitting. Boucher used all of his calm and composure to drive another good length delivery from Brett Lee over mid-on before pumping the air and erupting into celebrations with Ntini. He had done it for his team – Lee would have to wait.
Not surprisingly then, that when I was thinking of writing a fitting joint tribute to these two gentlemen, this match would be at the top of my mind. In a way, this match re-defined one day cricket – since this match, there has been eight 400+ totals, including Sri Lanka falling short by 3 runs in a chase of 414 against India. Two batsmen have scored double centuries in ODIs, two other have come close with knocks of 194 not out and 185 not out. Individuals and teams have started believing that nothing is impossible and this has only added to the "watch-ability" of the game. And I am glad to think that two of my favourite cricketers had a part to play in this change on that warm March afternoon in Jo'burg.