Left-winger needed for Chelsea?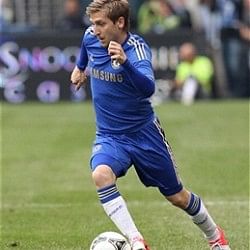 I couldn't help but think to myself watching the Brighton v Chelsea disaster at the weekend, that Eden Hazard doesn't want to be playing out on the left wing, does he? How many times did we see him come inside and even at one stage, pop up on the right wing?
I just wonder if our left hand side is going to be the real problem this season. The only player who has come out and said that he prefers to play there is Marko Marin.
With Mata, Hazard and Oscar now fighting to play through the middle, and with us still being linked to Hulk who prefers to play down the right hand side and Victor Moses who is a striker, it looks like serious reinforcements should be tracked down for the left side of our attack.
Adam Johnson anyone?
What do you think? Am I looking into things too much or will this really cause us problems this season?
Published with permission from CHELSEADAFT - A Chelsea fans blog..