Blow up or build up- How do you build a winning team?
Featured Writer
James Dolan, owner of the Knicks, is like someone experimenting with a videogame, pressing reset, reset, restart all the time. Everytime there's a hitch, he blows the team up and starts all over again. Here's the thing though, a hitch is a failed season for him and other NBA team owners. But is blowing the roster up the answer? Should you not stick by a core group and give them time to grow together?
The Knicks are notoriously famous for pursuing the best available talent on the market, sometimes without considering the impact that will have on their roster. Just get the highest rated player, pronto. Zach Randolph, Stephon Marbury, Jamal Crawford – all of those guys were players who had more value as an individual than a team player. This season, they unloaded their entire core for Carmelo Anthony. Danilo Gallinari, Raymond Felton and Wilson Chandler are players who were seen as having less collective value than a superstar scorer. And that may be the case today. But the core which was traded away had greater potential than Carmelo alone has. But banking on potential is a tricky prospect. Carmelo fills seats and fills the stat sheet, true. But look at the Nuggets after Anthony was traded away. They are a much better team without him.
 One team which seems to be on the dividing line in the NBA are the Houston Rockets. They are perpetually good, but infuriatingly they aren't good enough to beat the very best teams. They are good enough to put in a scare but they lack a true superstar who can push them over the hump, and are in search for that elusive formula which the Detroit Pistons had. It wasn't just the much vaunted defense of that team. They were a true team on both ends of the court.
No one on that 2004 roster warrants a max contract, but together they did something which a team comprising of players like Kobe, Shaq and two Hall of Fame players, Karl Malone and Gary Payton, who were on the verge of retiring, could not do. That was a matchup between two teams who couldn't have been more far apart in their makeup. On one hand they had a bunch of superstars, on the other there was a blue collar team which clicked on all pistons. And the latter won.
Blow up doesn't always require blowing up the entire roster, it just means going after the best talent and offloading some pieces on your team in the process.
Look at this roster: George Lynch, Dikembe Mutombo, Eric Snow, Aaron McKie. Who are these guys? Exactly! That team made it to the finals. And none of them besides the finger wagger would merit being chased-after aggressively in the free agent market. That team had one other piece which made all these sub par blue collar group of guys work: Allen Iverson.
In the early years of AI's career, late 90s, the Sixers tried to bring in the best talent they could get on their stingy budget – Larry Hughes, Tim Thomas and the like. (Sixers were just plain cheap back then, acquiring those kind of players seemed like a coup for them). It was only later that they blew that formula up and built up with players who weren't that awesome individually but could, if given time, gel together to make it to the Finals in 2001.
An owner doesn't have much patience with a losing product. It's a plain economic decision. If something you own isn't performing, you replace it with something which will apparently work on paper at least. But sports skills are qualitative. Look at Jermey Lin. He was a unheralded, undrafted player who was waived by two NBA teams before blowing up in New York. He didn't make sense on paper. If the Knicks didn't have injury issues, he would never have shown his mettle. Think about how many other untapped players are languishing in the frenzy of trades of superstars, just waiting for a chance.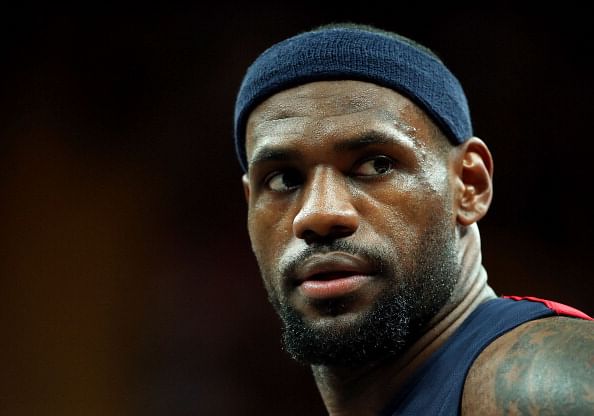 The USA basketball team which came 3rd at the 2004 Olympics; LeBron said that that was a team put together in a hurry and consequently failed to live up to a Gold. Can you imagine a team full of NBA stars having such an issue? Agreed there were a lot of players who didn't commit to that squad and there were many second choice players in that squad. LeBron was a year fresh in the league back then. But that led to the USA officials trying to press ahead with a long term plan to build a winning program which would require more commitment from the players to the USA team. They chose to build up rather than just assemble the best available talent. It's a paradox that even while building, the USA team would still be stuffed with stars.
The Pistons had a system where there were players who fit a niche and were given a shot to see how well it could be filled up. The Knicks pre-Melo had something like that in place, but they chose to blow up and play it safe with a superstar. Maybe the next season will be different, but the core which was built up seems to be having better success in Denver right now.