The Greatest Ever – the mighty Bird at number 4
Featured Writer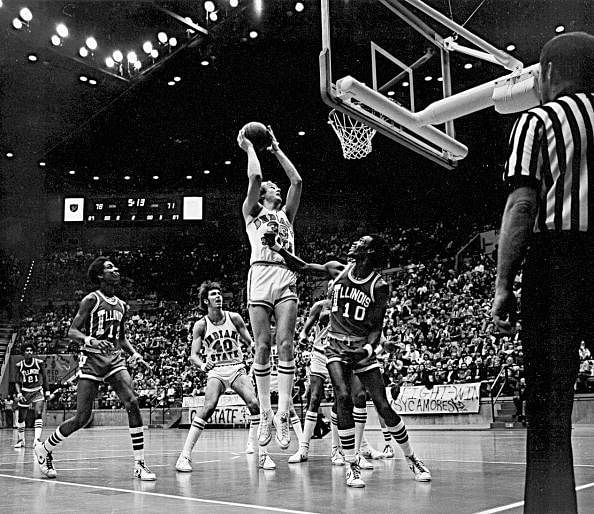 In the autumn of 1974, the Hoosiers or Indiana University as they are better known had to accept a player's resignation from the team. News broke out that a fellow player ill-treated him aggravating his disturbed state of mind. The player was already complaining that he couldn't cope with the stress of being in a huge campus and dealing with academic pressures at the same time. Indiana basketball was in a standstill. While Coach Bob Knight was shocked, he was not totally distraught. He knew he could find his sub and things would return back to normal. After all, he is the greatest coach in college basketball history.
Over time, things calmed down and return to normal at Bloomington, Indiana – the city where the Hoosiers are based. However, the player that dropped out was still depressed. He would return to his hometown and enroll himself in a community college. Soon, he would drop out of there and work in the Street Department. Life was in shambles for that young man. From a predicted sensation in college, the kid was now picking up garbage and repairing roads. Hopes were dashed.
What to say? Sad story, isn't it? Well, who would've thought that this kid actually turned out to be Larry Bird – one of the greatest players to play the game of basketball?
Larry Bird was born in the less known state of Indiana, in the lesser known town of West Baden. His upbringing was defined by desperation and poverty. Supported solely by a more sober mother, Bird lost his post-war traumatized father when he was eighteen. Bird describes his troubled time during childhood as the biggest motivator for his success today. Often he had to go live with his grandmother to manage family finances and sometimes, he had to make do with seldom a meal a day. While his harsh living did prove difficult, the future Hall of Famer draws inspiration from how his mother, Georgia, would provide a lot to her kids despite meager earnings.
Bird recalls in his interview on CNN Sports Illustrated, "If there was a payment to the bank due, and we needed shoes, she'd get the shoes, and then deal with them guys at the bank. I don't mean she wouldn't pay the bank, but the children always came first." Years later, Mama Bird wouldn't have been less proud of her kid when he was picked up by the most decorated franchise in the NBA, the Boston Celtics. Today, the man has accumulated millions and is a powerful executive in the NBA. Yet, the way he bows down to his roots shows how modest this living legend is.
The man, who nearly resorted to living life cleaning dirt in the dumpsters, was persuaded back to college basketball by his future mentor, Bill Hodges. At Terre Haute, Hodges coached the Indiana State Sycamores who had never been to the NCAA tournament. Bird changed that. He, along with Hodges, transformed an overpowered side to championship contenders. In Bird's three years with Indiana State, they were formidable opponents. In 1979, the team faced Michigan State and Magic Johnson – Bird's future rival in the NBA. What arguably was the "most popular college final" played, Bird and Magic were locked point by point, rebound by rebound and the game indecisively went into the dying minutes of fourth quarter. The Spartans did beat Bird and Indiana State but the game just marked the beginning of the fiercest rivalry in basketball.
At the end of three glorious years at Terre Haute, Bird went to the NBA with averages of 30.3 PPG and 13.3 RPG. As he left the school that gave him a second chance, he was the sixth highest scorer in NCAA history, had won the Naismith College Player of the Year, Wooden Award, Adolph Rupp Trophy and USBWA College Player of the Year – literally, every major award up for grabs in college basketball. Just like he was touted at Indiana, Bird was tipped to glory once again. This time he wouldn't fail.
The Celtics offered Bird the most expensive rookie contract in NBA History. Despite it being a huge way out from a poverty stricken environment in West Baden, the pressure was massive on Bird's shoulders. Moreover, his proclaimed rival was going leaps with the Lakers having fitted into a squad that boasted Kareem Abdul-Jabbar, the best center to play the game. Bird carried the Celtics from a 29 win season to a 61 win rout, thereby guaranteeing a playoff berth. The Celtics met the Philadelphia 76ers in the first round who trounced them but there were signs of encouragement for the fans. Bird won Rookie of the Year, was the power forward selected in the Eastern Conference Team of the Year and topped key team offensive and defensive stats such as points scored, rebounds.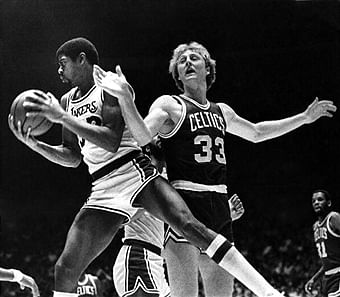 The following year, Celtics drafted Robert Parish who forged a monumental partnership with Bird. The team then traded for Kevin McHale. The trio now destroyed opponents including forces such as Magic's Lakers, Erving's 76ers and Malone's Rockets. In 1981, after a hard fought NBA Final, Bird won his first of three rings beating Houston in six games. He would also go onto make four more appearances in the Finals, most of which were against his arch nemesis: Earvin "Magic" Johnson. The rivalry between the players was remarkably mocked in the media as either "two shots to kill the Bird for Magic" or "Bird gets to stop the Magic".
While they fought each on the court, Magic and Bird enchanted a new beginning for the NBA. Attendances were suffering at games and marketing for the sport was minimal. Corporations preferred to invest in then more profitable leagues such as the NFL and MLB. Hence, the duo's presence on the court generated a massive turnaround in NBA's fortunes. Together, they were marketing kings – not only in America, but across the globe – something the NBA desperately needed.
Focusing back to his basketball, Bird went onto script more successes. Bill Walton, a player plagued by foot injuries, was now in his prime and joined the Boston franchise. The rejuvenated Celtics' with McHale, Parish, Walton and Bird, now seemed virtually unbeatable in the Eastern Conference. The team was a bookie's favorite to make the NBA Finals year in year out, where they were eagerly anticipated by the Lakers. Bird's stats didn't drop either – he was totaling nearly 26 points and 11 rebounds every season which earned him a top 5 nomination into the league's MVP voting throughout the 80's. His leadership ensured the team progressed into the later rounds of playoffs with ease. To simply highlight his achievements, Bird made the Finals five times, won the coveted NBA ring thrice (twice an MVP), was the league's MVP between '84 and '86 and a 12 time All-Star. Not many can brag what this man accomplished in his thirteen year career. In 1992 at the Barcelona Olympics, Bird won his gold medal and promptly announced retirement. Soon, the Celtics instantly retired his jersey number 33.
Bird's legacy didn't just end there. Between 1997 and 2000, Larry Bird coached the Indiana Pacers to an Eastern Conference Finals showdown against the Bulls in his first year and then matched that by moving one step ahead with a NBA Finals matchup in 2000. Sadly, he didn't win a ring as a coach but he molded an otherwise underachieving team to a force that should be reckoned with. After his resignation in 2000, his love for his home-state only forced him to comeback as an NBA executive. In 2012, Larry Bird became the first man to win NBA's three most coveted individual awards: Most Valuable Player, Coach of the Year (1997) and Executive of the Year.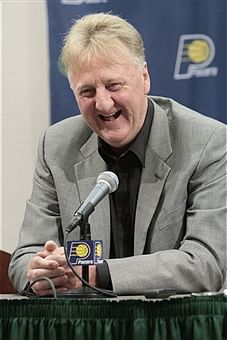 For a man who came from an unknown poverty-ridden town in Indiana to cement his place amongst NBA's Greatest is truly exemplary. Even today, Larry Bird's characteristic quiescent demeanour that defined his career hasn't worn off. He still cites his family as his biggest accomplishment only to reveal how dedicated this man is to his roots. The game of basketball may not have held onto Bird shooting hoops but definitely still beckons with the legend through his work off the court.
Who better to sum Bird's legacy than his rival, Magic Johnson. One of NBA's most classic quotes has Johnson toast to Bird at his retirement party saying, "Larry, you only told me one lie. You said there will be another Larry Bird. Larry, there will never, ever be another Larry Bird."