Manchester United: The pros and cons of signing van Persie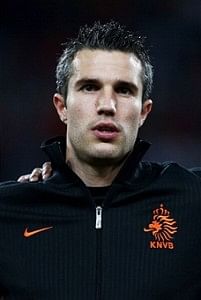 Manchester United intend to sign Robin van Persie and they've made no secret of that. With City out of the race and Juventus switching targets, United are front-runners to sign Robin van Persie. But there are advantages and disadvantages of signing him.
Let's take a look.
Robin van Persie is an exceptional player. He was the Player of the Season, finished the league as top scorer, and almost single-handedly saved Arsenal last season. The fact that he wants to move to Old Trafford is surprisingly encouraging for the Old Trafford faithful. If he ever gets the chance to play alongside Rooney, it would be hard for the opposition to counter their threat. Robin van Persie is exactly the kind of striker that could complement Rooney and add to Manchester United's attacking threat. United have been missing a player in the attacking mould since the departure of Cristiano Ronaldo back in 2009. So the on field results could definitely be a plus point in signing him.
Robin van Persie is a versatile forward. He can play on either wing, behind a striker, or as a striker himself. And Sir Alex Ferguson loves versatility. Almost every player in his starting 11 is versatile. If United have an excess of strikers, Ferguson can change his formation and accomodate Rooney, Welbeck and van Persie in the same team.
Signing van Persie would shut the critics up. It would finally mean that United have made a much needed marquee signing since the departure of Ronaldo. The Glazers should support the transfer if they intend to send a message to the critics and their rivals. His signing would bring a sense of fear among rivals; especially Manchester City. The fact that United beat City to sign such an important player should boost their morale.
Robin van Persie is now 29 years old. Of course, this is an advantage as well as a disadvantage. But the advantage is that he is now in his prime. He was in devastating form for Arsenal last season, so he should only get better next season.
The arrival of van Persie at Old Trafford is likely to assist in the development of the young forwards at United, namely Danny Welbeck and Javier Hernandez.
Robin van Persie has just turned 29.  He hasn't got too many years left in his career and would have a low sell-on value. Considering this, the Glazer's might hesitate to spend 20 million on him.
van Persie isn't the healthiest of players in the Premier League. If you take away the last two seasons of his career, he is just an injury-plagued player whose career is in demise. So there is every possibility that such a situation can occur again, especially since he is 29.
There are plenty of strikers at United, why buy another?
Yes, I've mentioned that Fergie can simply change his formation. But if Danny Wlebeck and Javier Hernandez were to adjust and play at right/left wing, they are likely to re-evaluate their futures. It could be hard for them to adjust to the change in formation since they're so young. What if van Persie remains consistent for a long period — what would that mean for Hernandez and Welbeck in the long run for United?
Any other pros/cons? Tweet me @ratedrdheeraj