Olympic Boxing: Mary Kom outclassed by Adams, wins bronze at London
Contributor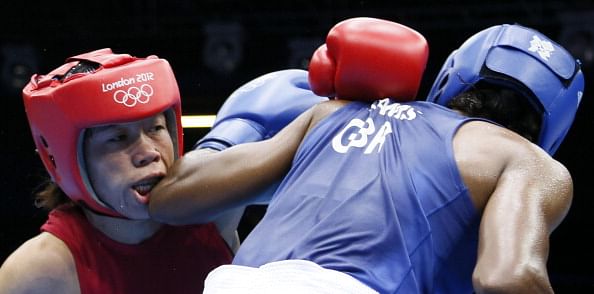 The entire country looked up to a mother of two to take them to Olympic glory as MC Mary Kom entered the ring today. Mary Kom, however, couldn't carry on with her winning ways as Nicola Adams won the semi final bout against the Manipuri boxer to curtail her Olympic foray. The five time world champion, Mary Kom took on the world no. 2 Nicola Adams of Great Britain in the semi final bout of the Women's flyweight (51kg) category in the London Olympics. Nicola Adams displayed superior technique and complete domination over Mary Kom as she won all four rounds of the bout to take the game by 11-6 points.
Mary Kom, wearing red, started the fight aggressively but fell behind quickly as Nicola Adams settled down. After the initial 10 seconds, Adams took charge of the round and the bout to outclass her Indian counterpart. Adams pushed Mary to the ropes and took the first round by 3-1 points.
The second round saw Adams attack even more. She landed 2 straight punches that unsettled the Indian boxer. Mary Kom tried to fight back but somehow missed most of her opportunities to get back. Adams kept landing 1-2 combinations that made Mary loosen her guard. When Mary tried to counter, Adams swayed out of her punches and took the round by 3-2 points opening up the overall lead by 3 points.
The third and fourth round saw the same script unfold as Mary Kom desperately tried to stage a comeback but failed to overpower her opponent. Nicola Adams, on the other hand, looked in complete control of the match and never let her guard down. She won the third and fourth rounds by 3-2 points.
Adams displayed fleet footwork and swift hands to keep Mary's Olympic exploits to a bronze. Mary Kom looked distracted and her characteristic attacking intent seemed to be missing. Although she kept hanging in throughout the bout, Nicola Adams won all four rounds to take the game by 11-6 points. Nicola had a distinct advantage of height and looked much stronger both physically and technically than her adversary from Manipur.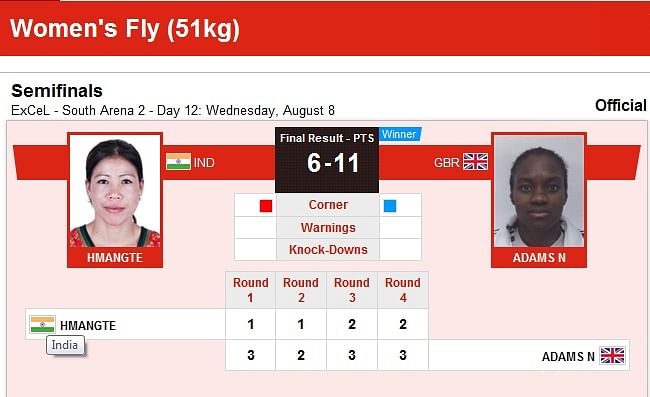 Mary Kom, however, should be proud of her achievements in London. The five times World Champion made her Olympic debut this Games and fought with great passion and pride to secure a bronze for the country. On to her way to the semis, Mary Kom lived up to the expectations of the country as she beat Karolina Michalczuk of Poland by 19- 14 in the first round. In the quarters, Mary Kom overwhelmed her Tunisian opponent Maroua Rahali by a massive 15-6 points.
The elimination of Mary Kom leaves only Devendro Singh with the hopes of bettering a bronze medal performance. Devendro, who also hails from Manipur,  will clash with Paddy Barnes of Ireland in the men`s fly weight (49 kg) category later tonight.