Usain Bolt: The show-stopper
Featured Writer
The Jamaicans have a very appeasing charisma about them – be it the idiosyncrasies of Chris Gayle, Jerome Taylor's wiggle or Usain Bolt on the running track – they all have a spirited, jape and larger-than-life demeanour. Usain Bolt perhaps, is one of the more talked-about athlete this Olympics and for good reason. He possesses such a grand personality on and off the track field that it draws attention just as easy as it comes.
Earlier in the year, in an exclusive interview with Olympic gold medallist Linford Christie, Bolt was tipped to be one of the contenders for gold at the Olympics along with Tyson Gay, Blake etc. in what he thought would be a 'close contest' between the Jamaicans and the Americans. Bolt however, has proved all his doubters and detractors – who were growing in number heading into the London games – wrong by sheer speed, grit and style as he bagged gold in the 100m and 200m events, apart from the gold in relay that Jamaicans bagged in world-record time of 36.84 seconds.
Bolt is one of those few athletes whose flamboyance and candid nature sets him apart from the rest. After having won the 200m gold, he stated to the world that he had attained the legend status and was the greatest athlete ever. To me personally, that was a little too brash, but well that's the man for you. Bolt also, on appeal will retain the baton – of Jamaica's world-record time relay – as a souvenir. After winning the relay, he led the crowd at the Olympic stadium in doing the wave before bidding goodbye.
"It was a goodbye to London," Bolt said. "I was just having fun with the crowd. I came here to London to become a legend and I am a legend and I wanted to thank them for supporting me."
After last night's relay, U.S sprinter Tyson Gay said, "When he got the stick, there was nothing we could do about it." Bolt ran alongside Ryan Bailey of the U.S.A in the final leg of the relay who could just helplessly watch as Bolt gained the lead and galloped to the finish line. "He's a monster," he said.
The IOC President however, said that Bolt would need another Olympics to be termed legend. But, Bolt is not sure whether the next Olympics would be a viable proposition.
"It's going to be hard to really do that," Bolt said.
"Rio is going to be a hard mission. Both these guys – Blake and Weir – are training too well. I'm going to be 30. They're going to be 26. Both these guys are training extremely well and I think I've had my time. In life anything is possible, but that's going to be a hard reach, because there's going to be a lot more talent coming up and these guys have stepped up already. I'm not looking that far. I've made myself a legend. I'm just going to enjoy it right now."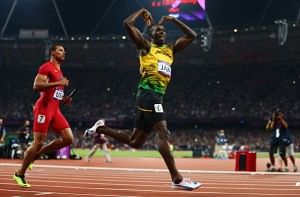 But knowing Bolt that perhaps won't hold any value if he really gets to doing it – just like he said in jest – that he would speak with his coach and move from sprints onto 400m. Whether or not he will be a part of the next Olympics, we will have to wait with bated breath. For now, we might as well just celebrate the phenom of the world's fastest man! He is a phenomenal talent who is a once-in-a-generation sort of athlete. His imposing presence on the track combined with his immaculate speed and talent; along with his ability to generate interest in the sport makes him such a show-stopper.
What will he do after athletics? Will he be able to successfully defend his titles at Rio? Those are not questions that can be answered now. As for now, he is the undisputed champion; a legend who will be remembered as amongst the greatest to have graced the sport.