Why can't all NBA teams bid for the player they want?
Featured Columnist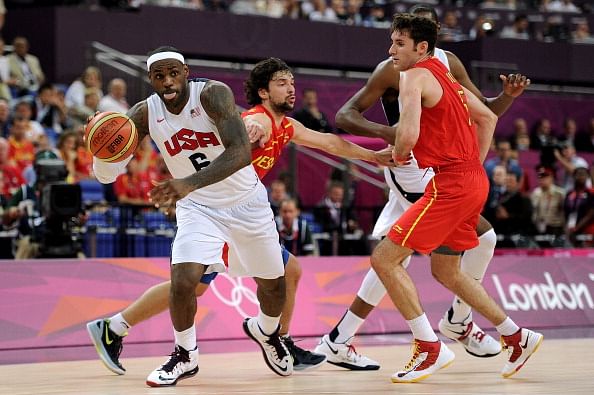 There's no safeguard against aggressive overspending. Its in human nature. But when LeBron James was a free agent, there were only a handful of teams trying actively to sign him. Why is that? And how come one of those teams included the LA Clippers? This was before Blake Griffin, would LeBron really consider jumping from Cleveland to some team just as bad as Cleveland?
Imagine Dwight Howard being put on auction as a free agent.
Going once…going twice..
No! We have another bidder.
Going once…going twice..
Well no, here's another bidder.
And so on and so forth.
The above dialogue would continue on for ages between the NBA teams. Why doesn't it happen? Because not every team is under the cap limit to be able to take on a contract like Howard's. And it didn't happen with James because not every team had the space to sign him
Why did the Dallas Mavericks let go of Tyson Chandler right after winning a championship where it was widely acknowledged that Chandler's defensive presence made the difference which allowed Dirk Nowitzki to go over the hump and finally win a ring? Did the mavericks do so because they are stingy?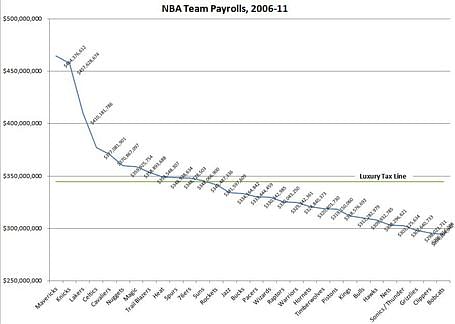 Look at the left. Dallas are at the top
Not likely. The Mavericks routinely have one of the highest payrolls in the league. So why wouldn't they pay for Chandler? Mark Cuban is one of the richest owners in the league, and has never been shy about spending money. The reason the Mavericks cut ties with Tyson Chandler was salary cap. The Mavericks wanted to free up cap space to be able to sign more talent in the 2013 season, and resigning Chandler would have put them over the cap limit. They decided to let go of him and blow up their championship winning squad in the process to put themselves in a better position to contend in the future. They are willing to pay, but the cap prevents them from spending too much.
Unless you have a salary cap, free agency can result in a bidding war. Without a upper limit the rich teams won't stop at anything to get the stars they want. While salary cap does place certain restrictions on this aggressive overspending, its a lot like a safety valve in many cases.
This topic was explored for football a few days ago.
But there is a unique catch here in basketball. The NBA salary cap has a hole in it. Its a 'soft' salary cap, i.e. it can be exceeded through some loopholes. Unlike NFL or NHL.
See, there are loopholes built into the system through which the teams which can afford it can go over the cap limit. The NBA salary cap is called a soft cap, teams can go over it through various ways: Luxury tax, i.e. paying a certain amount of tax to the league which is then distributed among the teams. Amount paid is for every dollar the team goes over the cap. Teams can exceed the cap limit if they are willing and able to afford the Luxury tax. Bird rights, through which teams can go over the cap to re-sign certain players.
Mid-level exception, through which teams can sign players for a reduced contract duration and money, and teams can get as many players as they want through this.
Last year's lockout introduced another clause which teams can use to free up cap spaces. Amnesty clause. Teams can waive one player from their roster without having his salary count towards luxury tax. So although in the NBA teams can't just bid for the services of any player they want because they don't want to go over the cap space, there are still ways rich teams can afford to go over the cap provided they are rich enough.
So the NBA has a clause where teams can't just go out and sign any player they want, because they are limited by the salary cap. Even though the cap is a 'soft' cap. Teams do overspend and go over the cap all the time though. But like the Dallas Mavericks did in case of Chandler, if teams see some big contracts expiring in conjuction with a rich free agent class, and cap space opening up consequently, then they plan to go under the cap by cutting loose those contracts in the hope of signing some big name player. Next year Dwight Howard and Chris Paul could be free agents if they choose not to resign with their current teams. That is part of the reason the Dallas Mavericks chose to let go of Tyson Chandler.
Unlike the NFL and NHL, the NBA has popped a cap in the salary cap, so to speak. But while the cap is soft, it still works enough to serve the purpose of a salary cap.