Fare thee well Robin van Persie. Not.
Featured Writer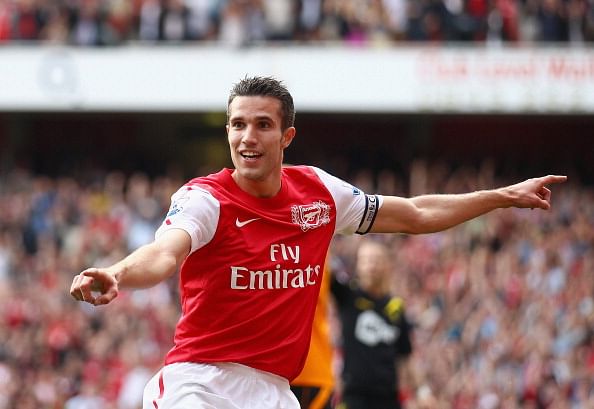 In a cruel twist of fate, Arsenal have now agreed terms with the team version of 'persona non grata', Manchester United. As an Arsenal fan, I inevitably have faith in Arsene Wenger, but does this move really make sense? I am sure the monetary part of the deal is the kicker, after the move was reported to have gone through for close to 10 times the amount the Dutchman signed for, £2.75 million, from Feyenoord in 2004.
A lot has changed since, with the trophy drought and King Henry's departure. Wenger loves his purse and the strings are usually tight enough for any decently built man to have a problem undoing. This time around, the Frenchman has spent and how. With talents like Lucas Podolski and Olivier Giroud coming in, Arsenal are right on track for some much needed respite. On the other hand, almost every person I know had a word to say about van Persie, and clearly his prolific season last year left quite a few dumbfounded. Both Giroud and Podolski are good, but neither is a replacement for van Persie and this was clearly established even before the rumors began. After the initial hiccups against Liverpool and then the demolition by arch rivals United, Arsenal strung some great performances together, to finally finish third, guaranteeing a UEFA Champions League spot. Our former captain had a huge part to play, with almost a goal per game. So simplistically, Robin van Persie rescued a lucked out team, which is a powerhouse of European football, which has been in existence for 125 years now. A single player pulled an entire team out of despair to a podium finish. Fairytales have been made out of less and nothing can taint his performance over the last 12 or so months.
Now, as an Arsenal supporter, the initial feeling of disgust and the taste of bile in the back of my throat is persistently gnawing away at my sanity. Twitter and Facebook have been religiously updated with my thoughts on how the said player should fare a lot lesser than he previously has, although in a lot more colorful language, peppered with choice words. These have since garnered a fair amount of likes and a few "haha. What's RVP?" Nevertheless, the informed fans have sympathized and a few scousers even wished the Gunners luck for the season, just to see van Persie's disappointed face at the end of it all. How well I take this transfer will challenge my sense of dignity and the restraint on untoward jabs at my numerous United friends. Anyway, I will not sleep soundly tonight, nor will the hordes of Gooners across the globe. @persie_official will crash sooner than later, and Piers Morgan isn't getting off his case just yet. It's been a hard day, and I dread the moment I will see Robin don the United red. We Arsenal fans have been called fickle in the past, and in this moment of vulnerability, I will chose to stay true to that stereotype. I'd like to say he won't fit in the squad, he won't find his feet too quickly and he was too old. But we know he's in the groove and on the brighter side, £24 million is a decent sum. And did anyone say injury prone?