Manchester United's '12 - '13 formation - Home fixtures
Featured Writer
Sir Alex Ferguson has stayed at the helm of Manchester United for over a quarter of a century now. One does not simply remain in charge of one of the most successful clubs in recent history, unless they play all their cards right nearly every single time. Ferguson has done it season after season, with a relentlessness associated with great Scottish warriors of yore. For a man who argues that he has never used a 'conventional 4-4-2′ during his tenure, Ferguson's tactics have seldom been openly discussed either by himself, or by any of his staff. In fact, the norm at Old Trafford, during Ferguson's reign, has been a staggered 4-4-2, which has often seen wing-players used to much greater effect then before his time at United.
Having recently stated that Wenger's bargaining powers were good enough for him to 'Run a poker school in Govan', Ferguson is himself known to be a proponent of the Poker-face, one that is quite inscrutable at that. After all, there are few in the football world unknown to his press-session squad updates on the eve of Champions League matches, which are often less credible than most sport gossip columns. Nonetheless, it is this unpredictability that has helped Ferguson and United stay on top for as long a period as they have. With the recent acquisition of van Persie will only serve to increase the unpredictability of United's line-up, and hopefully, help the club to a 20th league title. Here, I will try my best to detail a possible line-up for United, for most home fixtures, assuming that every one is fit to play.
Goalkeeper: 
While Anders Lindegaard would easily make the first-choice 'keeper for nearly every other club in the world, he finds himself at United during a time in which Fergie is trying to groom a future Old Trafford legend. While I personally feel that Lindegaard's performances have been more assured than that of David De Gea, the Spaniard's heroics during the second half of the previous season should see him make the starting line-up ahead of the Dane.
Defence: 
As long as his back permits, Rio Ferdinand should start in Central defence, albeit any poor performances will be critiqued much more harshly than before, and will be attributed to his age. However, his calm presence, and leadership are still integral to the United back-line, and should see him hold his place in spite of decent performances from Evans towards the end of last season. Partnering him in the centre of defence will be the Serbian wall, and club captain, Nemanja Vidic. Vidic is arguably one of the best defenders in the world, and his injury cost United dearly last season, as highlighted in the 4-4 draw against Everton. No doubt then that he will definitely feature in the starting XI.
No move for Baines from United, as of now, along with the departure of Fabio to QPR on a season-long loan means that Evra will continue to start at left-back. United fans will hope for more on the pitch from the Frenchman, than off it, especially after being accused of neglecting his defensive duties once too often last season. At right-back, Rafael should start at the beginning of the season, especially with Smalling and Jones both injured. The Brazilian was part of the Olympic squad that won silver, and although an error by him led to a goal in the final, the experience should help him mature as a player, and perhaps not dive into tackles as rashly as before. This, in my opinion, will help him make the place his own, denying Phil Jones a well deserved spot in the first team.
A surprise presence in defense, at least during some European campaign matches, should be United's new #7, Antonio Valencia. He played at right-back for a couple of games during United's pre-season. and with Nani in front of him, proved to be a deadly combo. If this combo is used again, it would be an absolute defensive nightmare for oppositions, and should lead to some attractive football. Purely in terms of defense, however, Rafael, or perhaps Phil Jones definitely fit the profile better.
Midfield:
With three equally brilliant wingers to choose from, Ferguson will have a happy selection dilemma on his hands. However, with Ashley Young lacking in confidence after some misfortune in penalty shoot-outs, we just might see negativity creep into his play. My prediction, therefore, is that Nani will eventually settle on the left wing, while Valencia will make the right wing his own, and hopefully replicate his brilliant performances from last season. Ryan Giggs, having played in central midfield for a few games last season, could well play a few games on the wing, but I doubt that even a legend like him will be able to nail down a regular starting place.
Central mid-field, however, presents a whole different level of selection challenges. While one would argue that a holding mid-fielder like Carrick is indispensable to the team, others would point to the start United made last season, playing two attacking central midfielders, and scoring freely in their opening fixtures. My prediction is that the same system will be implemented again, with Cleverley and Kagawa being the most used pair. While Anderson has put in impressive performances in pre-season, they have been completely overshadowed by those of Kagawa and Cleverley. The Brazilian has had frustrating times at United, and might well let frustration get the better of him, losing out on regular first team opportunities to two extremely talented players.
The return of Scholes, in the winter transfer window last season, was crucial to United's recovery from a mid-season slump, and he will no doubt continue to make a few appearances. The only reason he is included in the schematic above, and neither Carrick or Anderson (or Giggs for that matter), is the irresistible passing range that he possesses, which should help distribute the ball to the wings more effectively than anyone else in United could.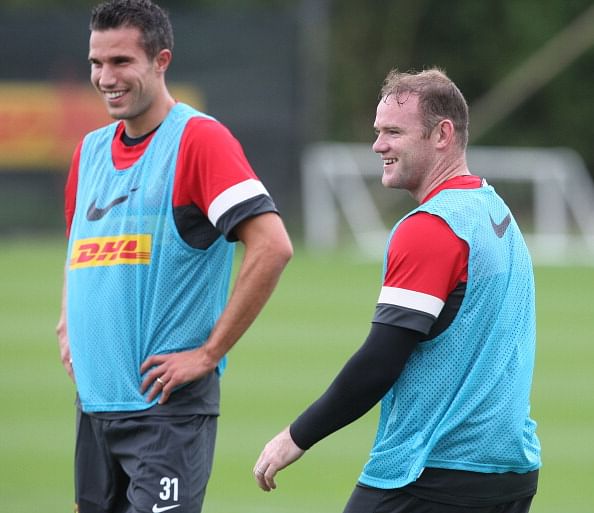 Attack: 
With the two top scorers from the Premier league last season in their team, United have arguably the best attack in the Premier League, as long as they both stay fit. In spite of Hernandez's pace and aerial capability, and Welbeck's composure on the ball and finishing ability, there is absolutely no doubt over which two players will start in United's front-line. Their positioning, however, might see van Persie form the focal point of the attack, with Ferguson having made statements hinting towards that.
So with that out of the way, let us consider the remaining front-men. Henriquez is most likely to go right back to Universidad de Chile on loan. Berbatov, much though I would love him to stay, could be on his way to Zenit (which is way better than not featuring at all for United, in spite of being a great player). Macheda hasn't been too impressive during his loan spells, or in pre-season, and could be on his way to a spell on the bench. Therefore, Hernandez and Welbeck are the best-of-the-rest at United, in that order, in my opinion. We might see Chicharito's pace unleashed against tiring opposition defenders in matches where United haven't broken the deadlock for 60-70 minutes of the game. Welbeck, on the other hand, might start a few cup games, and is even a contender for a wing-role, when the regular starters are being rested.
All being said, it would seem like United's central-midfield problems are not as grave as they are made out to be. I would personally love to see Fletcher back in action soon, and with him playing a few minutes against Aberdeen, it might be a possibility this very season. Defence, however, sees Evra with no real back-up. Whether Michael Keane can step up to the plate when required, we might found out this season. Chris Smalling, in my opinion, should be the one most likely to replace Ferdinand in central defence, if necessary, ahead of Jonny Evans, who has been an inconsistent performer. Phil Jones was delightful at right-back last season, and I find it very hard to pick between him and Rafael, two equally exciting young talents.