The Transfer Saga brings the worst in us
Featured Writer
The transfer season in football brings out the worst in all of us. When I say 'us', I mean the football genius in all of us. Naive, calculative, ambitious, biased and what not. This transfer season was no less, to sum up 3 months of tug of war and troll.
Troll as we put it, Robin van Persie. Ring a bell?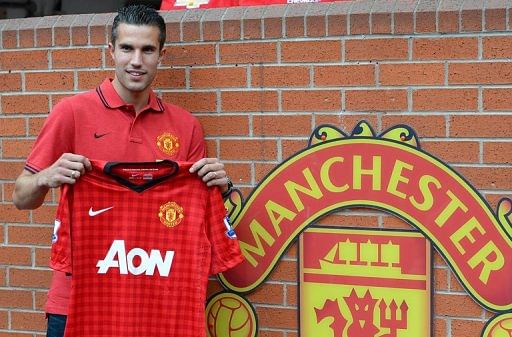 When the actual saga started to form a script, my friend who supports Chelsea asked me, "Hey, what do you think of Van Persie coming to United?" I took it bluntly to be precise and replied, "We don't need him." Well, Chelsea fans can be annoying at times, but who isn't? I was rather pissed at Eden Hazard at that time for ditching us to play for the club who won a "Champions League". He simply rode the 'bus'.
The saga started to grow further, "Do you still need him?", I said, "He is a luxury, I want Welbeck and Hernandez to get more games. Better get someone in the defensive midfield or an experienced Left Back to cover Evra – even though Brady from the academy might be used in the absense of Fabio."
Juventus and Manchester City pulled away from the race. "Atleast NOW accept, you will be happy if he arrives at Old Trafford." I had no answer, I was in two minds. And a question erupted deep inside me, "Really?".
Alas! PSG hijacked another big target from the Gaffer, Loucas Moura. (Thank Heavens for that).
Now, the equilibrium had been compromised. Sir Alex was adamant. "He gets what he wants" posts started chirping here and there. One thing here, we United fans really don't argue with Sir Alex. Just like the players in the dressing room. Glazers? F**k Glazers! Personally they are nothing for me, just money. There's this kind of respect that binds us, thanks to the quarter of a century services to the great club, and well I am 24. You-simply-can't-shouldn't-question-his-moves. Simply can't. Personally I can't. Proven so many times.
I started looking at the possibilities, pros and cons of a coveted transfer – even if we signed Bundesliga's player of the last season Shinji Kagawa and Crewe prodigy Nick Powell. But it was not enough – no it was not. The noisy neighbours have an attack to reckon with. We needed someone.
Well ofcourse, Arsenal started playing the 'game'. The game of business. 20 Million overseas, for you he is 25 Million. Take it or leave it. Now I knew we actually have a genuine chance of signing the player from the last season on English soil.
Then it started…

This was true, for every word – this was true that day when I wrote it, this is true today. You know Arsenal-United rivalry, don't you?
And then it happened, I was sleepy and wanted to sleep. Then I thought, why not check the social network before I hit the bed?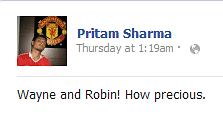 Twitter went berserk. Arsenal fans went berserk in agony and despair. United fans were on top tonight. Needless to say, I had a 'discussion' with an Arsenal fan on twitter who is a true fan of Arsenal for their 'mentality' – called me a Glory Hunter because United win and Arsenal can't win like City or United everytime. (Logic?) He asked me why I like United? I said, "Because of their winning mentality and ability". He asked, "Will you support them if they start losing?" I said, "Even if they get relegated I will". He asked me, "At one point you say you like them for their winning mentality and one point you say you will support them if they get relegated, I am confused". (Logic?) Anyway, then @SoundsofDementia pointed out that the guy is cheering in an Arsenal jersey in a Mumbai Indians match. I stop here. Now even for Arsenal fans, it must be getting laughathon for a change. If you think, I am kidding with you Arsenal lot, please feel free to visit my twitter timeline. It is not locked.
It was 4 am and I knew I had to sleep because I had to go the office next day and Arsenal fans would be waiting for me. :P
Now as I said, the transfer saga brings the worst in us. When I think about it, I remember Luis Figo. Enough said. But it brought three sides of Arsenal fans. Sad, Funny and Ugly.
Sad: 

Trust me, I am with you guys in this. I respect Arsene Wenger for making him what he is today. I respect Arsenal for what he is today. I have nothing but empathy.
Funny:

The top one is rather funny. It is further portrayed here brilliantly.
And Ugly. I could see comments like, "hope he gets injured from the edge of the paper while signing the paper". "hope he gets injured at training and never play again". "hope he gets injured…" Can you make out the trend here? Can you see one common word here? Injury. Why curse someone for an injury? Just because he went to your rivals? I fail to understand this. Always. Why not simply throw a swine head on RvP when he visits Emirates? Why not curse him to end up like Torres?
Well, let's get things sorted in order.
1. RvP was not Arsenal last season. Team is above any player. Agree. But as a captain – leading from the front – he took you to a Champions League place. No denying there.
2. RvP questioned the running of his club publically. Wrong on his part, absolutely wrong. But was it not the trophy drought which made him go frustrated and speak?
3. RvP said, "He wants to win a trophy as a Gunner." Good for him. But what happens when you feel you won't? You are 29, playing the best football in recent years but being at Arsenal simply won't fetch you a winners medal. You get a better opportunity and move ahead.
4. RvP was an Arsenal fan since childhood. Kissed the badge several times. Good for him. Even Rooney was an Everton fan.
5. United fans cursed Rooney when he said he wanted to leave the club. That's why we are cursing RvP. Rooney made a U-turn and won our trust back, RvP didn't. Sir Alex's convincing power is more than Wenger's. Accept it. Accept the difference here.
6. RvP wanted more money and hence he went to United. Well, I think I heard somewhere Arsenal offered him more money. But he wanted trophies. At United he is getting money + a realistic chance to win a silverware.
7. Not all Arsenal back stabbers are successful elsewhere. They are made to sit on the bench. RvP is injury prone – There's no guarantee that RvP will start every match like last season at Arsenal. United have a lot more attacking options and Sir Alex will make sure RvP remains injury-free with proper rotation of the squad. Well of course, no one can predict an injury. Funny part will be if RvP 'actually' goes injury free this season and win something which he never did at Arsenal apart from some banners from the crowd.
8. RvP was just a one-season wonder. Arsenal made a good business out of him. Yup! Arsenal made a huge business by selling off RvP. As if they had any other option than letting him go with just a year remaining on his contract. But one season wonder? Wiki stats might be wrong then. My bad.
Did I miss something?
Anyway, the United angle.
1. Formation: Personally, I really don't know what formation we might be playing this season. I just want Welbeck and Hernandez to get games along with Rooney and RvP. I respect Berbatov but it seems his career at United is over. Macheda will stay as a fifth striker.
2. Midfield problem: Kagawa is an Attacking player. So he will be pivotal here. Giggs, Scholes are not finished yet. Cleverly is the future. Anderson might be getting yet another chance at United this season. Valencia, Nani, Young in the wings. Fletcher is back. Carrick is better than he was. Powell – wait and see. Doesn't look bad to me.
3. Defensive problems: No cover for Evra they say. He played the most games last season, not the best but you never know if he won't do it again. Brady from the academy is his cover at the moment. Transfer season is not over yet – so a Left Back (Baines) is still a probability. If not now, in January perhaps. Smalling and Jones are the future at United. Ferdinand and Vidic – The Serbinator is back!! 1-6 you said? He didn't play that day, did he? Evans will continue from last season – whatever he did in the absence of Vidic. De Gea is a class goalkeeper – seems to settle down at United now. Lindegaard is otherwise there. Both fighting for the GK slot – always good to see.
Wow! Can't wait for the first match to start.
It's been long, will finish it from where I started. Transfer seasons are cruel and bring the worst out of us. Get the positives and keep moving ahead. To my Gunner friends, Good luck – will see you on the field. To my United family – #LetsDoIt #Champ20ns #BELIEVE.
To Robin van Persie.
To sign off, Samir Nasri is the happiest since Thursday for some reasons. Mancini? Your guess is good as mine.